It seems like only yesterday that we not only posted an announcement for entering one's work into an event hosted by Eastern Illinois University in Charleston, but also gasped mightily for breath as we explored the downstate Illinois film festival mini-circuit that now hits annually between Halloween and Thanksgiving. So, with 2013 transformed into 2014 and the fall months about to settle in, we remind you once again to consider offering your work to these homegrown cinematic hoedowns, depending on where it might fit best! We'll let you investigate the deadlines for other shows at another time and focus today on the Embarras Valley Film Festival, set to invite discerning movie-goers onto the EIU campus for a tenth go-round from Thursday, November 6, to Saturday, November 8. Screenings and panel discussions will salute the great entertainer Dick Van Dyke (MARY POPPINS, THE DICK VAN DYKE SHOW) who is a Missouri native by birth but grew up in nearby Danville as did actors Jerry Van Dyke (COACH) and Gene Hackman (THE FRENCH CONNECTION) as well as the late singer and pianist Bobby Short.
A nice gesture introduced last year by Embarras Valley organizers opened the floor up a bit, allowing locally made shorts produced by college students to play alongside the main features. Apparently, this went over well for they have issued a fresh Call for Entries in anticipation of the anniversary festival! General information can be reviewed both in the graphic below, which can be enlarged with a click, or the press release available after the jump. Final deadline for sending in your best is Friday, October 10.
A full schedule for the Embarras Valley Film Festival will appear between now and November on Facebook and the official Web site.
~ Jason Pankoke
~~~~~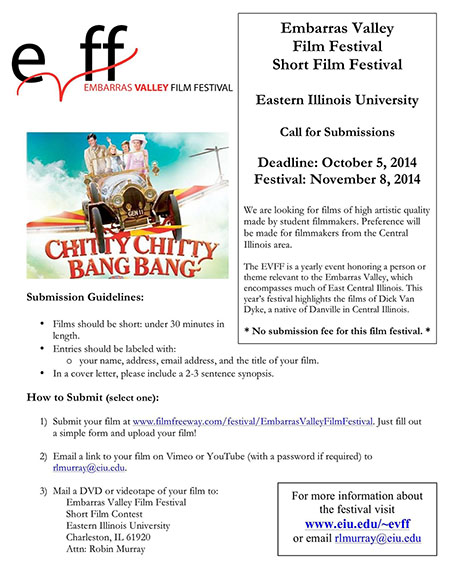 ~~~~~
From September 15, 2014:
FOR IMMEDIATE RELEASE
CALL FOR SUBMISSIONS ANNOUNCED FOR SHORT FILM FESTIVAL
CHARLESTON, IL (September 15, 2014) – Plans are underway for the 10th annual Embarras Valley Film Festival (EVFF) scheduled for November 6-8, 2014, on the campus of Eastern Illinois University in Charleston. The planning committee is seeking submissions from student filmmakers to be shown during a special Short Film Festival as part of the activities on November 8.
"We are looking for films of high artistic quality made by student filmmakers," said Robin L. Murray, co-project director. "Preference will be given to central Illinois filmmakers."
Guidelines for submissions are: Films should be under 30 minutes in length; submissions should be labeled with the filmmaker's name, address, e-mail address, and the title of the film; a two or three-sentence synopsis should be included with the submission in a cover letter.
For the first time in the history of the festival, submissions are being accepted on-line at FilmFreeway. Filmmakers can fill out a short form with the required information and upload their film for consideration.
Films will also be accepted via e-mail at rlmurray [at] eiu [dot] edu or by mail at Embarras Valley Film Festival, Short Film Contest, Eastern Illinois University, Charleston, IL 61920, attn: Robin Murray. The deadline to submit a film is October 10.
EVFF is a yearly event honoring a person or theme relevant to the Embarras Valley, which encompasses much of east central Illinois. This year's festival highlights the films of Dick Van Dyke, a native of Danville in central Illinois.
Past festivals have honored Gregg Toland, William Phipps, Burl Ives, James Jones, Joan Allen, Abraham Lincoln, silent films and Illinois, films for and about children and young adults, Gene Hackman, and documentary films. All festival events are free and open to the public.
For more information, contact co-project directors Murray at rlmurray [at] eiu [dot] edu or Kit Morice at kmorice [at] eiu [dot] edu, call the EIU Tarble Arts Center at (217) 581-2787, or visit "EIU Embarras Valley Film Festival" on Facebook.
CONTACT
Sarah Miller
Department of English, EIU
smiller [at] eiu [dot] edu
(217) 581-2428
###