At any given point in Champaign-Urbana, industrious groups and individuals spend their hard-earned hours launching businesses, events, cooperatives, and movements. Within all that bustle, you most likely will find something of interest whether as observer or participant, including worthwhile expressions of film culture absent the familiar "C-U Confidential" branding. So, on behalf of the soon-to-be-rescheduled New Art Film Festival, we highly encourage our fellow cinema mavens to seek out alternative routes for showing their work this spring within the friendly confines of east central Illinois!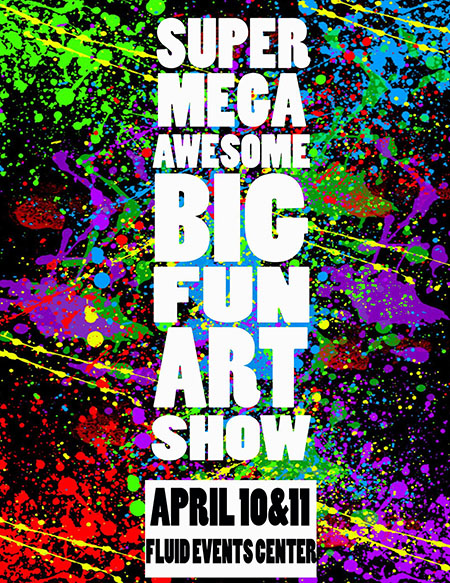 To start, we revisit the indie-minded Buttered Corn on the Cob Film Festival that had been set for the same day as the NAFF last April, only to be postponed at the 11th hour. Considering its Facebook is out-of-date and Web site vanished, we have no indication Buttered Corn will return at all let alone at the venue formerly set as host, the Fluid Event Center in far west Champaign. Here in 2015, Fluid Events has opted to enlist art collective The Common Mind for organizing an extravaganza during the comparable weekend, Friday, April 10, and Saturday, April 11, called the "Super Mega Awesome Big Fun Art Show!" All manner of creativity from Champaign County residents is encouraged in the media, performing, and fine arts; deadline to submit work or proposals is Sunday, March 22. We point out this gig partly because it is tied to this year's Boneyard Arts Festival, and hopefully some filmmakers can take advantage of it to receive exposure for their work! Write boneyardatfluidevents [at] gmail [dot] com or Common Mind video guru Matt HarsH at harshpro [at] gmail [dot] com with any questions!
We also have a pair of University of Illinois-based showcases on the horizon, one consistent in its aims and the other changing form before our very eyes! Thanks to an on-line shout from our friend AJ Christensen, we're reminded Rachel Storm and the Women's Resources Center (WRC) are accepting entries to the sixth UIUC Feminist Film Festival that will take place at the end of spring semester. According to this Web page, entries are "due in late March" and should be "student-made films between five and 15 minutes in length exploring social justice, social identity, and feminism(s)." Feel free to contact WRC assistant director Storm at rstorm2 [at] Illinois [dot] edu or (217) 333-3137, and read this C-U Blogfidential piece by Lauren Laws about last year's edition at the Art Theater Co-op to learn more about the program.
Elsewhere, assignments in Media and Cinema Studies (MACS) course 464 are geared to "[examine] the history and significance of film festivals [and culminate] with a UIUC student film festival organized, judged, and sponsored by the class." CUBlog has reported on previous incarnations of the MACS 464 final project such as the "Etc. Film Festival" last year and the "Illini Independent Film Festival" the year before that; for 2015, instructor and fellow CUBlog friend Dora Valkanova has been leading her class to develop "Illinifest." Call for entries runs now through Sunday, April 5, targeting film shorts made by students currently enrolled at UIUC and any other Illinois colleges as well as UIUC alumni who have graduated within the past calendar year. Show date is Saturday, May 2, with details forthcoming. To keep tabs on their progress or query about participation, e-mail illinifest2015 [at] gmail [dot] com or like them on Facebook or follow them on Twitter at @IlliniFestFilm, oh my!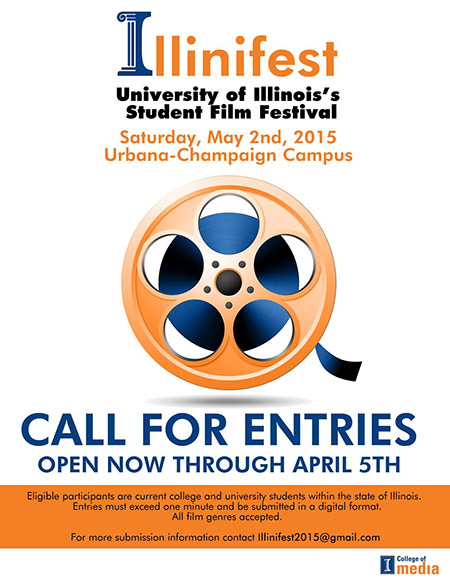 And finally, thanks to the impeccable timing of our extra-special friends Joe Taylor and Bill Kephart, we can report the submission window for the sixth Freeky Creek Short Film Festival is open as of this past Saturday, March 7. You can find all the freeky deets you need about this unique event, a fall staple at outlying Sleepy Creek Vineyards, here at FilmFreeway; deadline to send in your "shorts of a freaky, creepy, or darkly funny nature" is Sunday, September 20, with the selections set to be unveiled at show time on October 29-31! Awards, wine, performance art, more wine, giant cakes of the macabre, even more wine, and various strengths of cheese will complement the shorts blocks in the irreverent Freeky tradition. Click this to read past comments Taylor shared with CUBlog about his Halloween opus.
Good luck to everyone, as we hope to see your handiwork lighting up a big screen in the near future!
~ Jason Pankoke