"Letting It Rip: On YOUNG ADULT"
After sending a battery of Confidential agents into the Ebertfest fold last April, we present their findings
by Samantha Ducey
~~~~~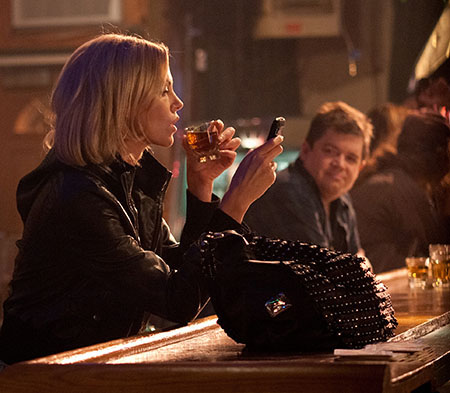 As I walked into the historic Virginia Theatre for the first time in a decade, I was taken aback. Ornate and magical, the theater itself has an otherworldly charm. I had long forgotten what architectural beauty lay in the heart of my hometown Champaign. But, I was further surprised when I panned the audience to see that, somehow, they looked as aged as their recently restored surroundings. A wave of gray and white hair provided shocking contrast to the deep red velvety chairs. I thought for a moment I had mistaken the time or day of the film I wanted to see, YOUNG ADULT, instead walking into some sort of real-time COCOON experience. I glanced down at my pass. Indeed, I had the right place at the right time.
Arriving close to an hour early in hopes of procuring a decent view, most seats on the ground floor were open but saved to my dismay. Meaning, someone had placed a festival program, umbrella, scarf, sweater, or t-shirt over one or more chairs to reserve them while they wandered about. I thought I would be forced to sit in the balcony but, luckily, I found a suitable seat in the lower level next to a group of elderly folks. I settled in and patiently waited for the start of YOUNG ADULT.
An usher walked by and asked if I wanted my own program. I happily took it and began sifting through. While reading the reviews for the films playing Roger Ebert's Film Festival this year, I found a few grammatical mistakes and decided to make a game of it. "How many mistakes can I find?" I was interrupted (after finding three!) by the gentleman sitting next to me.
"Are you from around here?" he said with a withered smile. I explained that I did live here and this was my first time attending "Ebertfest." Smiling equally with his gleaning eyes, he told me he was from Iowa; his senior assisted living facility had set up the trip to Champaign. He then introduced me to his wife and we continued chatting. When I asked if he was enjoying the festival, his smile fell away and a stern look came over his face. "Well, I don't think the movies need to be as vulgar as they are," he said. "That young, black fellow from the film earlier [SHORT TERM 12 actor Keith Stanfield] was just as vulgar on stage as he was in the movie." At this point, I was done talking to him.
Thankfully, he was distracted when the old man sitting directly behind him dropped a drink on the floor and an usher ran over to clean it up. This other man began throwing a fit about the chairs not having any cup holders. The usher attempted to explain in his calmest, most professional voice that cup holders on the chairs would compromise the historic integrity of the Virginia. I could see the old man gritting his teeth with every word, holding back. This ordeal created one of those dramatic situations the elderly love, whispering direct statements back-and-forth to one another about it.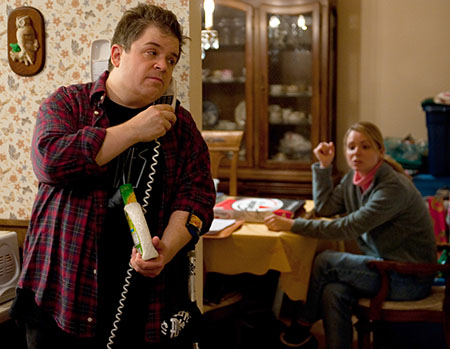 After a few minutes, Roger Ebert's widow Chaz walked on stage and my neighbors hushed. She seemed to be winging it. For instance, while introducing YOUNG ADULT co-star Patton Oswalt, she simply and awkwardly paraphrased her late husband's review from the program in front of her. She also told a meandering story about how much Ebert loved Oswalt in a previous film, BIG FAN, and how sad Ebert was that Oswalt could not attend Ebertfest in 2012 to introduce it due to scheduling conflicts. I was surprised and a bit confused at how informal an introduction she had given, leaving me to assume she was trying to set a more intimate, easy-going feel to the festival. In retrospect, this worked; many must have felt right at home towards the end of the evening as they disruptively packed up to leave during the question-and-answer session, but I digress…
Oswalt then entered from stage right and it was a breath of fresh air. (I was surrounded by old man popcorn farts so this is only figuratively true but, nonetheless, he was the reason I attended.) I have been a fan of his stand-up comedy for years and ecstatic he was gracing our town with his presence. Oswalt gave a short speech about Roger Ebert and how much he respected the late film critic. He then described the influence Ebert's reviews had on the films he chose to watch as a teenager. "I would have passed on films like FLOATING WEEDS [an Ebert "Great Movie" from 1959 directed by the prolific Japanese filmmaker Yasujiro Ozu] if it wasn't for Roger's recommendation," he said.
After Oswalt offered up a few more kind words about Ebert, a short introduction, and the promise he would return after the film, YOUNG ADULT began. During the show, I could easily hear whispers from the cinema sewing circle surrounding me. "That's disgusting!" and "How awful!" were two of several I was able to discern. I wouldn't say YOUNG ADULT is necessarily racy but it will make you feel uncomfortable. I can only imagine how difficult it would be to watch if I didn't already know women or, rather, people like Mavis Gary (Charlize Theron); the humor would be lost on me and I'd walk away from the film very sad.
The film reunites JUNO screenwriter Diablo Cody with director Jason Reitman and introduces us to Mavis, a shallow, self-centered, divorced thirtysomething writer whose life consists of television, alcohol, and one-night stands. After receiving a birth announcement from her high school sweetheart, Buddy Slade (Patrick Wilson), she returns to her small hometown to entertain delusions of grandeur by attempting to rekindle a flame with Buddy, who is now married to Beth (Elizabeth Reaser). This does nothing to detour Mavis who, like a superficial teenager or sociopath, is only concerned with getting what she wants from people by any means necessary. The voice of reason is provided by Matt Freehauf (Oswalt), another high school classmate of Mavis who was disabled when jocks beat him up because they thought he was gay. Although Matt warns Mavis that attempting to get Buddy back is insane, she is so stubborn and full of herself she tries anyhow.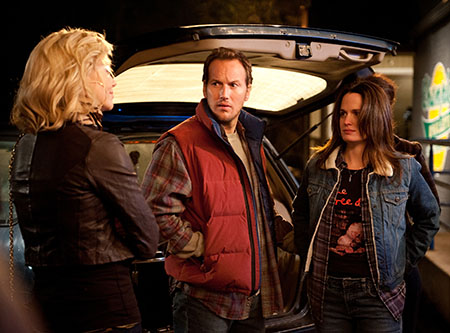 I felt slightly guilty every time I laughed at something on screen because the retired couple next to me would shift in their seats and the gentleman forced air through his whistley nostrils in disapproval. I wondered what the couple thought of this film. I bet they would give it two thumbs down. After YOUNG ADULT ended they didn't clap, they didn't smile. They just looked exhausted. I suddenly became very enthusiastic to see their reaction towards Oswalt's discussion.
Guest panelists Susan Wloszczyna, formerly an entertainment journalist with USA Today, and Steve Prokopy, contributor "Capone" on the Ain't It Cool News Web site, brought Oswalt back out for the YOUNG ADULT Q&A. This proved to be the highlight of my evening. As I stated earlier, I love Oswalt's stand up. On stage, he is charming, intelligent, and quick with a youthful ease that is comfortable and fun. He brought this same brilliance to the film discussion, cracking up the crowd as he spoke about customized busty STAR WARS action figures, French bulldogs as a "living picture of Dorian Gray," and how focused he is as an actor. "I gained 40 pounds for this [role] 20 years before Diablo [Cody] wrote the script," he boasted.
Joking somewhat aside, Oswalt offered more insight into the film. Particularly on Mavis, he said "she's a despicable character but she's a recognizable one" because we've all met a person like her, someone who refuses to grow up. He proposes that YOUNG ADULT "is a great cautionary tale for kids. Enjoy your youth but also enjoy your adulthood and maturity. They're both great. Don't try to rush to one and white knuckle the other." And this discussion certainly got my wheels turning.
I couldn't help but think of my elderly neighbors, mainly because the guy next to me was half asleep and breathing heavily, but I felt less angry at him, all of them, for everything: getting up to pee during the movie, whispering, spilling drinks, smelling musty, leaving before the Q&A ended and not quietly. Maybe it was because I laughed so much it put me in a good mood. Honestly, I think it was due to the curtain lifting a little and me being horrified to see a bit of Mavis in myself, judging these strangers and feeling embarrassed for sitting by them. It felt pretty lousy on my part.
But, as if on cue, the sleeping old man behind me audibly ripped one and I hated them all over again for it.
YOUNG ADULT played the sixteenth annual Roger Ebert's Film Festival on Thursday, April 24, 2014, 9 p.m. Actor Patton Oswalt appeared as a festival guest. Oswalt also hosted the pre-Ebertfest screening of THE TAKING OF PELHAM ONE, TWO, THREE (1974) at Foellinger Auditorium on the University of Illinois campus on Tuesday, April 22, 2014, 7 p.m.
~~~~~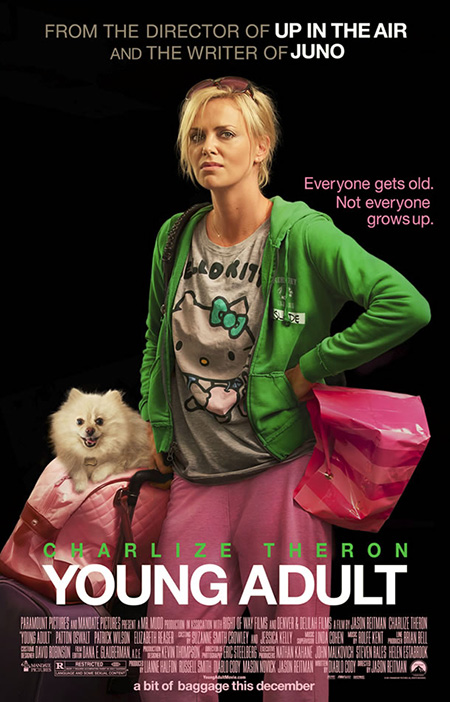 YOUNG ADULT is a Mandate Pictures presentation of a Mr. Mudd production in association with Right of Way Films and Denver & Delilah Films, distributed theatrically, VOD, and on home video (U.S.) by Paramount Pictures. It was directed by Jason Reitman, written by Diablo Cody, and produced by Lianne Halfon, Russell Smith, Mason Novick, Cody, and Reitman, and stars Charlize Theron, Patton Oswalt, Patrick Wilson, and Elizabeth Reaser. 2011, HD, Color, 93 minutes
~~~~~
Samantha Ducey lives, works, and dreams all things cinema in Chicago.
Article © 2015 Samantha Ducey. Used with permission.
CUBlog edits © 2015 Jason Pankoke
Cover graphic: © Roger Ebert's Film Festival/Daily Illini
YOUNG ADULT graphics: © 2011 Paramount Pictures
and Mercury Productions, LLC