~~~~~
"Pledging Allegiance to the Kickapoo Nation"
Rumors, half-truths, lies, and amber waves of haze have obscured the history of the Incident at Kickapoo Creek. R.C. Raycraft attempts to pull back some – but not all – the layers in his documentary.
by Jason Pankoke
~~~~~
Is there such a thing as an independent film production, regardless of content or scope, being aged to perfection in this era of lightning-quick work flow, highly fickle market trends, and unpredictable consumer taste? We only have to look one twin college town over for a legitimate example in INCIDENT AT KICKAPOO CREEK, a true labor of love for Normal, Illinois, native R.C. Raycraft that is finally primed to rock far and wide after more than 20 years in progress. Fortunately, local audiences and regional fans will receive several immediate chances to view the 75-minute, new-look INCIDENT before it goes on tour.
Raycraft will unveil INCIDENT at the Normal Theater, 209 North St., Normal, for four weekend shows beginning tonight, Friday, June 5, when doors open at 6:15 p.m., a bonus screening under the stars on Saturday, June 13, in nearby Heyworth which is close to where the namesake event took place Memorial Day weekend of 1970, and a presentation on Thursday, June 18, at the Route 66 Twin Drive-in, 1700 Recreation Dr., Springfield, with a special co-feature to be announced. Those enamored with the intrigue of what may or may not have happened during the Incident at Kickapoo Creek, apart from the plethora of acts like Canned Heat, Paul Butterfield Blues Band, Amboy Dukes, Country Joe and the Fish, and B.B. King who played that magical, muddy, three-day marathon, will certainly dig this film. Those who think they've seen INCIDENT before – the filmmaker has teased aplenty, playing it publicly every few years since starting up the project in 1994-1995 – have not yet seen this INCIDENT.
We make that claim with authority since Raycraft gave C-U Blogfidential an exclusive peek at the first 10 minutes of INCIDENT during the winter; calling the prior assemblies of the documentary "plain" compared to this 2015 cut is a vast understatement. "I started from scratch, re-digitizing all the original interviews and rebuilding all the [vintage] clips with high-definition film transfers," explains Raycraft, who has shouldered INCIDENT the entire way when not attending to either his primary career – a reality television pioneer, he has provided many hours of original footage for police "ride-along" programs since the 1990s – or the family business –staffing the 3rd Sunday Market in Bloomington, operated by his parents Don and Carol. "Prior to now [I had to] shoot the film on the wall with the best video camera I had," he continues. "For this version, I had telecines done of the original films frame-by-frame," an involved process that forced INCIDENT to go incognito these past few years.
Raycraft became intrigued with the rock show, an early precursor a la Woodstock to the outdoor festivals that dot entertainment calendars across the United States today such as Coachella, Lollapalooza, Bonnaroo, and the just-wrapped Summer Camp in northern Illinois, after his parents gave him an original Incident poster as a child. Eventually dubbing the Incident "the most successful rock festival you've never heard of," Raycraft picked up on bits and pieces of the purported history over time – the music acts from national to local booked by a young Irving Azoff, the enigmatic "gentleman farmer" L. David Lewis who staged the concert on his mother's property outside of Heyworth, the motorcycle gang hired to patrol the premises and police officers sent in undercover to do the same, the nearly quarter-million dollars' gross that went missing – until deciding to produce a documentary about it in his mid-twenties.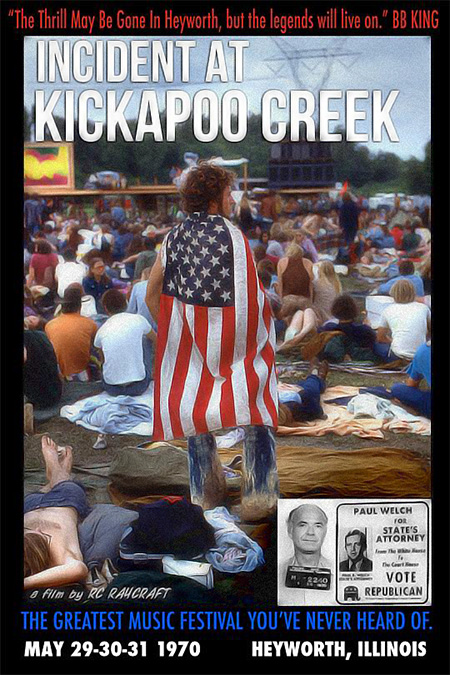 After conducting more than a dozen interviews during those initial years with individuals who participated as concert-goers, staff, vendors, and performers – including King and Ted Nugent – the novice producer had his work cut out to gather ephemera to further illustrate this "lost" happening. Strangely enough, Raycraft discovered a gold mine of police intelligence he could use including photography, transcripts, news clippings, and audio tapes (miraculously preserving most performances, even though comparable film elements have been hard to come by) to pair with the expected heirlooms drawn from personal collections and archives. "I put a ton of Easter eggs in this movie," claims Raycraft, who reworked INCIDENT visually to make use of layers and split screens, the latter a common affect in films from the Seventies. "It is so deep and fast that, the more you watch it, the more you get from it," he says.
What might surprise an audience about INCIDENT is how Champaign-Urbana plays its part in the story. "The movie starts off in Champaign with all the [student] riots," explains the filmmaker, who used footage of the protests that enveloped the University of Illinois campus mere weeks before the Incident to set the tone for the generational culture clash expressed on both fronts. "Champaign is huge in this movie, and on purpose," he continues. "The film is a homage to Champaign as far as the bands and vibrations." Azoff, who grew up in Danville and had just graduated from UIUC, worked with Bob Nutt at the local booking firm Blytham, Ltd.; Lewis hired them to maximize a meager talent budget. Acts would include the Finchley Boys, REO Speedwagon, and the Esquires from Champaign as well as an early incarnation of Rockford's Cheap Trick. Today, Azoff is considered a very powerful player in the music industry.
Viewers will realize quickly that INCIDENT does not conform to the "rock concert film" genre, given that it rhapsodizes far more over the once-in-a-lifetime cocktail mix of prudes, nudes, and fully-armed dudes. "It is a film noir documentary," describes Raycraft. "It is also a movie Western … good guy versus bad guy, the white hats and the black hats like in THE MAN WHO SHOT LIBERTY VALANCE. Depending on which side you are on – the undercover police versus the motorcycle gang, [McLean County State's Attorney] Paul R. Welch versus David Lewis – you can go with the truth or the legend." Let's not forget the counterculture cavalry versus the aghast locals, whose fears were never quite realized. "The funniest part of the movie is the paranoia of Heyworth's 1,300 residents," Raycraft offers. "60,000 people show up and the day after [the festival ended] the chief of police says nobody got arrested!"
Hardly let off free as birds, according to a clipping that appears in Raycraft's companion book published in 2010, more than 200 individuals received tickets driving into and out of the Heyworth area. That is more legal action successfully leveled against poor motorists than Lewis himself, who escaped the country that June 3 with the festival's monetary take in hand and impending lawsuits and arrest warrants in his rear view mirror. "Lewis was a bastard," admits the filmmaker, despite casting him as a renegade anti-hero in INCIDENT. "D.B. Cooper took $200,000 in 1971 and disappeared. In 1970, Lewis took $235,000 in cash and never came back … to call him the 'D.B. Cooper of rock 'n roll' is premature, because Lewis did it one year earlier and under his own name." Without giving too much away, the late farmer-promoter-scam artist gets his "revenge" on Welch and everyone else persecuting him at the time, partly via the film itself.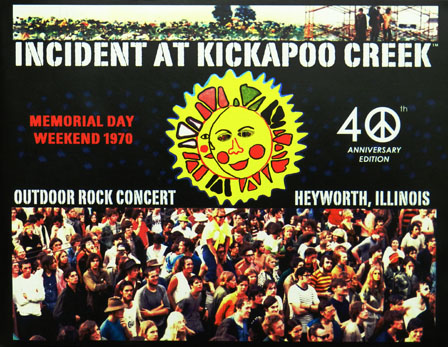 What has aided Raycraft in pushing the documentary towards the finish line in recent years is his better familiarity with digital post-production tools and easy access to viewing materials that provided inspiration for what his film could ultimately be. "I went back to the basics on this," explains Raycraft, who has been developing pitches for non-fiction television programs at the same time as shoring up INCIDENT. "I'd been watching this Netflix show on the history of film which talked about all the brilliance – slow fades, short lens shots – that makes the best movies genius. [He is referencing the 15-part series THE STORY OF FILM, originally aired on Turner Classic Movies. – ed.] So, I would watch this and run upstairs to take those lessons and recreate them into my film because [the series] is a lot smarter than I am … but, at the same time, how many people have ever said they went to film school on Netflix?"
With thousands of hours spent across two decades to arrive at this INCIDENT, Raycraft will finally have to weigh options in promoting and releasing his magnum opus. "It's [eventually] going to come out on Netflix – that would be a great place to launch its distribution – or HBO or wherever," states the filmmaker. Self-distribution and streaming-only release are options he has flirted with as ways to hook audiences in the long run, although he believes memorable promotion between now and then is also paramount. "I'd rather show it at the Playboy Mansion, on the weeknight when Hugh Hefner shows films before they're released, rather than at Sundance or any other film festival," Raycraft intones. Given how the Incident must have impressed anyone who entered the Lewis property that fateful weekend in 1970, one can't help but wish for its film retelling to be presented with a similar sense of pomp and circumstance in 2015 and beyond.
Raycraft would probably insist that INCIDENT is a tribute to everyone who played a role in that ultimate of rock concert mysteries. "You can't put lightning in a bottle 45 years later, but to remember the people who were involved," says the filmmaker, "you can't do any better than that." He is certainly taking their resonance to heart. For instance, at the open-air showing of INCIDENT in Heyworth, festivities will include spreading the ashes of Incident security guard Art "Caveman" Dennis over Kickapoo Creek. And just last week, Raycraft shared unheard snippets of his 1995 interview with King on Illinois State University radio station WGLT AM-FM to remember the "King of the Blues," who passed away May 14 at age 89. "[Host] Jon Norton knocked it out of the park," raves Raycraft of the radio segment. "If you listen to the [original] interview, I ask the worst questions and B.B. gives the greatest answers … B.B. was a saint."
Now is the moment when our dearest readers should reach through that screen and pinch us, hard. Can it be? This singular tale, long dispersed to the winds of a nondescript small town tucked away south of Bloomington-Normal and held close to the vest by rock gods, blues ambassadors, and common men alike, will finally be sent out into the world? We have been following the gradual unearthing of this cultural history – and the parallel adventure involving the efforts of R.C. Raycraft to make sense of it all under his own power and on his own dime – the entire existence of C-U Blogfidential. We're not naïve enough to think we're all finished with the brewing Midwest mythos that is INCIDENT AT KICKAPOO CREEK.
As a wise man once bellowed with the warmest of smiles, "The thrill may be gone in Heyworth, but the legends will live on, and on!"
~~~~~
~~~~~
INCIDENT AT KICKAPOO CREEK screenings
June 5-18, 2015
Friday, June 5
Normal Theater, Normal, IL, $15
6:15 p.m. :: Box office and doors open; cash bar service available
6:30 p.m. :: Panel discussion with R.C. Raycraft and community members featured in the movie
7:00 p.m. :: INCIDENT AT KICKAPOO CREEK screening
8:20 p.m. :: Post-show reception at the Marriott featuring live music, additional memorabilia and images from the festival, cash bar service, and the opportunity for a meet-and-greet with the director and community members featured in the movie
10:00 p.m. :: End of official function; if people are still going strong, we'll flow in to the Marriott's bar or another location TBA
Saturday, June 6
Normal Theater, Normal, IL, $7
6:30 p.m. :: Box office and doors open
7:00 p.m. :: INCIDENT AT KICKAPOO CREEK screening
8:20 p.m. :: Post-show discussion with R.C. Raycraft aimed at filmmakers
Saturday, June 6
Normal Theater, Normal, IL, $7
8:40 p.m. :: Box office and doors open
9:00 p.m. :: INCIDENT AT KICKAPOO CREEK screening
10:20 p.m. :: Post-show discussion with R.C. Raycraft aimed at filmmakers
Sunday, June 7
Normal Theater, Normal, IL, $7
6:30 p.m. :: Box office and doors open
7:00 p.m. :: Premiere of short film created out of extended interview footage between B.B. King and R.C. Raycraft, followed by INCIDENT AT KICKAPOO CREEK screening
Saturday, June 13
Centennial Park, Heyworth, IL, $TBA
6:00 p.m. :: Camping set-up
7:00 p.m. :: General admission
8:00 p.m. :: Party starts!
Thursday, June 18
Route 66 Twin Drive-In, Springfield, IL, $TBA
9:00 p.m. :: INCIDENT AT KICKAPOO CREEK screening w/2nd feature TBA
~~~~~
Article © 2015 Jason Pankoke.
Graphics & schedule: courtesy Raycraft Productions International.
Used with permission.
[Updated 7/10/15, 1:30 a.m. CST]