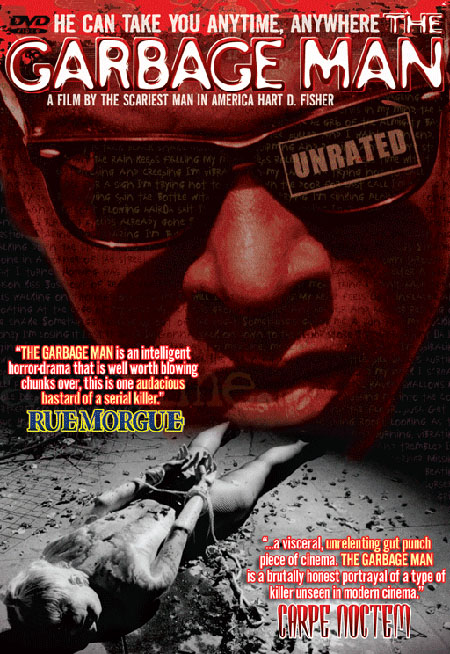 The Dark History Con, a second-year "true crime" expo organized by Brian Wood of Rantoul that is intended to pay respects to the victims of horrendous violence and investigate the evil that men do through ephemera, literature, media, and the arts, has managed the impossible by drawing out into the open Champaign-Urbana's most notorious fictional killer. Who knows what deal the Devil made so THE GARBAGE MAN, Hart D. Fisher's underground flick shot in the University of Illinois "student ghetto" the summer of 1993, could finally play for the public to see? In any case, the chilling on-screen exploits of nondescript trash collector Tom (James Meredith) have been forever tangled with the real-life fate of Fisher's then-paramour Michelle Davis, assaulted and killed in a since-demolished local motel by since-convicted Eric Daniels, at the time GARBAGE MAN was being filmed. Although the project had sunk into a black hole for years due to its coincidental association with Davis' murder, the artist once called "the most dangerous man in comics" by Hero Illustrated thanks to his brand of unsettling comics, fiction, poetry, and videos finally pulled it back from the brink for finishing. One can certainly seek the out-of-print DVD from 2009 or occasionally find it in rotation at Fisher's streaming genre channel American Horrors, but all these years later GARBAGE MAN is still not particularly easy to see … or watch, for that matter, if slow-burn psychological gruesomeness with a grainy palette and shoestring budget is not in your ballpark. It may be just as well the brave will need to be bold and visit the west-most edge of Champaign to see it at the convention. Our tastemakers would probably suffer a Hart attack were it so readily on display.
The floor will be open for Dark History activity today, Saturday, September 19, from 10 a.m. to Midnight, and tomorrow, Sunday, September 20, from 11 a.m. to 5 p.m., at the Fluid Event Center, 601 N. Country Fair Dr., Champaign, with various personalities tabling or presenting such as authors Seth Ferranti, Minda Powers-Douglas, and Maureen Hughes, artists Jeff Gaither, Charles D. Moisant, and Philo Barnhart, military make-up expert Bobbie "Bloody Mary" Weiner, paranormal investigator Jim Heater, and Danville's own Jake Aurelian a.k.a. "Ripper the Clown." THE GARBAGE MAN will be presented as the second half of a double bill on Saturday starting at 7 p.m. and be preceded by SERIAL KILLER CULTURE, the final documentary piece on the topic by Chicago independent filmmaker John Borowski; his work includes  biographies of Carl Panzram, Albert Fish, and H.H. Holmes. We're pretty certain that discussion with both Borowski and Fisher about their pursuits past and present will be equally fascinating and sobering, given the paramount subject matter surrounding everyone who attends this particular event. Please visit the official Dark History Con Web site for information on all guests, sponsors, and ticket prices.
~ Jason Pankoke
p.s. Fisher and THE GARBAGE MAN have left a trail of C-U Blogfidential posts in their wake stretching back years; check out related notices here, here, here, and here, if you dare.
p.s.2 Once again, the ghosts of MICRO-FILM past reemerge! Look in MF 7 for the featured review of Borowski's H.H. HOLMES: AMERICA'S FIRST SERIAL KILLER, written by Damian Duffy.
p.s.3 So, about that obnoxiously fluttery GARBAGE MAN transfer on the disc issued by Indie-Pictures while they were obviously suffering their own death throes and tossing product quality control to the wind … will we ever receive an upgrade? Dearest bleeders can see brief, yet clear, moments from the film in the teaser below, not the most effective made by Fisher but it delivers the visual proof.
p.s.4 Alright, then, you peeked so we'll spill. That is Tim Bradstreet, the professional illustrator famous for his hyper-noir comics and gaming artwork, in the preview frame of the video; he lived in Bloomington-Normal in the early Nineties as his career was getting started. Strangely, his name does not appear in the end credits of GARBAGE MAN. Not strangely, we look for such things. Hm.