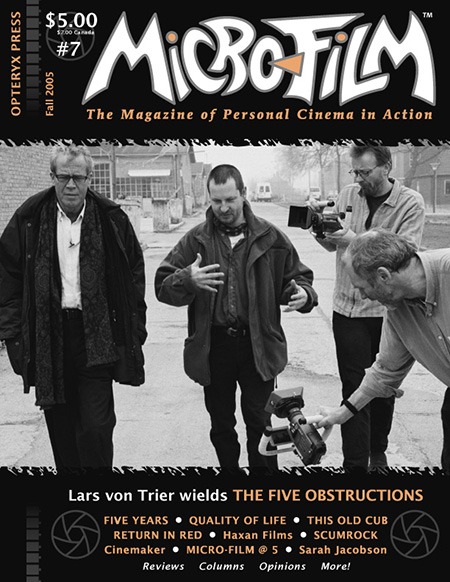 ~~~~~
As we begin inundating the movie universe of Champaign, Urbana, and the cities beyond with friendly reminders that C-U Blogfidential will reach its 10th anniversary on Thursday, February 25, we can't help but dream big about the related editorial we'll be creating and commissioning for our dearest readers! This most certainly will reach back far enough to make mention of MICRO-FILM, for which a silently observed 10th anniversary also passed recently as its last print edition arrived in October 2005. We're content to not burble prematurely about what's on our minds regarding MF in the present and future, although we'd like to shine a spotlight on our flagship title's past and, more specifically, its material legacy. In several waves beginning later this year, we will begin the long process of cleaning up and clearing out the Secret MICRO-FILM Headquarters in sesquicentennial Champaign – this is not code for "we're moving" or "we're closing shop," by the way – so we can make room, redecorate, and stash a little cash to aid the process. We now focus on our stockpile of beloved MF back issues.
CUBlog wants to make sure our periodical predecessor ends up safe and secure in your library, movie culture fans! MFHQ houses plenty of spare MF copies and we'll happily make them available for purchase at a discount; since we have yet to release electronic versions of this seminal run from 1999 to 2005, this is the only way to relive how the Paper Opteryx first took flight during the glorious peak of independent film awareness in the United States! Those who are green to our original MICRO-FILM scene can visit the dormant Web site for content crunches of all seven issues, cleanly designed and compassionately written to cover the exciting growth of international cinema produced during the dawn of low-cost digital workflow and do-it-yourself Internet outreach. Features, interviews, commentaries, and reviews take on the era's hot topics and key personalities, involving the likes of Kevin Smith, Michael Moore, Lars von Trier, Guy Maddin, Jeff Krulik, Sarah Jacobson, Roger Ebert, Lloyd Kaufman, Esther Bell, Jon Moritsugu, Bill Viola, Cory McAbee, John McNaughton, Jill Godmilow, Bruce Campbell, Mark Borchardt, and more!

Start by clicking this link to open a PDF mail order form in your browser, or right-click to download the same to your computer, for viewing and printing. Our standard special between now and June 30 is $20 for any four MF issues, post-paid in the continental United States and Canada; you may order in the old-fashioned manner through the mail or send a PayPal payment to cuconfidential@gmail.com with clear-as-day notes telling us what you'd like and where you'd like us to ship it. Just for the CUBlog faithful, we'll offer extra specials as well! Send us a cool $30, and we'll send back the complete MF seven-issue run post-paid; send us instead a big-ass $40, and we'll load you up with MICRO-FILM 1-7, the rare MICRO-FILM 'zine The Warning Shot, and the equally rare MICRO-FILM newsletters released exclusively in the C-U … amazingly, post-paid! You can only purchase these bundles directly from MFHQ, so be sure to plunder that Christmas money and submit those orders before we begin weeding out our wares! This clearance sale does not include C-U Confidential digests, either past or upcoming.
The graphic below, which you can click to enlarge for easy reading, is a bonus peek behind the ironic curtains when MICRO-FILM still reigned supreme in our lives and utmost attention was paid to delivering the best annual film journal we could. Created in mid-2005 for one of our former "middle men," Ubiquity Distributors in Brooklyn, NY, this "sales sheet" helped them to convince vendors to carry MF 7, painting the magazine as an invaluable source and picturing the covers of issues 5, 6, and the yet-to-be-released 7 for emphasis. It also features a clean-shaven William Kephart modeling a little choice reading material! (That would be MF 2.) Here's to filmmakers continuing to "entertain and engage today's sophisticated media audience without kowtowing to Hollywood's sensibilities," according to our MICRO-FILM self-promotional copy from a decade ago, and that pretty much goes for CUBlog as well!
~ Jason Pankoke
p.s. Not that many copies of MICRO-FILM issues 3 and 4 remain. Pro tip for collectors!
p.s.2 CUZine will reach its own 10th anniversary next year, so it might be nice to finally publish it again…
p.s.3 Please don't pester us about when "more stuff" will be up for sale. In good time, gang, in good time.
~~~~~~