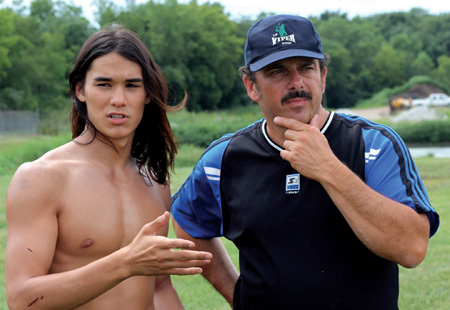 ~~~~~
While putting together our SHOT report from a few weeks ago, we happened upon a Facebook announcement from Robin Christian of Dreamscape Cinema in Champaign that BAD COMPANY, his company's bioterrorism action film that was originally produced in Piatt County in July and August of 2013, would street on the same day as the vintage student adventure – Tuesday, August 28. This included placement in Family Video locations across North America and additional exposure in Redbox kiosks nationwide thanks to the connections of MTI Home Video, the long-running genre label that picked up the rights to BAD COMPANY from sales agent Artist View Entertainment. Other than securing international distribution for the project, previously called LOWLIFES, this clears the deck for Dreamscape as all the studio's completed features are now in commercial release with most available via Amazon streaming. You can access the older catalog – SHEEBA, DISCONNECT, ACT YOUR AGE, MY DOG THE SPACE TRAVELER, and the VOD-only DISPOSABLE – at this Amazon search result.
Starring up-and-coming talents like Booboo Stewart (X-MEN: DAYS OF FUTURE PAST), Giselle Bonilla (FREEDOM WRITERS), Kyle Massey (THAT'S SO RAVEN), Madelyn Deutch (THE YEAR OF SPECTACULAR MEN), and Quinton Aaron (THE BLIND SIDE) as well as veteran actors like William Atherton (DIE HARD), Christopher Judge (STARGATE SG-1), Tzi Ma (THE MAN IN THE HIGH CASTLE), and Mark Derwin (THE SECRET LIFE OF THE AMERICAN TEENAGER), the film follows a group of teenagers that is enrolled in a disciplinary boot camp and becomes isolated when a rogue militia invades the immediate countryside. Troop members who survive an early search-and-destroy sweep by the invaders must put aside their pasts and band together in order to thwart a scheme to disable the nearby nuclear plant. Other than aiming to produce a yarn that is exciting and colorful, Christian took inspiration from the Lincoln's Challenge Academy in Rantoul and their serious mission to help wayward youth turn around their lives so they may be productive or even heroic in the face of adversity.
The disc reproduces the film adequately – we can't help but be impressed by the look of sequences involving woodlands and farm country, lushly captured by veteran cinematographer Bruce Logan (TRON, JACKSON COUNTY JAIL) – yet is barren of extras other than removable subtitles and trailers for MTI fare. (A similar fate befell this year's other commercial releases of locally filmed features, CONSUMED and BEFORE 'I DO', although SHOT benefited from landing at a collector's label that regularly supplements its titles with bonus content.) You can segue to the official Facebook page for a closer look behind the scenes or locate any fan site devoted to buff TWILIGHT star Stewart for a peek at the actor in character and then, maybe, something else BAD COMPANY. Christian's current ensemble has recently wrapped the next Dreamscape production, a bull shark-in-the-Midwest-river saga called BELOW, and is now filming pickup shots in Illinois and Missouri. We'll talk about that a bit more in an upcoming post. Until then, be alert when the cornfields surround you…
~ Jason Pankoke
p.s. William Kephart, we hardly knew ye in this movie and it's not because you went uncredited in your cameo. Snif.
~~~~~