From March 15, 2007: 
PRESS RELEASE
SACRED SITES OF THE DALAI LAMAS comes to the Art Theatre
STUDIO CITY, CA (March 15, 2007) – A remarkable film journey to the power places of central Tibet will unveil for Champaign, Illinois audiences in a one-time-only showing at Boardman's Art Theatre on Saturday, April 28, 2007, at 1:30 p.m., with filmmaker Michael Wiese and composer Steve Dancz in attendance to answer questions.
THE SACRED SITES OF THE DALAI LAMAS explores the caves and monasteries where the early Dalai Lamas and the founders of Buddhism meditated, taught, and achieved enlightenment. The film follows the journey of Glenn Mullin (Tibetologist and author of more than 20 books on Buddhism), Steve Dancz (composer for National Geographic Television who also narrated and composed the score for DALAI LAMAS), and Kenpo Tashi (a Bhutanese monk) on a pilgrimage to many of Tibet's most sacred sites.
The film's first showing was for the 14th Dalai Lama, currently living in exile in India, who requested a DVD of the film. "I presume he wanted to see his homeland," says Wiese. The DVD is available through Amazon.com.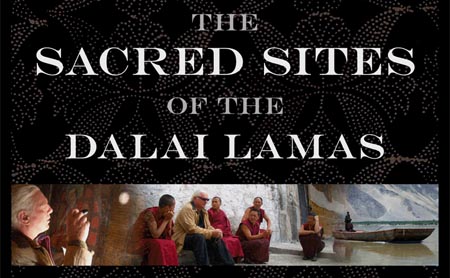 Wiese has published more than 100 "how-to" books on every aspect of the filmmaking process through Michael Wiese Productions, including best-sellers like The Writer's Journey by Christopher Volger, Shot by Shot by Steve Katz, Directing Actors by Judith Weston, and the new Save the Cat by Blake Snyder. The books are used as texts by students in more than 600 film courses and by professionals throughout the world. Wiese says, "Our goal is to inspire and empower a whole generation of filmmakers and encourage them to create worthwhile works that explore the human condition.
"Like we say in our books, sometimes it doesn't make sense to spend years trying to get a broadcaster or distributor to find your work. Sometimes, you just have to grab your camera and go out and make your film, even if it takes you to Tibet," continues Wiese, following his own best advice. "With today's technology, there is absolutely nothing to stop anyone from having a good idea and expressing it visually."
Wiese's next project is BALI BROTHERS, a buddy-buddy story and love triangle with supernatural elements, which is based on his own 1996 novel, On the Edge of a Dream: Magic and Madness in Bali. The project's development has gone through 34 scripts over the last 15 years and is now ready to shoot. "There is absolutely no sense in rushing into production. Things with long gestation rates – redwoods, elephants, the pyramids – seem to have the most lasting impact. Many young filmmakers are in too much hurry to roll the camera before their scripts are fully developed," says the filmmaker.
Wiese was born in Champaign. His first job was folding boxes in the basement of Joseph Kuhn's, a family-run business. Wiese attended University High Lab School on the campus of the University of Illinois at Urbana-Champaign and got his start working summers, first as a cub photographer for the Champaign News-Gazette alongside Roger Ebert and later as production assistant at UIUC's documentary film unit. He now owns and manages "virtually" (from his home in Cornwall, England) one of America's top film book publishing houses. He also writes books, gives independent filmmaking seminars around the world, and produces films and videos.
The Art Theatre's exclusive showing of THE SACRED SITES OF THE DALAI LAMAS is not an official event of Roger Ebert's Overlooked Film Festival.
FOR MORE INFORMATION,
CONTACT:
Michael Wiese
+44 1736 810 001 (England)
mw@mwp.com
http://www.mwp.com/
# # #