Now, this makes me smile. One of the bright sparks of early Illini Film & Video history, Laura Zinger, returns to Champaign-Urbana with movie-making partners Michelle Kaffko and Stacey Simcik to present in partnership with IFV their new documentary, PROCEED AND BE BOLD!, this Saturday, October 25, at 7 p.m. A compelling portrait of the poster artist Amos Paul Kennedy, Jr., who left stable office environs to dedicate his time to producing work that pushes more than a few buttons, BE BOLD! will be a free show at 101 Armory, the auditorium in the Armory Building, 505 E. Armory Ave., Champaign, and is open to the public.
The event is actually uncharted territory for IFV, having one of their own come back with proof in hand that he or she pursued the movies post-UIUC, although Zinger's path started with following an archetypal loop explored by many. "Right out of college, I moved to Los Angeles and ended up working as a script reading intern for Pretty Pictures (KINSEY), a temp for MGM, and finally, a receptionist at MOJO, a post-production trailer house," Zinger tells C-U Blogfidential. "It all got extremely boring, extremely quickly … I knew it wasn't the place for me to grow and learn and develop as an artist."
However, unlike those who would have eventually strayed from the path, Zinger stayed the course. "I moved home, took some video production and editing classes at the College of DuPage [in the Chicago suburbs] where I now teach, and started to take small video jobs here and there while I tried to figure out how I wanted to start making movies," she continues. After building out-of-class experience and making a 20-minute non-fiction piece at CoD, Zinger landed a two-year gig producing historical pieces about west suburb Naperville for that city's public access station.
During this phase, Zinger became more familiar with Kennedy and his output. "While working [at Naperville Community Television], I decided to practice my camera work and editing skills by making a short piece about Amos, who persuaded me to enter it into the Rural Studio Film Festival at Auburn University in Alabama," explains the director. An internet posting of the short collected 800 hits during its first week on-line, convincing Zinger, Kennedy, cinematographer Kaffko, and editor Simcik to move forward with a full-length expansion that would become PROCEED AND BE BOLD!
Interviews and location footage mesh to tell Kennedy's story, complementing the aura of an artist who doesn't readily open up. "It took about six months of taping before I finally felt like I was getting to know Amos," says Zinger, who first met Kennedy while in college, "and even then, after one of our first screenings [earlier this year], I met two of his past students who told me things about him that I wish I could have put in the documentary. Now I know him as a subject and as a friend. It's been an amazing experience."
Several film festival and college campus appearances later, BE BOLD! will hopefully inspire Zinger's fellow Illini and IFV members with its accumulating success. "It feels good to be able to go back to UIUC and show the students that it is possible to follow your dreams, even if it's seven to 10 years later," she concludes. "It also feels good to be able to show people that getting an English Literature degree is, in fact, not a bad idea and is more multi-funcitonal than anyone thinks. And now, I am a documentary filmmaker. Go figure."
Future plans for the trio's Brown Finch Films will include a DVD of PROCEED AND BE BOLD! as well as at least two new productions, a documentary about America's eating habits called DINNER and a Webisode sci-fi parable titled LAST SMOKERS ON EARTH.
The offical press release for Saturday's event follows the graphic.
~ Jason Pankoke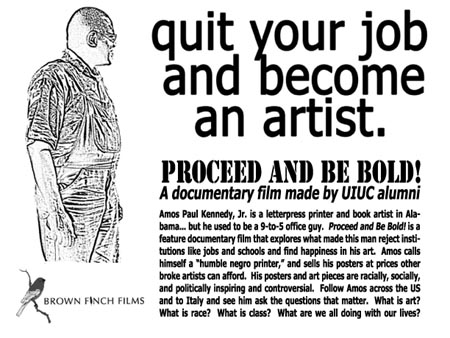 From October 10, 2008:
FOR IMMEDIATE RELEASE
UIUC Grads Bring Their Documentary Film to Campus
(Chicago, IL) Two alumni from the University of Illinois at Urbana-Champaign, Laura Zinger, 29, and Michelle Kaffko, 27, have recently finished a feature-length documentary film after a year in production. As part of a national tour, they are bringing their film to their alma mater for a screening on Saturday, October 25, 7 p.m., at 101 Armory, Armory Building, 505 E. Armory Ave., Champaign, IL.
"We were so happy to learn that the film club we helped to found while we were students is still active, and will be hosting a screening of the film," said Zinger, referring to Illini Film & Video, a Registered Student Organization.
Zinger got her undergraduate degree in English Literature, and Kaffko's is in Cinema Studies. They met on campus through a cinematography professor in the College of Fine and Applied Arts, Julius Rascheff. "We lost touch after graduation," says Kaffko, "until the director for the Unit for Cinema Studies contacted me looking for Julius. I looked for Laura, and we reunited to track Julius down."
The pair had been involved in filmmaking for years, and immediately joined forces to make PROCEED AND BE BOLD!, a feature documentary on the printing press and book artist Amos Paul Kennedy, Jr. Amos grew up in a middle-class society where he was often the first black student, resident, or employee at many stages in his life. After years of living the middle-class narrative with a career at a major telecommunications company, Amos quit his job and moved to extremely rural towns in Alabama and started living on a meager income to support his new love for art. He now lives his dream as a self-declared "humble negro printer," and prints beautiful and colorful posters with racially, socially, and politically charged phrases and quotes.
"A lot of students have come to our screenings and have found the film very inspiring because of what Amos has to say about art and life," says Zinger, "he asks questions about race in art, culture and class in art, and inspires people to do what makes them happy."
Zinger's idea for PROCEED AND BE BOLD! came after following Kennedy's work for several years. "I first heard of the artist while I was a student at UIUC and working in the Rare Books & Manuscript Library," said Zinger, "I asked the head librarian what the most important book in the collection was, and she pointed to one of Kennedy's books – even though the library owns several pages from an original Guttenberg Bible. It just stuck with me how important his work is and what it represents."
###
CONTACT:
Michelle Kaffko
Brown Finch Films
312.952.5911
info [at] brownfinchfilms [dot] com
www.brownfinchfilms.com