A recent press release from Microcinema International, the San Francisco-based exhibitor of independent and esoteric cinema, announced a partnership with the Houston, Texas, archival video label ARTPIX to distribute the latter's "ARTPIX Notebooks" DVD titles. The brand-new entry in the series is WILLIAM WEGMAN: VIDEO WORKS 1970-1999, released this month to coincide with the retrospective, "William Wegman: Funny/Strange," at the Brooklyn (NY) Museum of Art. The 2-disc compilation features more than 150 films and videos by Wegman, a 1967 MFA graduate of the University of Illinois who is known world-wide for creating whimsical photographic work starring his beloved Weimeraner dogs. WILLIAM WEGMAN: VIDEO WORKS 1970-1999 is currently available for individual and institutional purchase through Microcinema.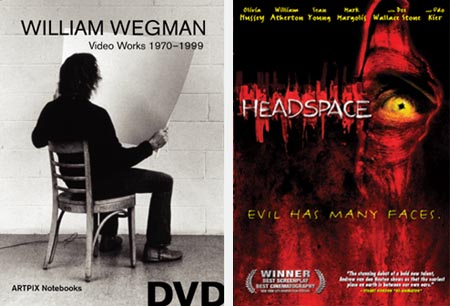 Elsewhere, in the upcoming Freestyle Home Entertainment psychological horror movie HEADSPACE, the lead role of "Alex Borden" is played by Christopher Denham, a 2002 theatre arts graduate of UIUC making his feature-film debut after performing in several New York stage productions. Freestyle originally scheduled the HEADSPACE DVD for release this past Tuesday, March 21, but apparently pulled it for unspecified reasons, going so far as to alter the street date listed on their Web site from March 2006 to September 2006 to "Theatrical Release: Winter 2006," all within the past week. Freestyle, indeed.
The first full-length feature for both director Andrew van den Houten and his company, ModernCine, HEADSPACE stars cult icons Udo Kier (ANDY WARHOL'S DRACULA), Dee Wallace-Stone (THE HOWLING), William Atherton (REAL GENIUS), Olivia Hussey (ROMEO AND JULIET), Sean Young (BLADERUNNER), and Larry Fessenden (WENDIGO) in addition to Denham.
– Jason Pankoke