All right, all right, so I'm late with this one – it's not like the "Jason come lately" syndrome is any sort of mystery, folks – but let's think positive and bask in the glow of an seven-post week here on C-U Blogfidential. That doesn't happen … well, ever.
A minor Internet hubaloo erupted just before Xmas 2008 when Roger Ebert wrote about the animated feature SITA SINGS THE BLUES on his Chicago Sun-Times blog. After reading said musings about the project, a virtual one-woman creation from Urbana native and alternative comix artist Nina Paley with a little help from voice actors, musicians, sound designers, and recordings of the late jazz vocalist Annette Hanshaw, it becomes more clear than usual that Ebert will go out of his way to trumpet a film he believes in.
Like many aspiring filmmakers, Paley sent her film to Ebert in the remote hopes that the famous movie critic would sneak a peek and write about it favorably. Also, like many perspiring filmmakers, Paley chanced it despite the fact that A. Ebert spends a lot of time producing a mind-blowing amount of material each week for the Sun-Times and elsewhere, and B. Nearly all of that material constituting a "review" is about movies playing commercially in a theater at the time of publication, which I understand is dictated by the media outlets for a multiude of (commercial) reasons.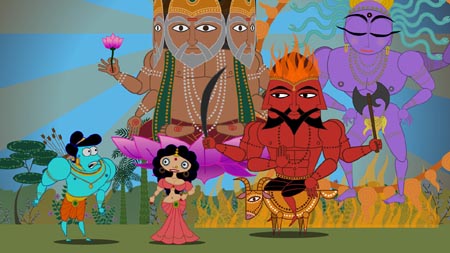 Unlike many screeners, Paley's did make it to the DVD player of the Ebert home theater. SITA won over the critic so handily that he posted the equivalent of a "thumbs-up" review and a short news story all rolled into one, do doubt making Paley and her fans very happy. Ebert even admits that he's invited SITA to "Ebertfest" 2009. Dang! We (presumably) know one of the selections and we're not even past Groundhog Day? That doesn't happen … well, ever. Usually, the faithful have to play the annual "waiting until the end of March for the College of Media to announce the Ebertfest selections" game. Maybe this is GROUNDHOG DAY instead. Hm. Could be worse.
Ebert obviously has more jurisdiction over what and when he publishes on his Weblog than in print and he's taking advantage of that freedom. So are his readers; check out the SITA post and sift through the 100-plus reader comments for some passionate opinions about the mix of Indian and Western concepts in the film as well as useful information in regards to music rights clearances (which has been a major road block for Paley) and self-distribution.
We wish the best of luck to Nina Paley with SITA SINGS THE BLUES and can't wait to (presumably) see it at the Virginia Theatre in April! CUBlog would also like to thank the C-U @ the Movies listserv for pointing out this item to their subscribers.
~ Jason Pankoke