Dearest readers, it's about that time! We reach the end of our four-week experiment in posing "Flickers of the Week" for your consideration as we investigate more closely the media/art events of choice in and near Champaign-Urbana, Illinois. Beginning on Friday, February 19, abbreviated blurbs will appear within the regular Calendar to help you select diversions wisely; those who might still be interested in providing the opinions on such matters for C-U Blogfidential should contact us at cuconfidential [at] gmail [dot] com to discuss! At this juncture before the merger, we highlight an ongoing exhibit at the University of Illinois' Krannert Art Museum that extrapolates and explores the very concept of time with a set of well-chosen pieces by artists from the world over.
Conceived by Amy L. Powell, the curator of modern and contemporary art at KAM, Time / Image was organized by and originally staged at the Blaffer Art Museum at the University of Houston in Houston, TX, where Powell was a curatorial fellow before arriving at UIUC. The exhibit should appeal to those who are willing to consider alternate iterations of "the motion picture" in a gallery context and how they might communicate stories and ideas. Eleven artists have employed variant "cinematic" sensibilities as well as forms, both physically static (e.g., photographs, sculpture, prints, found materials) and dynamic (e.g., multi-panel video projection, analog film-loop projection), to "seek out and develop temporal strategies in representation, whether in cinematic images that revive ghostly residues, in creative uses of juxtaposition that posit trans-historical and formal arrangements, or in their acute attention to artistic mediums claiming to represent time," according to an introduction that greets visitors at the entrances.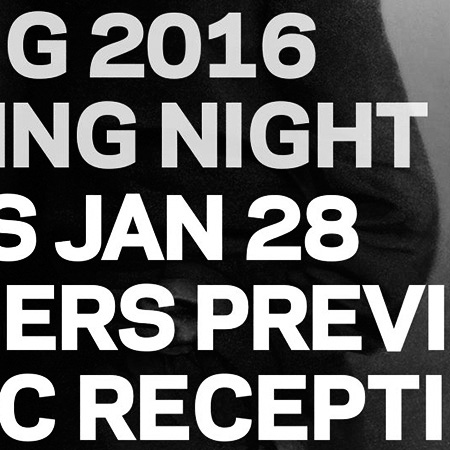 We pluralize "entrances" because two large-scale projections, An Afternoon Unregistered on the Richter Scale, 2011, by the Raqs Media Collective of India, and Ark of Martyrs (in progress), 2014, by Allen deSouza from California, have been placed in viewing enclaves separated from the bulk of the show by the central Rosann Gelvin Noel Gallery. Therefore, be sure to look for both parts when attending the exhibit. Additional artists whose pieces appear in the East Gallery portion of Time / Image include Siemon Allen, Matthew Buckingham, Andrea Geyer, Leslie Hewitt, Isaac Julien, Lorraine O'Grady, Trevor Paglen, Ruth Robbins, and Gary Simmons. Your humble editor visited KAM last week in preparation for this article and highly suggests that one allow approximately 90 minutes to take in the entire array including the projections, as three of the latter run 15-20 minutes each. Related events will include artist talks by members of Raq Media (Februrary 24) and Andrea Geyer (April 5), a "Time Symposium" performance/discussion (February 25), and Art Theater Co-op shows on March 7 and March 14.
Time / Image is on display through Saturday, April 23, in the East Gallery (Main Floor) of KAM, 500 E. Peabody Dr., Champaign, and open to the public Monday through Saturday except for holidays. Admission is free for all concurrent exhibits, although a $3 donation is suggested, and the full-color catalog of the show is priced at $45. This presentation is sponsored in part by Frances P. Rohlen Visiting Artists Fund/College of Fine + Applied Arts, and Fred and Donna Giertz, and is partially supported by a grant from the Illinois Arts Council Agency. For further information, please visit this page at the KAM Web site and this press release issued by the UI News Bureau.
~ Jason Pankoke
~~~~~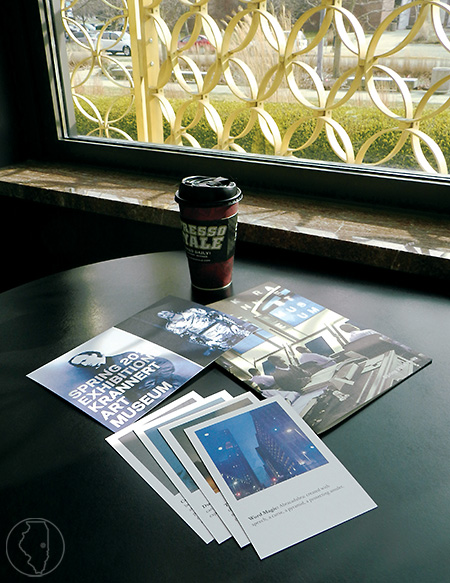 ~~~~~
p.s. Since we have no press assets for Time / Image, we're making due with KAM marketing materials for illustration. In our "Still Life with Coffee (The Palette Café)" you will note a spring 2016 events booklet, its cover featuring the previously mentioned An Afternoon Unregistered on the Richter Scale, and an event card picturing The First and Last of the Modernists, Diptych 3 Blue (Charles and Michael) (detail), 2010, by Lorraine O'Grady. Filling out the grouping are photo cards taken from A Lexicon of Dusk, 2009-15, by Ruth Robbins, an installation that embraces the small wonders of "charged and indeterminate" moments. Visitors may approach a single long shelf mounted in the gallery and sift through stacks of postcards, each reproducing a cell phone image taken by the artist in her surroundings at dusk, and keep however many of the 26 variants they wish. An artist's statement about the project appears at this link in conjunction with a Blaffer Art Gallery appearance back in October. Otherwise, hover and click!
p.s.2 Spend a contemplative moment or two, if you will, with Simeon Allen's Screen II (edit), 2015, just inside the East Gallery entryway, and see if its resemblance to a certain famous science fiction monolith isn't just the least bit eerie.
p.s.3 The communications school at the University of Houston is named after alumnus Jack J. Valenti, the often polarizing former president of the Motion Picture Association of America. Impress your friends with that trivia nugget.
p.s.4 What? An optical illusion? A mistake? Where?!?