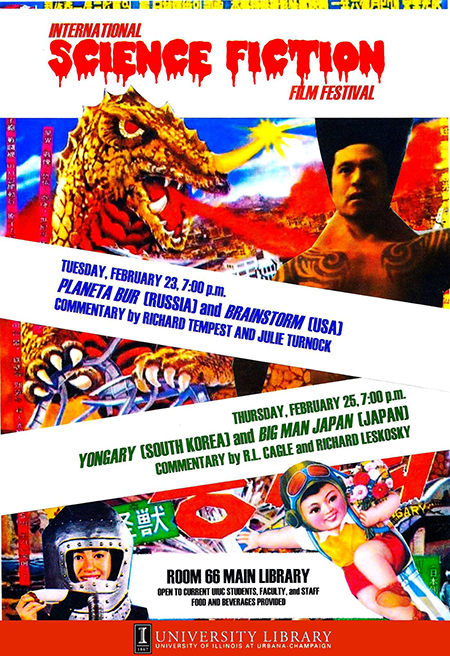 ~~~~~
Oh, no! What is this coming up from the depths? Run!!! No, wait, slow down, dearest readers…
Believe it or not, "Flickers of the Week" rises again to preview Champaign-Urbana cinema culture one last time prior to nesting in the weekly Calendar, for your humble editor couldn't pass an opportunity to shine the spotlight on a bit of surprise programming that is near and dear to his heart. (We also found it hard to resist sharing the impressively garish poster for these shows, to be honest.) Let us stomp forth, then…
Beginning tomorrow, Tuesday, February 23, and continuing on Thursday, February 25, the University of Illinois Library will host an "International Science Fiction Film Festival" in Room 66 of the Main Library, 1408 W. Gregory Ave., Urbana, just west of the Undergraduate Library. The series is comprised of four offbeat titles we believe will spike your curiosity in terms of their respective storytelling techniques, cultural affects, historical backgrounds, and implicit membership in a beloved film genre. First up on Tuesday is PLANETA BUR (PLANET OF STORMS), a lavish space adventure directed by Pavel Klushantsev and first released in the former Soviet Union in 1962; stateside producers coopted the film's plot of an ill-fated mission to Venus and remarkable pre-2001 effects, while augmenting it with an English-language soundtrack and new scenes featuring domestic actors, for multiple small-screen permutations like VOYAGE TO A PREHISTORIC PLANET (1965). The library will then screen BRAINSTORM (1983), a fascinating drama starring Christopher Walken and directed by Douglas Trumbull, the visual pioneer who helped create the "special photographic effects" for 2001 and other classics, about scientists learning how to tap and record the human mind; sadly, many remember it more as being the last movie of costar Natalie Wood, who drowned away from the set during production.
Thursday's leg will kick off with YONGARY, MONSTER FROM THE DEEP (1969), the "Americanization" of the rare South Korea yarn in the Godzilla vein made by prolific director Kim Ki-duk with an assist from Japanese effects artists; while funneled directly to television in our country a la PLANETA BUR, YONGARY only received minor updating such as the prerequisite English dubbing and "pan-and-scan" transfer to 16mm. (YONGARY attendees will most likely see a current restoration mating that vintage dub and fresh English titles with a pristine widescreen picture. Amazingly, the latter element resided safely in the United States for nearly 40 years before MGM unearthed it for their DVD release, according to this fascinating SciFi Japan article, while its Korean counterpart – TAEKOESU YONGGARY (GREAT MONSTER YONGARY, 1967) – had all but vanished save for a truncated and battered print.) The set will conclude with BIG MAN JAPAN (2007) directed by and starring Hitoshi Matsumoto as the title character, a sad sack who can grow 30 meters tall with the well-placed electric jolt; playing as a satire on the expectations of fame and legacy as well as homage to the country's kaiju eiga output, BIG MAN JAPAN frames the protagonist's struggles in "documentary" form as it depicts his battles against both improbable towering beasts and a mammoth case of ennui.
C-U Blogfidential friends R.L. Cagle and Richard Leskosky of the Media and Cinema Studies (MACS) department in the College of Media at UIUC will introduce this tag-team duo while Richard Tempest, associate professor in the department of Slavic studies and literatures, and Julie Turnock, assistant professor in MACS, are scheduled to provide commentary on Tuesday. Start time both evenings will be 7 p.m. with refreshments served.
We mentioned in the first "Flicker of the Week" the involvement of Ye Ed in an epic science-fiction show circa 1996, the likes of which would have an extremely unlikely chance of reoccurring publicly in 2016. Even with its limited scope and presumed stress on cultural context and academic readings, this Library series by its very nature exudes a sense of fun and nostalgia akin to that run of unabashed genre and cult film festivals put on by The Octopus. In a similar respect, we found the below advertisement last month while researching other topics using the Library's Illinois Digital Newspaper Collections hub and set it aside for our amusement; who knew we'd inadvertently devise a good excuse so quickly to bring it on like King Kong! A quarter-page promotion for an all-night "Monster Mush" (?) marathon organized by Illini Union Student Activities, it ran on p.18 of The Daily Illini on Friday, June 1, 1973, and we reproduce it here in two halves for easier viewing. As opposed to "International Science Fiction Film Festival," we're certain "fun" and "nostalgia" – not to mention "cheap rental rates" – were the top criteria for booking this quartet of creaky creature features at the time.
~ Jason Pankoke
p.s. Should we already start placing bets as to how long it will take for someone to ask on Thursday why they chose to screen YONGARY instead of PULGASARI (1985), the infamous North Korea epic mashing together period warlord melodrama, DAIMAJIN-style living idol destruction, contributions from South Korean talent who were kidnapped and forced to participate north of the Demilitarized Zone, and the creative wiles of Kim Jong-il? That conversation would probably be more entertaining than either movie…
p.s.2 If these titles sound faintly familiar, Kino Lorber Home Video released another YONGARY upgrade in January on DVD and Blu-ray while a new documentary about director Shin Sang-ok and actress Choi Eun-hee, the aforementioned talent imprisoned by the North Korean government, premiered last month at the Sundance Film Festival.
~~~~~