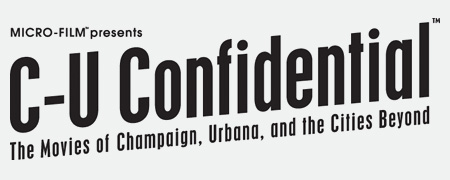 Not unlike yesterday's article, in which we talked about picking up on an archival compilation project for C-U Blogfidential that we had wanted to launch a long while back, we profess our serious intent to follow through with additional old business in the printed form of C-U Confidential issue 9. Unlike our musty filmography concept and the several years it will take to coalesce, we want to press the next CUZine into your palms as soon as possible! This edition is beginning to suffer the throes of inconsistent progress as did issue 8; since that number turned out well enough after a two-and-a-half year slog, we hope you will not feel too inconvenienced if issue 9 hits only six months later than we had once planned. There is no excuse for us to overshoot the spring when we have several cool stories in store for you – we investigate the return of Pens to Lens, the loss of That's Rentertainment, the film writing legacy of the late Springfield poet Vachel Lindsay, and more – on the occasion of the 10th anniversary of CUZine itself! Therefore, we will solicit advertisements for the second time beginning on Monday, February 13, and close the book by Monday, March 13. We need to fill 12 pages in our 48-page publication, including three full-color covers, and can offer a special 20% discount on the final invoice for clients that place and pay for ads in both CUZine #9 and #10 (targeted for September release) by Friday, March 17. Fans who may not have reason to promote can send donations to cuconfidential [at] gmail [dot] com via PayPal; no amount is too small but please keep in mind it is not tax deductible. Your payments go directly towards furnishing an ongoing record of the movies of Champaign, Urbana, and the cities beyond to our communities FOR FREE. How can you not contribute to this unique independent movement, dearest friends?
~ Jason Pankoke
[Updated 2/18/17, 3:15 p.m. CST]
This announcement will remain at the head of C-U Blogfidential until further notice.
~~~~~