Apart from a few deep thoughts we strung together for your consideration eight, twelve, and fifteen weeks ago, dearest readers, it has been a long while since we officially addressed the residents of our Champaign-Urbana backyard, the same one in which we work a lot, play some, dream a little, and sporadically fizzle out when no one is looking. Although we last drafted a full "In My Backyard" from scratch back in 2012, there is probably not much use in forcing a massive MFHQ brain dump in 2017 so we can retro-write the missing annual summaries. Just the same, you are more than capable of reviewing C-U Blogfidential at any time for the names, titles, dates, and stories you need to know about our shared cinema culture. Consider this post a creative placeholder that gives us an excuse to revive old and obscure copy from various sources, flesh out past moments in the Confidential history, and lead us numerically towards a brand-new "Year 12" entry with our 11th anniversary in the books as of Saturday, February 25. Much of this material will appear on CUBlog for the first time, providing alternate takes on certain topics du C-U.
For this fourth dalliance into the "Backyard," we pluck a handful of cuttings from its fertile fauna to cultivate. It should be obvious that not every single Confidential hunch, concept, or written composition makes it to press. We shape the content before release to make sure it provides our dearest readers with the engaging insight and accurate details that will hopefully make it worth a look today and possible reference tomorrow. At some moments in the process, however, legitimate material needs to be revised or deleted for any number of reasons. In this entry, we present fragments that have never or rarely been seen before and augment them with notes talking about how they were originally intended to be used. Since each excerpt requires its own lead-in to frame context, we'll not tease them here.
With that foreshortened, it's time to read on, MacDuff…
~ Jason Pankoke
~~~~~
In our final "Flicker of the Week" critic's pick department that appeared in March, we made reference to one of the first "FOW" entries from a year ago. It described the character of a UI Krannert Art Museum exhibit called "Time/Image," comprised of pieces that expressed in various mediums the concept of and human interaction with the passage of time. We adequately touched upon the main virtues of the collection without going too far in-depth and therefore out of our league; if you happened to read the report and wished the write-up had delved further, we now reveal our attempt to do just that!
Excised because we felt it would have given the impression we did not afford its companion works and their international artists the same consideration while browsing the gallery exhibit, yet saved because it is a fit of weird hilarity unlike the copy typically created for C-U Blogfidential, we present it to you in light of the recently-passed "Cyberfest" revival event. Although we made sure to include a brief reference to this particular art work at the end of our original post from February 2016…
p.s.2 Spend a contemplative moment or two, if you will, with Siemon Allen's Screen II (edit), 2015, just inside the East Gallery entryway, and see if its resemblance to a certain famous science fiction monolith isn't just the least bit eerie.
…we did jump the tracks at first because it provided a little too much ammunition to work with, given how analog retro-culture had been on your humble editor's mind:
Ye Ed also hesitates to plunge further into the virtues of "Time/Image" after a single viewing, if only to not call undue attention to his rusty critiquing skills when it comes to art, but will briefly describe his experience with a particular piece to wit. In some weird fashion, he was taken by Allen's Screen II (edit), a massive horizontal work filling nearly an entire wall in the gallery. Standing half a room away, one encounters what initially feels like a void that is threatening to swallow the reverse image of viewer and environment, reflected in dull fashion. Move in more closely, and one notices a more distinct reflection bouncing off a subtly woven surface. It becomes clear in this lack of visual clarity we are perceiving imagery as it is replicated in real time by this square pattern, quite passively if compared to how technicians in certain fields control tight matrices of pixels or ink dots to fool the naked eye into seeing any manner of shapes, colors, or tones. Is there anything before us? Or, does some intelligence reside within the grid? Only from reading the artist's statement do we know the surface is created with magnetic tape removed from VHS videocassettes and stretched across a steel frame. Does the possible presence of "lost" signals on this tape, shielded from us by its interlocked density and our own (distracting?) reflection, further enhance or frustrate our relationship with it? Time spent moving about the piece, its ever-modulating sheen bending with each and every look, could eventually unlock an answer for the quizzical and patient. A loose resemblance to the equally ambiguous monoliths of 2001: A SPACE ODYSSEY may add mystery or baggage to one's encounter with this particular unknown.
The tactile qualities of the piece made for an unusual "you had to be there" moment as it gave the effect of unfolding upon one's initial approach, even without having a single moving part. We're sure the curator of "Time/Image" knew well the kind of effect Screen II (edit) would have on unwitting visitors entering the exhibit for the first time and being drawn to its deceptive black hole of material intricacies. (Oops, we're at it again, aren't we? Be honest!) As it turns out, Screen II has taken multiple forms over its lifetime and is not the only piece by South Africa-born Allen to repurpose analog media, including a spectacularly faded print of Alfred Hitchcock's THE BIRDS. His portfolio Web site is neatly organized and detailed.
~~~~~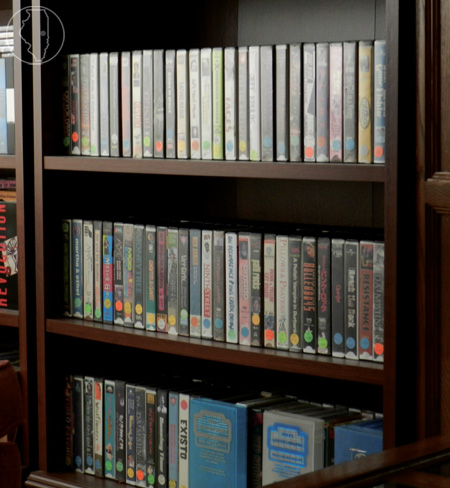 ~~~~~
In various scenarios, we must trim what turns out to be too much exposition. Sometimes, we can become redundant without good reason. Elsewhere, we accidentally bury our story in a cumbersome writing style. Occasionally, we simply don't have the room to elaborate based on formal constraints. The common solution for most of these instances is to simplify, simplify, and simplify, while it is the latter example which briefly plagued your humble editor in pulling together the editorial for the next issue of C-U Confidential.
He originally intended to start off "The Faults in Our Stargazing" with an anecdote about attending a screening that was almost too specialized and consequently failed to attract an audience. It illustrates his thesis that, if general audiences were more willing to give audacious programming a chance, we might have much broader personal perspectives thanks to film as well as a wider range of viewing choices playing publicly in Champaign-Urbana. The following passage is what he wanted to recall about its worth to himself as well as what it may have meant to its organizer and featured local filmmaker:
In early 2015, I attended a presentation at the Art Theater Co-op of an Ohio-made independent feature, THE MANSON FAMILY, a staff pick by employee Jessie Seitz. Herself a filmmaker, she also premiered her own short subject FIVE during this show, as it features MANSON director and personal hero Jim VanBebber in a lead role. Being familiar to a degree with work done by both talented individuals, I loved having the rare chance to enjoy outsider horror cinema on the big screen in Champaign-Urbana and also support Seitz.

Not many others took the same chance that evening, as it turned out. I felt for Seitz even though I'm sure the average Art regular, adventurous in comparison to the average multiplex or Netflix regular, might have been gun shy on the seemingly dicey prospects of this combination. Yet, I found MANSON to be an interesting and lively extrapolation of the mass murderer's exploits, rendered with no-budget flair, while FIVE provided an effective sense of dread in its dysfunctional family portrait. It is cliché to maintain that film efforts such as these are acquired tastes.
As you will see in the final draft once it hits print in CUZine #9, we ultimately had to sacrifice setting and nuance to make room for other details and bring in the whole piece at 350 words. We also chose for this anecdote to trail our thesis instead of precede it in order to better illuminate the point of our recollection to the reader. With less dramatic exposition, the rewrite cuts to the chase:
Outsider cinema can struggle just as much in traditional settings. To wit, yours truly attended an Art screening in early 2015 of a horror docudrama, Jim VanBebber's THE MANSON FAMILY, and a short subject directed by Art staff member Jessie Seitz, FIVE. I found both suitably tense and artfully crafted in a micro-budget sense, but they played to a mostly empty auditorium. I felt for Seitz – thankfully, she received positive vibes from those who attended – although I wasn't surprised. This was decidedly niche even within a niche.
We were fortunate to run a short interview with Seitz on CUBlog right before show time that covered her film, VanBebber, and the horror underground, so please check it out. We're also pulling for Seitz and her collaborators to garner better attention and success when their upcoming thriller, DEVOTION, premieres locally and appears at events across the country; a preview will be shown during the annual UI Feminist Film Festival this Thursday, May 4, 7:30 p.m., at the Art in downtown Champaign, while a formal unveiling will take place in the fall at the Art during "Shocktober." Devote yourselves to keeping up with further developments at their official Facebook, Instagram, and Twitter pages!
~~~~~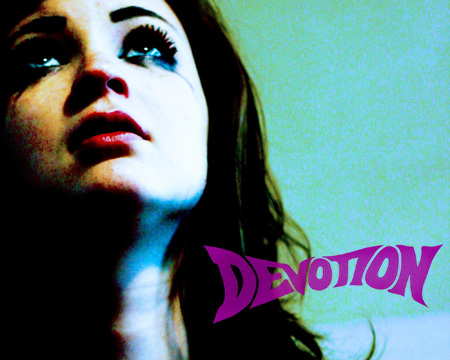 ~~~~~
As we've admitted before, the Secret MICRO-FILM Headquarters does not house the means to crank out copy of substance on every single C-U topic du jour. When certain items come to our attention late or through third-party sources, we head straight for the social media machinery to share it quickly instead of staying up all hours for the sake of enshrining it on C-U Blogfidential via long-form coverage. In other words, we can't guarantee that perfectly viable subject matter will appear here in a timely fashion.
The result, of course, is that bits and pieces of local film discourse might cling for dear life to Internet spaces other than right here. Case in point, Ye Ed posted the following fragment to Facebook on Monday, October 24, spinning off a share by CUBlog friend and veteran comics artist-historian Stephen Bissette (Swamp Thing, Taboo) of an unexpected announcement from Tim and Donna Lucas, mom-and-pop publishers of the respected movie analysis digest Video Watchdog. Their spring 2016 issue, pictured below, is apparently their last to see print although Tim continues to post to the equally valuable Video WatchBlog. Given that VW is one of several key titles to heavily inspire our efforts, it is eulogized briefly and passionately in the following passage by Mr. JaPan before he makes it personal:
READ, OR CONCEDE? Your humble editor posted this a little while ago elsewhere. We've cleaned it up a bit and shared it here for you, dearest readers, as something to absolutely think about if you consider yourselves a patron or participant of the arts in Champaign, Urbana, and the cities beyond. Thank you.

"You know those 'Facebook memories' that ask you to re-share posts from your past? Today's had to do with a post I shared '5 years ago' from Leonard Maltin about media consumption and the worth of celluloid in this here 21st century. I partly shared it to my personal Timeline as an excuse to remind everyone there was still life in the printed word if you cared to look and, more importantly, read.

"I skipped sharing it again, even though I still stand by why I put it here.

"So, of course, less than 5 minutes later, I see the following in my news feed. Ugh. [Bissette's comments and the Lucases' announcement followed at the end; you can read the latter for yourselves here. – ed.]

"When it comes to independent publishing and high-caliber coverage of genre cinema, it's a sad state of media consumption when the best of the best has to go. Tim and Donna Lucas produced wonders with Video Watchdog. Something tells me they're hardly done issuing their brand of in-depth journalism and criticism of the films mommy, daddy, and Hollywood dislike or ignore (unless the latter can make money off of them); Tim has been an avid blogger for several years alongside cranking out this magazine, for instance. But, when the flagship stops sailing on a blood, sweat, and tears endeavor, atrophy in output may or may not follow. The Lucases certainly have decisions to make, and I root for them to find the best path for VW or off-ramp into new and fresh territory that is not so flat-out draining on them.

"This also hits close to home since I have been mentally preparing to cut loose with soliciting advertising (and a possible fundraiser) to get the funds to not only publish #9 and #10 of C-U Confidential, but also help me settle up with my printer for #8. This is going to be the test not only of our self-publishing run, but our relationship with the community the digest serves. In a fall of 1,000 important issues in American society, especially on November 8, [putting out 1,000 copies of] CUZine is certainly small potatoes and of little worry to most of you, I know.

"Or, is it, especially if it ever goes away?"
Our attentive fans already know we made the financial cut with CUZine #9 – thank you once again for the push, community members who care! – so we can freely deliver files to our printer when ready, but this gesture only satiates our immediate needs. As a product that is so specialized, do we soon follow the trend of the niche movie periodical and go the way of the dodo? We have recently been pouring over ideas on how to evolve our efforts enough to make it worth our while to keep promoting indigenous cinema and honor the infamous archaeopteryx in our imprint name. Details soon, we hope!
~~~~~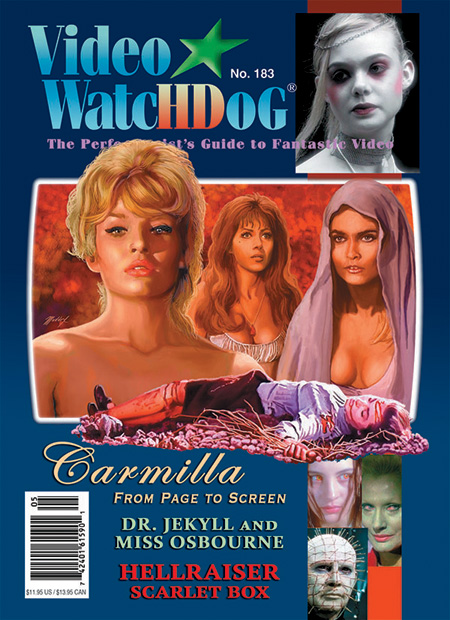 ~~~~~
CUBlog edits © 2017 Jason Pankoke
Graphics © their respective owners.
From the collection of the author.
~~~~~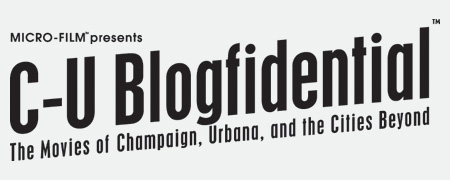 C-U Blogfidential: Year 10*
Posts: 103 ~ Interviews: 0** ~ Articles: 5 ~ Almanacs: 5
Columns: 0 ~ Reviews: 0 ~ Publications: 0***
C-U Blogfidential So Far
Posts: 1,070 ~ Interviews: 17 ~ Articles: 33 ~ Almanacs: 10
Columns: 12 ~ Reviews: 7 ~ Publications: 9
*This should have run in 2016. We know, we know.
**This count has always referred to full-length interviews we categorize as such. Exclusive quotes from the film folk of Champaign-Urbana appear in other posts as well!
***We hate it when this happens in any given year. Did you even notice?
[Updated 10/20/18, 2 p.m. CST]