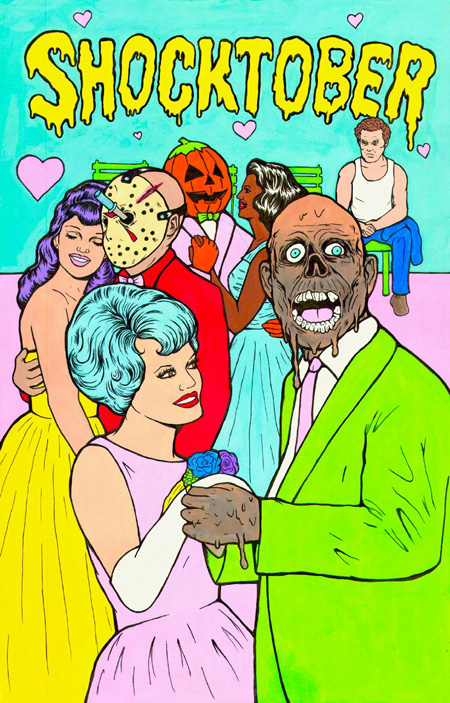 ~~~~~
Coming on the heels of our last report, which talked about a talented downstate Illinois woman who is making waves in independent cinema, we have a surprise announcement from another female film creator on the move! Every October for the past five years, the Art Theater in Champaign has been inundated with fright thanks to their popular "Shocktober" screenings. While previous runs feasted heavily on well-known classics, their unorthodox 2017 selections seemed to challenge fans to try out films not often seen in repertory. An experimental thriller called DEVOTION, directed and written by Art Theater special events coordinator Jessie Seitz, received its theatrical bow on a double bill with THE RETURN OF THE LIVING DEAD (1985) during that sequence, complete with a personal appearance by the films' shared on-screen talent, Linnea Quigley. The success of this particular attraction must have inspired Seitz and her coworkers to take a stab at expanding the Shocktober concept by looking outside the well-worn crypt for exciting work from up-and-coming genre storytellers. Hence, promotion began in earnest on Wednesday, January 24, for the new Shocktober Film Festival, a shorts showcase that is positioned to kick off the 2018 itinerary on Wednesday, October 3, and we can think of no better hands for this to be placed in than Seitz's. Creep along with their Facebook for updates and shamble over to their FilmFreeway for entry stipulations; the final deadline to submit is Wednesday, August 1, for starters. Although the Art is casting their net wide for material to play this coming fall, we'll cross our fingers that producers across MICRO-FILM Country will represent in some fashion at the promised "day-long event." Until details emerge, you should gaze longingly upon the charming "beauties and beasts" poster from last year, rendered with love by Urbana artist Sophie McMahan. Her retro-styled portfolio and offbeat comics will delight you.
~ Jason Pankoke
p.s. Like many working outside the system, Seitz focuses on self-distribution and unique cross-promotion for her films. DEVOTION arrives soon on DVD through her own Capricorn Rising Films banner, while Magnetic Magic Rentals of Kansas City, MO, is about to issue a licensed VHS collector's edition. Nifty!
p.s.2 When we posted about the projects of Jarrod Finn, we did not realize he was about to launch his own call for entries to the second ChamPain Indie Horror Fest, which is also set for October. Here's the FilmFreeway account for ChamPain if you are so inclined. The more horror du C-U, we say, the better!
p.s.3 For thematic kicks, we checked up on the long-running Drunken Zombie Film Festival of Peoria and found much of their on-line collateral AWOL. A proclamation offered by the final episode of their sister podcast tells us plenty, however. The eighth annual show in March 2016 was their last. R.I.P. DZFF