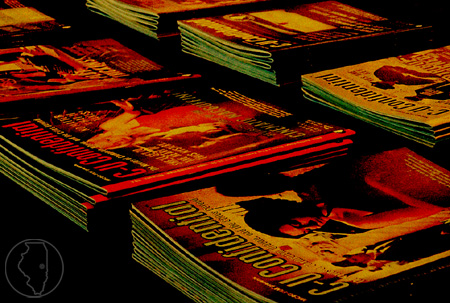 ~~~~~
Happy holidays to you, true believers in the movie culture of Champaign, Urbana, and the cities beyond! We have not had a very productive December here on C-U Blogfidential and hope to ramp up our posting again in the New Year. Obviously, much of that can be chalked up to our current efforts to accumulate enough in monetary assets to produce the tenth issue of C-U Confidential digest. Both our GoFundMe drive and the booking window for paid advertising are set to expire after this Sunday, December 30, and we're honestly not sure how this will proceed if we fall short. Of the projected $2,200 print budget, we have raised little more than 50% of that sum total between the parallel efforts. Considering how much it felt like we pulled our community's teeth to do enough business to afford each of the last two issues, this lagging result is not entirely a surprise and an absolute downer all the same. So, what happens if we can't go the traditional offset printing route that enables us to distribute a minimum 1,000 copies into the hands of our friends and neighbors for free? Options might include:
We refund everyone's money and release a PDF-only version in 2019 for free;
We refund everyone's money and release an ePDF-only version in 2019 for a minimal charge to download;
We refund everyone's money and release a print-on-demand (POD) version in 2019 for a nominal charge;
The one we want to avoid: We go to press anyway and shoulder a debt we really can't afford, forcing us to continue the GoFundMe push and/or sell MFHQ wares to cover the difference;
The one we really want to avoid: We cancel

C-U Confidential

before or after issue 10 is released.
Ugh. We know. This choose-your-own-self-publishing adventure does not account for the possibility of future CUZine editions. Why should it if the immediate future is tentative? As much as we've enjoyed getting our old school on, niche printed material with a limited reach is not the most enticing media in this day and age. Clearly, our campaign is failing to strike a chord with any subset of Champaign-Urbana including townies, those in the arts and media, or the overall culturally minded. We also have to accept that our former advertising base has evaporated. People are mostly not responding to our sharing our needs. This reality bites.
Please think about what the Confidential project has meant to you. Purchase an ad in CUZine if you have purpose for it. Contribute to the CUZine GoFundMe if your heart's still in it. We'll have decisions to make once the confetti has fallen and echoes of "Auld Lang Syne" have faded, no doubt.
~ Jason Pankoke
p.s. It's no accident we avoided New Year's Eve and New Year's Day as deadlines. It's also no accident your humble editor selected his birthday just before as the deadline. Do him a solid and support the cause on behalf of the creator if for no other reason. Danke.
p.s.2 We'd always rather be reporting than stumping. So you know.
p.s.3 What kind of CUZine would you like to read, moving forward? Now would be a damn fine time to speak up and show some interest. We'd appreciate it.