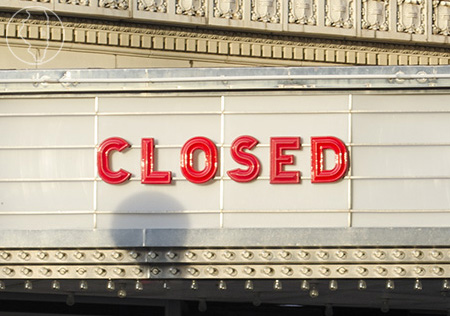 ~~~~~
I think it will not take long at all before we truly feel the withdrawal from having our normal interactions with our community and the world reduced in dramatic fashion thanks to the motions being exercised by city officials, university higher-ups, business owners, organization directors, and people like you and me. The busy and mobile lifestyle that many of us engage in daily is being rightfully discouraged to combat the spread of the novel coronavirus (COVID-19) now that it has reached the Americas, and we can't help but be jarred when seeing the cancellations and postponements as they come from all corners so quickly. We need to remind ourselves and each other to be diligent on self-cleanliness, changes in local policies, availability of wellness resources, volunteer self-isolation, and "social distancing" when not isolated and moving about in public with necessity. As well, we must do what we can to help our friends and neighbors in need. Social media and smart phones will be vital tools in this transformed and temporary society.
Is it superfluous to talk about movies and entertainment right now? Hardly. Industries that employ thousands and media that engages millions will be affected by the shutdown even if the repercussions in areas like Champaign-Urbana aren't notably drastic except in the exhibition sphere. Studios have been encouraged to send their new and recent releases to the streaming services early where audiences secluded at home can watch them safely. This is because the multiplex chains have suspended their schedules until the end of March at the least, effectively closing AMC's Champaign 13 and Goodrich's Savoy 16. Independent movie houses like the Virginia, Normal, and Avon have also locked up, following suit after Chaz Ebert and the "Ebertfest" contingent decided to cancel for the year due to University of Illinois protocol. We understand why this is being done and past yearnings for "that communal experience" in film is moot for the moment. Congregation and coronavirus shouldn't mix.
We can't say that we don't have options, the very options that have been threatening the viability of theatrical screening according to many an article and report. Programming exists for us en masse to watch on streaming, free-with-ads websites, and broadcast channels so we can pass the hours when it's appropriate to dial down. Those who still keep a physical media library might have a field day or few in their future and those who can work remotely will do just that, even when it's tempting to crank the tunes, dive into immersive video games, or vegetate with video. It is a lifestyle modification that is not wholly disagreeable to some if the comforts, flexibility, and self-discipline exist. We otherwise await further notice from medical and health officials along with the authorities. Don't think for a minute that we're on vacation.
All that said, my post is really about something other than compromise in the face of a pandemic. I hinted in a C-U Blogfidential piece from a few months ago that I felt a bit of unease in certain developments. Specifically, it was the closing of the Art Theater at Halloween. Personally, it was the derailment of the New Art Film Festival as a direct result of that decision. Closer to the present, building news overseas of coronavirus spread in China, Italy, and other countries ran parallel to additional developments in our backyard along the film culture front – some important, some a mere digression – that I don't want to be lost in the shuffling priorities and focus. Elements of our so-called scene have been put on notice, reshaped beyond our control, or allowed to simply crumble down. I want to share my observations in case any of them merit a further look if we must discuss compromise and rebuilding in our cultural landscape.
Many in Champaign-Urbana have noted and bemoaned over time the constantly shifting array of spaces for music performance and the sentiment must be extended to the availability of stage and screen. At the end of last month, Goodrich Quality Theaters announced they would be filing for bankruptcy protection; as reported by WCIA-TV, the fate of the Savoy 16 worries its loyal customers (and, I'm sure, town officials) as it is one of a few entertainment destinations with a Savoy address. "We will be temporarily closed during this challenging time," says a statement that appears on the company website as of Tuesday, March 17. "Theaters will remain closed until state and local government health departments deem appropriate to open for business." The CEO and board must now be sweating a bit with insult added to injury. AMC, the largest theater chain in the country, also closed their cinemas to the public on Tuesday with this klutzy statement as shared by Variety.
The Virginia Theater might weather a double whammy if its owner, the Champaign Park District, sticks to its plans. Theater director Steven Bentz and team had been set to close down the Virginia for two or three months after the finale of their 2019-2020 season, a screening of the Walt Disney Studios classic FANTASIA on Saturday, June 20, to have a completely new sound system installed. All of a sudden, "[a]ll Virginia Theatre events March 14, 2020, through May 10, 2020, are postponed," according to a pop-up statement on their website and a press release that details events being pushed back. CPD likely has the funding in hand to cover wages and overhead during the planned break, but will a lack of Roger Ebert's Film Festival and other shows in the present be a hurdle for the Virginia leading into their 100th anniversary year? Potentially losing half a 12-month calendar in ticket sales does not sound comfortable for a non-profit.
Elsewhere in downtown Champaign, we know the verdict and repercussions. The Art Film Foundation, operators of the Art Theater for not very long, is dissolved and David Kraft, owner of the Art Theater building for maybe too long, has assumed control of physical and proprietary assets of the Art. The latter wasted no time in putting it all up for sale at a cool $2 million. I can make an educated guess that his price is due to several factors – the building's "protected" status, its visible location in a strengthening business district, potential income from the apartments upstairs, the "complete package" of equipment and inventory that may woo entrepreneurs – but I don't expect a quick resolution. As much as I hope the "Art Lives" another day, I still bristle at the thought of how much citizen money and loving lip service we handed over to the Art during its recent cooperative and non-profit phases. Idealism does not automatically beget sustainability, while a return to for-profit ownership is no certain fix in a cantankerous industry.
Transformations have also marked downtown. SoDo Theatre ceased after more than a decade in existence as reported by the News-Gazette and ChambanaMoms. Managed by Class Act artistic director Jackie Lowenstein, the offbeat venue served as a home for local performance groups such as Class Act, Zoo Improv, Twin City Theatre Company, and the Prompting Theatre in the most communal do-it-yourself sense. As new tenants set up a novelty bar within walking distance from others of its ilk, I'd like to remember the good times including the occasions when cinema made its presence known. Champaign Movie Makers met at SoDo monthly for a long spell. In December, CMM organizer Thomas Nicol hosted the first Krampusnacht Freeky Film Festival there. Lisa Cerezo and yours truly put on a public domain and screen oddities show at SoDo called Time Traveling Cinema for a year. I'm sure there is more slipping the mind. May the companies rebound and their talent continue to incubate and inspire.
Two blocks north and east of the former SoDo, a remnant of a past era breathed its last for what seemed like a millisecond. Much of the building that most recently housed 51 Main and Memphis on Main is being renovated by the business group behind The Venue CU, an upcoming events-and-weddings space. This has involved stripping down the face of the entire structure and, thanks to quick-thinking friends about town like Matthis Helmick and Smile Politely's Seth Fein, we received one last look at the long-covered impressions left by marquee lettering when the Illini Theater showed adult fare at that address. The marquee and much of the interior structure is now history, I saw for myself when I walked past the construction a few weeks ago, but at least the new owners are incorporating history into their plans. A ballroom in The Venue will apparently be named after the Varsity Theater, the first to operate behind that marquee and one of the first in Champaign to book movies at the start of the 20th century.
What I've recounted so far is just a handful of the question marks bouncing around my brain that are easy to acknowledge since they are rather dramatic and timely. Our wounded film culture runs deeper than the nearest theater façade, however, and as I bumble through the various scenarios of what is happening in certain facets, I know I have no control of or answers for any of it:
Now that UIUC has directed their departments and services to cancel on-campus activities for the remaining spring term, will student and community groups like Illini Film & Video, Champaign Movie Makers, For Art's Sake, C-U Cinefile, Workshop Films Collective, Illinifest, and Community Supported Film spring back easily during the next academic year?
Now that Pens to Lens has announced it is solely presenting student-made films in 2020, assuming a P2L event even takes place in 2020, what is the future of their unique filmmaker-led and student-written productions given they were in short supply at the 2019 gala?
Now that Chase Bank has moved barely a block north into its brand-new location near the Springfield and Mattis intersection in Champaign, when will CVS take over their property and tear down the old building that was originally built by National General Theatres in the 1960s as the Fox Country Fair?
Now that we the people are supposed to stay away from one another if at all possible and until further notice due to virus fears and proactive "shelter at home" measures, even when holding down "essential" jobs at the workplace and in the field, how do movie-makers … well … make movies? (Hint: You don't, particularly if you are a professional drawing wages from the work you perform. Just skim the article feeds of Variety, Deadline, and The Hollywood Reporter for densely-packed proof.) Wring your hands, folks.
When our society regains its composure and restores a sense of balance in already uncertain times, we will have plenty to sort out from all angles. The people integral to the projects that I've mentioned and others I haven't addressed will figure out their next moves with intelligence, drive, and hands-on hustle, I'm sure of it. The only tenet that is guaranteed as we progress to the future is the future will not absolutely return to what becomes our immediate past. Just as well, I say.
The cinema has evolved ever since inventors tested the various prototypes in the closing years of the 19th century on bewildered colleagues and amazed nickelodeon audiences. So will its local application and appreciation. Yet, the film culture we perpetuate these days in Champaign-Urbana, Illinois, is a very odd duck in my 2020 vision and I'm not quite sure where it's at. How I'll process it in my own heart and conscience remains to be seen. How it plays out on C-U Blogfidential and in other relative corners will become known when we get there. I plan to make sense of it in some way before I'm done.
~ Jason Pankoke