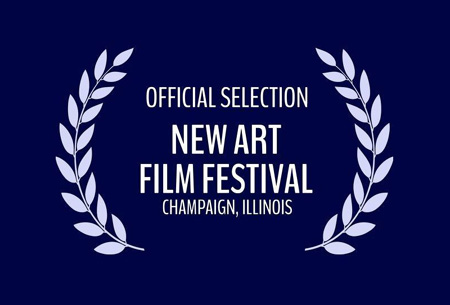 ~~~~~
Ready to get on with it, dearest readers? After weathering a very rainy yesterday, I can help wash away the gloom of this inconsistent springtime and the doom oozing from our television screens and news media with something more artful. Recently I shared that, in honor of the 10th anniversary this month of the New Art Film Festival, I have worked up digital badges for you to wear online in remembrance and transposed the complete event history to a custom home here at C-U Blogfidential. If you are interested in spending some of that newfound quality time of yours with the movies themselves of Champaign, Urbana, and the cities beyond, then I'll point out a third online NAFF perk that you need to be aware of!
Take a gander at the official YouTube channel of the NAFF, where I have put together an approximation of the programs that played Champaign's Art Theater. I don't often point it out because a portion of the same videos appear on CUBlog and the NAFF website, although it is bound to be a more valuable record of the event and its filmmakers once the website is taken offline in early May. I've made an effort in the last few days to bring the written copy up to date and the significant addition is a playlist reflecting the 2018 show, which can be visited at your leisure by clicking this link. A portion of NAFF selections reside outside YouTube, so a secondary Vimeo account collects the remainder of the pack. Certain films are privately posted or unavailable. You can watch what I've found and still get the overall idea.
~~~~~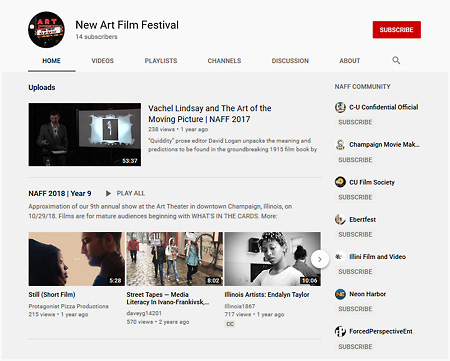 ~~~~~
If you take us up on engaging NAFF content with fresh eyes and ears, be creative in how you dive in! Pick around for specific films that seem intriguing on the surface and watch them without hesitation. Experience a playlist from beginning to end with your fellow household shut-ins as if attending the festival proper. Assemble a personal playlist of favorites on your own YouTube domain. If you find a film that really strikes your fancy, by all means follow through with your curiosity and hit the hotlink to the creator's account in order to discover what else they've done. NAFF nirvana can be approached in numerous ways even if we can't affect the ultimate NAFF by being together under the light of a digital projector. Become inspired by one new favorite and I will rest easy knowing the New Art Film Festival still serves a purpose.
~ Jason Pankoke
p.s. Of course, downstate Illinois filmmakers produce more than is covered by the NAFF. I'd typically send you over to the C-U Confidential YouTube without hesitation, but I have not added to that account regularly in a few years. Maybe I just found another self-quarantine activity. Shoot.
p.s.2 Smile Politely reminded us this past week about the very first YouTube video, uploaded 15 years ago on April 23, 2005. It features YouTube co-founder and University of Illinois alumnus Jawed Karim standing before an elephant pen at the San Diego Zoo. Never forget?
p.s.3 Confidential agent Malachi indirectly reminded us about the 14th anniversary this month of the first YouTube viral hit of DIY descent, Liam Kyle Sullivan's novelty music video SHOES. It opened the door for validating the worth of self-made content on the influential site. And because … shoes. Shoes. SHOES.
p.s.4 Ma JaPan and I watched the YELLOW SUBMARINE sing-a-long streaming event on YouTube yesterday morning. All we need is love. All else we need is an effective vaccine for everyone. Stay safe.
~~~~~