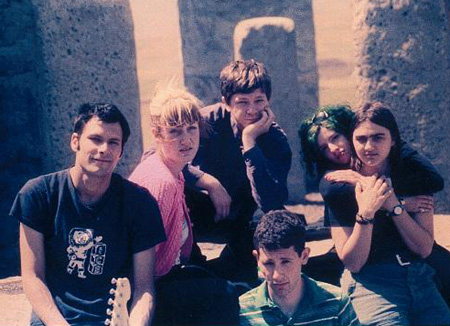 ~~~~~
Apologies for the near silence, dearest readers. I haven't had much drive to make an honest Confidential effort in several weeks, but I've regained some focus as of late so I can hopefully ride it into the summer and post a fair amount of fresh reading for you. Old and evergreen topics will also become new again, such as the one I have for you today.
Last week on Wednesday, April 21, we passed the 20th anniversary of "MICRO-FILM Verité," the very first movie presentation that I organized in Champaign-Urbana, so the incentive was all mine to follow through on a promise from a year ago and complete our "Picture Shows du C-U" page. Half the events you will see listed upon scrolling or jumping past the New Art Film Festival took place in the earliest days of C-U Blogfidential while the others occurred even earlier when MICRO-FILM was front and center. This is now a complete record of all the showcases we had a direct hand in producing, branding, and promoting. While in number it pales compared to the volumes of acts and special events brought to our fair Twin Cities over the years by many a booking agent and self-made impresario, we're proud of how we managed to share our niche with the community even if it had to be tried again and again to make it stick. Will the streak be extended? I don't think we've had a clear answer to that question for some time but, as they say, wonders never cease.
Thoughts are percolating about doing the same sort of information upgrade to "Periodicals du C-U" in June since that month is the 20th anniversary of MF issue 4 and I never got around to adding a detailed account of MF on CUBlog. Soon, I'll tell you what corners of our online C-Universe we'll tinker with next. Requests and suggestions are welcome, as always.
~ Jason Pankoke
p.s. Even though the event information is finally available at "Picture Shows," you can marvel at the original illustrated "Verité" program shared on our Facebook account where Cecilia Lucas challenges you to a film duel outside the Channing-Murray Foundation on the University of Illinois campus. (Yes, I knew going in that "Verité" would be hosted by The Highdive.) Look closely at the chapel's distinctive announcement board behind Lucas, and you might discover a vintage Freaky Film Festival flier or two.
p.s.2 Below is a display advertisement that I put together to jointly plug "Verité" and "Zineophilia," the latter event devised by comics artists Dann Tincher and Damian Duffy in collaboration with local arts grand dame Jenny Southlynn; I'm sure it hasn't been seen since the Daily Illini ran it two decades ago. At the head of the post is a movie still with the cast of GOOD GRIEF, the 16mm indie feature I played at "Verité." It's good to see that its director, Portland resident Andrew Dickson, is still quite active with his disparate endeavors such as copywriting, viral coursework on freelancing, and … auctioneering?
p.s.3 The ghost of Marlon Brando reminds us that, "It shoulda been on tha covah!" Damn right.
~~~~~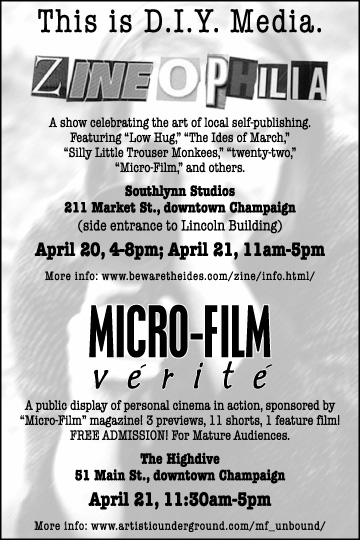 ~~~~~
[Aaugh. This is post #1500 + 3 on CUBlog. Good grief!]