"The Big Ten"
Roger Ebert's Film Festival reaches the end of a decade – but without its founder and host
by Anthony Zoubek
~~~~~
Dateline – Champaign, Illinois
Wednesday, April 23, 2008
THE MOST RENOWNED FILM FESTIVALS are conceived as movie trade markets. Soon-to-be-released, potential award nominees are screened for cinephiles and big-name critics, generating clamor and glamour for magazines, newspapers, Weblogs, and industry publications. Entry-fee-paying producers of smaller and independently-financed features seek to create similar buzz for their unknown projects, hoping good press may equate to wider distribution.
What, then, in the face of every Telluride and Cannes, makes the Midwest's annual "Ebertfest" – in 2008, home to 13 previously released, often maligned films, many of them readily available for home theater viewing – one of the largest and most popular festivals in the country?
Inadvertently, the answer was provided by film scholar David Bordwell during his introductory remarks at the 10th annual Roger Ebert's Film Festival (previously known as the Overlooked Film Festival), hosted at the historic Virginia Theatre in Champaign, Illinois – twin city to Ebert's native Urbana – from Wednesday, April 23, through Sunday, April 27, 2008. Standing at the podium, Bordwell addressed the near sellout crowd of approximately 1,600 festival-goers prior to the opening night's presentation of Kenneth Branagh's HAMLET (1996), originally filmed and screened in the wide, high-resolution, far-too-infrequently used 70mm celluloid format.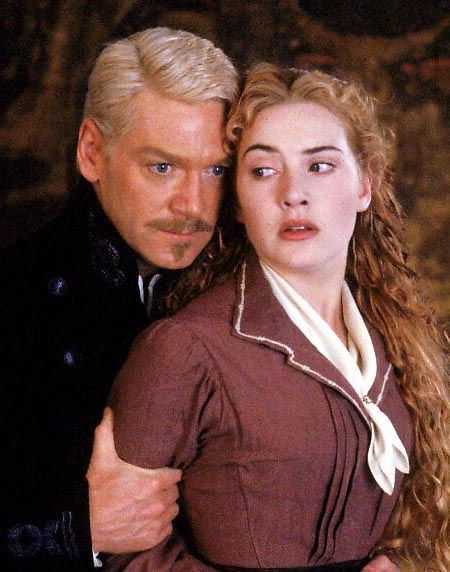 Bordwell – a retired teacher from the University of Wisconsin-Madison, author of several books on cinema aesthetics, and, by Ebert's admission, one of academia's greatest film scholars – explained HAMLET's place in film history as the last notable movie made in 70mm. (Ebertfest traditionally opens with a 70mm screening.) HAMLET also marked the end of commercial 70mm exhibition, although variations of the format are still used in IMAX theaters and 70mm stock is employed for filming special effects sequences in action movies, "even at the cusp of what looked like the format's revival," said Bordwell.
"Branagh wanted to use 70mm for its unbridled clarity and precise depth," Bordwell explained, "richness only 70mm can yield." The presenter called HAMLET a "thrilling movie" made more thrilling by the fact that the version screened at Ebertfest was not widely seen 12 years ago "because of its format."
"It is a rarity in film history," Bordwell continued, "to see it in this, its intended format. The Virginia Theatre is one of the last places in the Midwest – and one of the few places left in the country, period – to see 70mm movies."
"Don't tell me about [DVD and Blu-Ray]," the scholar added, smiling amid a few snickers regarding any overstatement of the superiority of 70mm above other film screening methods. "With DV, you see pixels. With 70mm, we're screening molecules."
~~~~~
BORDWELL'S CONCLUSION ALLUDES to the appeal of attending Ebertfest, even in an era where first-run movies are readily available for viewing on iPods and cell phone screens; where regular trips to homegrown video stores (and the suggested picks by the high-school-dropout-turned-motion-picture-encyclopedia working the register) are replaced by short walks to the mailbox and the delivery of titles from a NetFlix queue; where the price of a $10 box office ticket seems expensive compared to the ever-decreasing costs of building home theaters and providing them with DVD viewing material.
Still a generator of billion-dollar commerce, movie producers are not exactly finding dust bunnies in their wallets. But the act of going to the movies – the feeling that light streaming through a celluloid image has "event status" incomparable to sitting on a living room couch – is frighteningly becoming more of a means of advertising the eventual release of a movie to home video or as a digital download. The ever-shrinking scope of movie screens, as they conform from the grandeur of thousand-seat movie palaces like the Virginia to the shoebox echo chambers provided by theater chains in shopping malls, doesn't help the cause.
Ebertfest manages to make events out of the exhibition of previously or soon-to-be released movies. The festival's format was derived by Ebert, the Pulitzer Prize-winning film critic who grew up in Urbana and graduated from the University of Illinois at Urbana-Champaign (UIUC), and the late Dusty Cohl, to whom this year's event was dedicated. Cohl, also the founder of the Floating Film Festival and co-founder of the prestigious Toronto Film Festival, worked with Ebert after their screening of Stanley Kubrick's 2001: A SPACE ODYSSEY (1968) at the Virginia Theatre in 1997, which engendered community interest in a five-day filmic extravaganza.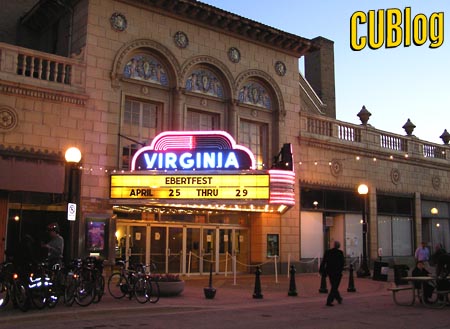 Two years and one month later, the Overlooked Film Festival made its debut, geared towards the exhibition of movies initially overlooked by critics or mass audiences. Eight thousand people ventured to the Virginia to watch 10 films of various "overlookedness" in terms of critical reception, box office receipts, subgenres, and formats. That tradition continued as the festival expanded the number of films, incorporated filmmaker visits and celebrity guests, moderated panel discussions in the UIUC Illini Union, and became an annual experience for more and more filmgoers.
"Every year, I am asked what makes a movie 'overlooked,'" Ebert later said during his opening remarks at the seventh Ebertfest. "Over the years, our definition of the word 'overlooked' has bent and twisted to the point where we can pretty much make any film fit the bill. If I love a film enough, I can devise some reason as to why it was "overlooked." (In 2005, the festival featured the documentary MURDERBALL prior to that movie's release in commercial theaters. "Now we have a film that hasn't even opened yet," Ebert explained at the time. "I guess we'll call it 'pre-overlooked.'" In terms of Oscar recognition, his prediction was actually dead-on.)
Ten years later, these festivities bring as many patrons to central Illinois as Robert Redford's Sundance draws to the ski slopes of Park City, Utah. In fact, 25,000 patrons were expected to make the 2008 pilgrimage to the Virginia. Contemporary culture's esteem for previously overlooked fare such as documentaries, foreign films, silent movies with live musical accompaniment, and other special-interest motion picture genus broadens the "overlookedness" moniker enough to where it no longer applies to Ebertfest. Hence, the 2008 festival was, in name, "Overlooked" no longer.
As Ebert wrote in the welcome address appearing in the festival's official program, 10 years of defining the unifying idea of his cinema schedule "comes down to this: 1,600 people assemble in a beautiful old movie palace and enjoy good and surprising movies."
~~~~~
Continue to "The Big Ten" pt.2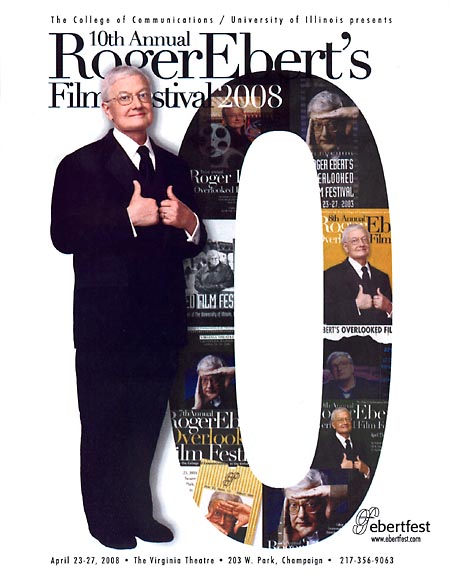 "The Big Ten" pt. 1 © 2008 Anthony Zoubek. Used with permission.
CUBlog edit © 2008 Jason Pankoke
HAMLET photograph © 2007 Warner Home Video,
program courtesy Roger Ebert's Film Festival