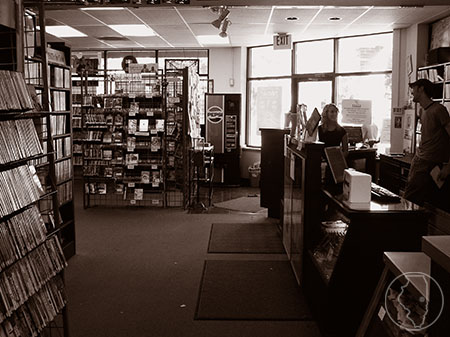 It seems like only a few yesterdays ago when we happily noted on C-U Blogfidential the perseverance of Geoff Merritt in running his video rental oasis, That's Rentertainment. We began to build editorial around obscure releases tucked away in their massive collection as well as former Champaign-Urbana residents doing interesting movie projects inspired in part by their patronage of the store. Other news avenues like the Daily Illini had been regularly checking in with the folks behind the counter at 516 E. John St., Champaign, to get a sense of how Rentertainment stemmed the tide financially, offering a commodity roundly doomed in the national press for the past decade if not longer. Did Merritt, also proprietor of the Parasol music labels in Urbana, simply get lucky in this location? Do the culture consumers du C-U provide just enough support to help keep his doors open?
The answer must have been "yes" on both counts until recently for on June 1, the 30th anniversary of the store's opening, Merritt announced Rentertainment would soon vacate the northwest corner of John and Sixth streets. As of this Monday, June 15, much of the store's inventory is on sale to customers wishing to give their favorite cinematic moments a new home, although those who do not want to accumulate physical media can rent whatever remains on their shelves for the next few weeks. This FAQ tab on the Rentertainment Web site as well as the weekly e-mail blasts will keep customers appraised on how the sale progresses, including gradual price reductions as with their Japanese animation sale from the winter. We hope Rentertainment friends will pay their respects in person, at the least to honor their longevity and thank them for contributing to our community.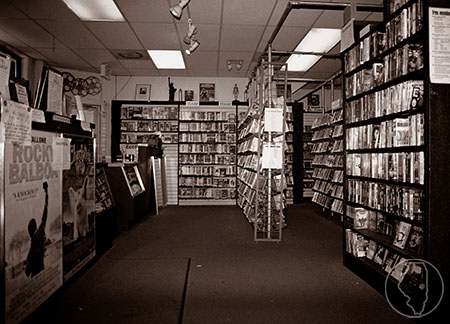 Local coverage of the closing, including this DI follow-up piece from last week, imply several groups (of whom?) are working with Merritt to keep certain materials in the C-U and available to all residents. This is a fine idea, especially once one accepts the inevitability that more than 40,000 programs on Blu-ray, DVD, and VHS will be split up, rendering the collection's worth in breadth a moot point. One such effort, spearheaded by University of Illinois documentation specialist Dena Strong, aims to place important and hard-to-find cinema in the UI holdings as identified by staff from the Cinema Studies and Library departments. So far, more than $4,000 of Strong's proposed $5,000 expenditure has been raised through a GoFundMe campaign; her intent is to purchase titles at various pricing levels throughout the sale to maximize the funds. Feel free to contribute right here!
It will be very easy to wax nostalgic about Rentertainment regarding the film history it harbored – a decent percentage of that content can be accessed in some way on-line, however decentralized – but what might be irreplaceable is its value as a gathering place that fostered personal exchanges and a tactile selection process. The UI "Campustown," radically altered by recent construction and an influx of suburbanite brand name stores, will most likely enter a new era in August with not a single retail façade occupied by a merchant trading primarily in cultural experience or products. The arguable exception of tattoo parlors aside, an artist's hard labors – cinema, literature, poetry, theater, painting, et cetera – will have no commercial or substantial presence on Green Street or its cross roads, existing solely in the backpacks, purses, or back pockets of individuals. As they say, out of sight…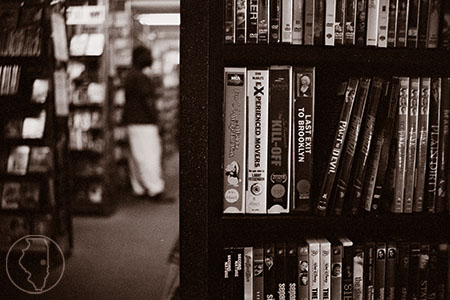 …or, held right in front of one's nose, which your humble editor witnessed while sitting along Wright Street on Saturday. Not five minutes after pausing to reflect on what he might rent from That's Rentertainment for his final hurrah, a college student walked by as if on cue, watching an itsy bitsy video on her smart phone. That's bad luck to a cinephile like a black cat is to the average person, yes? To temper our melodramatic fears – we will always be concerned about the future of film presentation, dearest readers – we share below the jump Merritt's first public words on the closing and Mr. JaPan's vintage thoughts on the store's massive VHS sale from 10 years ago. The latter first appeared in issue 19 of Greg Woods' journal, The Eclectic Screening Room, in 2007; we revive and annotate it with the blessing of our fellow editor in Toronto, whose words will appear in C-U Confidential #8.
~ Jason Pankoke
p.s. Well, damn, there goes our bid for a local film section to finally materialize at a local video store. After friendly encouragement from yours truly over the years, Merritt admitted in his April 14, 2015 e-newsletter, "…The Champaign-Urbana Film Society (CUFS) brought in a copy of their latest 'Pens to Lens' collection (showcasing local talent). That, and another nudge from Jason Pankoke, might be what it takes for us to make a 'Local' section…" So. Which Champaign County library is going to step up to the plate on this?
p.s.2 Conversely, we always liked that The Movie Fan of Normal had a local film section, even if dominated by student work. We wonder to this day what happened to their equally amazing inventory since closing two years ago with little fanfare; be grateful Merritt is giving us a crack at the Rentertainment collection.
p.s.3 The only movie rental option that will remain in Champaign-Urbana outside of libraries is Family Video at their three locations: 1101 N. Mattis Ave. in Champaign, 805 N. Lincoln Ave. in Urbana, and 1901 S. Philo Rd., also in Urbana. Headquartered in upstate Glenview, this chain has managed to thrive as their rental and retail competitors recede or succumb, according to a Chicago Sun-Times article from last year.
p.s.4 The winning rental on Saturday, by the way, was Japan's tokusatsu adventure ATRAGON from 1963. No, it does not have any dinosaurs in it, just a grumpy serpent god named Manda. And, no, Ye Ed has not bought a sale item, yet.
p.s.5 For those outside of the C-U who have never stepped foot inside That's Rentertainment and probably never will, we again post the recent Elsinore music video THE ART OF PULLING because it features a vignette set in the shop. It also drops one of the best Alfred Hitchcock cameos that Hitch himself was never involved with:
~~~~~
"June 1, 2015"
by Geoff Merritt
Thirty years ago, when I started this business, I would have bet money That's Rentertainment wouldn't still be here today. Fast forward three decades, and Rentertainment and I are celebrating our 30th anniversary! It's been a great run – fabulous employees, amazing customers, tons of fun – thank you all.
But now, as someone once said, "I'm ready to roll the end credits, ready for the curtain call." It's time to do something else. As we firm up our plans to sell off Urbana-Champaign's very best collection of films, let me share with you some details of our transaction:
+ We'll keep getting new releases through the end of June;
+ We'll continue renting films through the end of July;
+ We'll start selling off our inventory on Monday, June 15;
+ Rather than price each film individually, we'll set a price (that will lower regularly) and sell everything at that price. A few box sets will be pulled and priced individually;
+ If you have a block, use what you can or want between now and the end of July. Starting August 1, we'll buy back any remaining block rentals.
More details to follow. Meanwhile, thanks again for a great three decades of That's Rentertainment!
~~~~~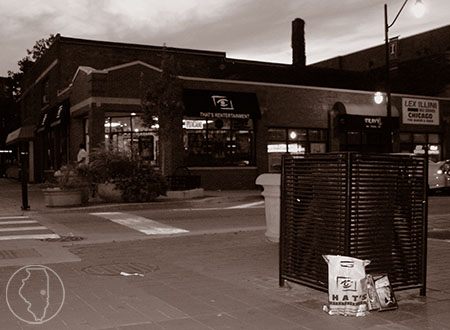 "Analog to Analog, Dust to Dust?"
by Jason Pankoke
~~~~~
For the first few years of the infamous Eighties "format wars," I lived in a strictly Beta household. Eventually, I undermined the monopoly in 1987 when I used birthday money to purchase a VHS player. Its brethren soon moved in and sent the old top-loading dinosaur packing. Ten years later, DVDs began eroding the market dominance of VHS. Twenty years later, as the "standard" DVD is threatened by a high-definition variation of VHS vs. Beta, the original home video champ is finally being pushed to pasture by consumers, businesses, and film purists who have complained about its inferior reproduction quality the entire time.
Not only has the analog exodus most likely resulted in a lot of unnecessary waste buried within the more recent strata of our friendly neighborhood landfills, but one can only guess how many of the programs contained therein may never surface on DVD, HD-DVD, or whatever future modes of delivery come our way. [Remember that early streaming Internet video, even at this point, could not be relied upon to play cleanly. – ed.] It is with this underlying fear that many film fans in my town took seriously a massive VHS purge in the summer of 2005.
One locally owned video store remains in Champaign-Urbana, Illinois, outlasting more than a dozen other mom-and-pop shops due to its superlative selection and choice location in the heart of the University of Illinois "campus town." Therefore, when That's Rentertainment makes a move, the customers take notice. As they had done a few years back with their extensive laserdisc library, owner Geoff Merritt and staff identified enough re-release action by DVD labels to justify dumping most of their tapes.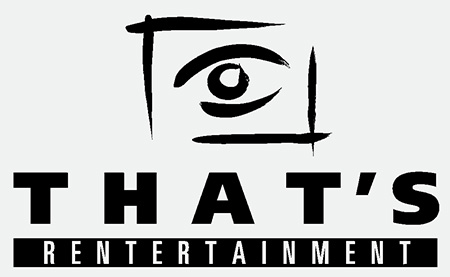 The sale commenced on July 22, attracting culture vultures far and wide with the prospect of accumulating titles that would fill out their collections. I obviously fathomed the significance even though I did not have the greatest desire to stock up on videos. Therefore, I decided at the outset to employ this particular booty as the backbone for a Weblog to be called The Video Throne, which would use the films as a springboard for personal writing. Approximately $275 US, 145 tapes, two years, and no blog later, I have failed to launch this project.
Overall, I think the most valuable thing I gleaned from the countless hours spent inside TR was an astute appreciation for the global body of film. The most exciting aspect was certainly the thrill of the hunt, picking through Hollywood history and direct-to-video flotsam in order to rescue the obscure. These plusses certainly outweigh the minuses – craning my neck for long stretches in order to read the same box spines four, five, six times each, aggravating my sinuses as I breathed in the dust stirred up by the increased traffic, and generally messing with my head as I incessantly cross-checked titles via computer to confirm their availability.
For now, the tapes remain in my possession. Many films on those tapes have still not been released on Region 1 DVD (or commercially, for that matter), such as PULL MY DAISY (1959), GRENDEL GRENDEL GRENDEL (1981), IT CAME FROM HOLLYWOOD (1982), HOUSE OF THE LONG SHADOWS (1983), EXPERIENCED MOVERS (1985), MAX, MON AMOUR (1986), THE AMAZING MR. BICKFORD (1987), DOGS IN SPACE (1987), SALVATION! (1987), THE GIRL IN A SWING (1989), THE KILL-OFF (1989), LAST EXIT TO BROOKLYN (1989), A WISH FOR WINGS THAT WORK (1991), LOVE AND HUMAN REMAINS (1993), and TERMINAL USA (1993). Then again, choices like INAUGURATION OF THE PLEASURE DOME (1954), QUINTET (1979), BORN IN FLAMES (1983), and HEAVY METAL PARKING LOT (1986) have since crossed the digital divide. Whether or not I watch them all, my heart still tells me I did right by adopting these classics and curios.
The same might be said for That's Rentertainment, which maintains a token wall of VHS cassettes that were spared from the purge. (So, that's where SUPERSTAR: THE KAREN CARPENTER STORY went! Guess I'll have to be satisfied with SUPERSTAR: THE LIFE AND TIMES OF ANDY WARHOL…) I notice a tell-tale gap in those shelves every now and then – a hopeful sign that, at least for one evening, someone other than myself considers the format still good enough for exploring cinema. I just hope they don't forget to rewind.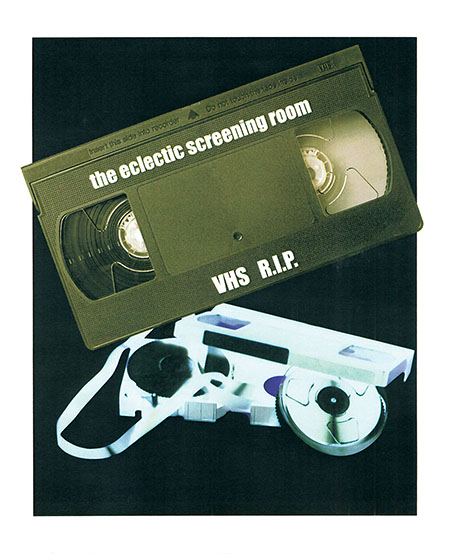 [Since I wrote this eight years ago – and I had anticipated the obvious once I started adopting videos two years before that – a sizable percentage of the films have been re-released digitally. With so many avenues requiring a content flow in the present, their emergence was bound to happen and we can realistically imagine how much VHS in my possession is now redundant by looking at those titles I list above.
Probably due to catalog rights changing hands, several films have belatedly hit Region 1 DVD including THE GIRL IN A SWING (Scorpion Releasing/Kino Lorber, 2014, DVD), THE KILL-OFF (Films Around the World, 2014, DVD), DOGS IN SPACE (Hen's Tooth Video, 2012, 2-DVD), and LAST EXIT TO BROOKLYN (Summit Entertainment/Lionsgate, 2011, DVD/Blu). Both LOVE AND HUMAN REMAINS (Sony Pictures Classics, 2011) and HOUSE OF THE LONG SHADOWS (MGM, 2010) received the manufacture-on-demand (MOD) treatment, although Kino Lorber announced in March they would upgrade HOUSE to Blu later in 2015. Naturally, MAX, MON AMOUR (Lionsgate) and the Bloom County cartoon A WISH FOR WINGS THAT WORK (Universal Studios Home Entertainment) both hit DVD in late 2007, mere months after the VHS shopping spree ended. The most novel release, so to speak, was afforded the rare Beat film PULL MY DAISY in 2012, a DVD/book "collectible object" authorized by Robert Frank and offered by German boutique publisher Steidl.
THE AMAZING MR. BICKFORD, a documentary on clay animator and Frank Zappa protégé Bruce Bickford, and SALVATION!, a televangelist satire directed by New York artist Beth B. and starring Viggo Mortensen, have not reached R1. Paramount Home Video planned a DVD release in 2002 for the B-movie clip comedy, IT CAME FROM HOLLYWOOD, but reportedly cancelled it at the 11th hour due to rights issues with said clips; ancient Internet message boards debate whether Paramount actually manufactured the discs and then destroyed them. GRENDEL GRENDEL GRENDEL, a low-budget animated film from Australia, finally appeared on PAL DVD in January of this year through that country's Umbrella Entertainment; since they originally restored DOGS IN SPACE, also an Australian production, maybe GRENDEL will soon be exported to the United States anew.
Finally, the independents take care of themselves, damn it! San Francisco filmmaker Jon Moritsugu and Apathy Productions offered up their own DVD of TERMINAL USA in 2009, while NY maverick Larry Fessenden and Glass Eye Pix still sell the garish VHS of his early opus EXPERIENCED MOVERS. – ed.]
~~~~~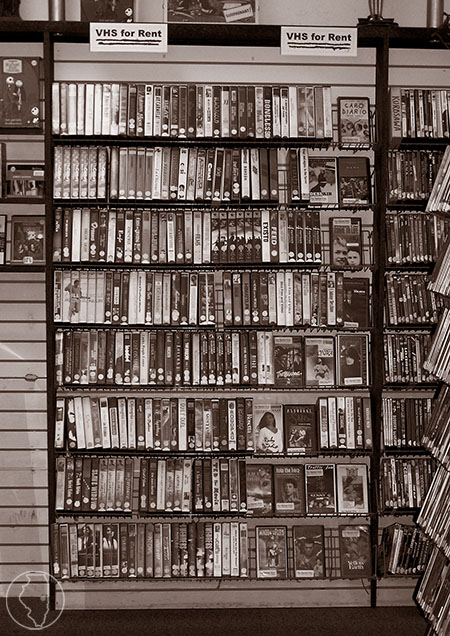 ~~~~~
"June 1, 2015" originally issued via e-mail by
That's Rentertainment on the same date. © Geoff Merritt.
"Analog to Analog, Dust to Dust?" originally appeared in
The Eclectic Screening Room #19, September 2007, p.24-27.
Article and photos © 2007 Jason Pankoke.
ESR cover art courtesy Greg Woods.
CUBlog edits © 2015 Jason Pankoke