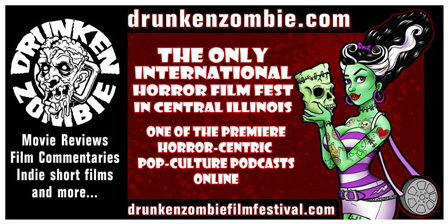 ~~~~~
From September 1, 2015:
FOR IMMEDIATE RELEASE
DRUNKEN ZOMBIE FILM FESTIVAL SUBMISSIONS ARE NOW OPEN! NO ENTRY FEES!
PEORIA, IL (September 1, 2015) – The Drunken Zombie International Film Festival (DZFF) is now open for submissions! We are celebrating our eighth year of showing independent horror films to a horror audience that is hungry to see something outside of the studio system, tapping into the horror lifeline and bringing them a great experience they have been craving. We show all types of horror films and not just zombie films, which some take our name to imply. So, whatever type of horror film you have, feel free to submit!
Our submission process is easy. Head over to the Web site drunkenzombiefilmfestival.com, fill out the on-line submission form, and mail it off with your movie. We use FilmFreeway for our digital submissions, so submit through them at filmfreeway.com/festival/dzff. It's that easy! No entry fees! No complex rules!
If you want your horror film seen by an audience that is craving the next great horror film, then this is the festival for you. We are looking for feature films, short films, music videos, trailers, etc. Anything you have, we'll take a look at! The deadline for submissions is Sunday, January 31, 2016. Our film festival will take place March 11-12, 2016, at the Landmark Cinemas in Peoria, Illinois. Have your film "Slay in Peoria!"
We've had a great time showing off some films that have gone on to great success, including DEAD HOOKER IN A TRUNK (DZFF '10), THE TAINT (DZFF '11), ZOMBIE APOCALYPSE (DZFF '08), TRIPPIN' (DZFF '10), and THE SELLING (DZFF '11). We present a well-rounded list of films from straight-up scary to horror comedies to the full-on surreal!
For further information on submitting films and keeping up with news, sponsorships, and more, visit the Web site or e-mail dzff [at] drunkenzombie [dot] com.
Praise for the Drunken Zombie International Film Festival
"Not only is the DZFF one of the few festivals to offer free submissions, you can tell the organizers truly care about showcasing independent talent for genre fans. Plus, the festival is fun to attend. The audience gets into the films and it becomes a true viewing experience. DZFF is one of the few festivals I repeatedly submit projects to. Support DZFF because they will do their best to support you!" – Tony Walsh, director, IT'S MY PARTY AND I'LL DIE IF I WANT TO (DZFF '08), A CHANCE IN HELL (DZFF '11), THE MUCK (DZFF '14)
"Having our first slasher short and slasher feature – TEDDY and DON'T GO TO THE REUNION, respectively – play at DZFF was an absolute pleasure. It truly is a great horror-loving environment with some of the nicest horror fans you could ever hope to meet. Lots of fantastic audience participation and one hell of a line-up, DZFF is one of the best horror fests we've been lucky to be a part of." – Kevin Sommerfield, writer, TEDDY (DZFF '12), DON'T GO TO THE REUNION (DZFF '13)
"My experience with DZFF has been a very positive one. They do a great job of promoting the films they select and I hope they continue to be successful in presenting fantastic genre fare to the masses for years to come." – Patrick Rea, director, NAILBITER (DZFF '12), GET OFF MY PORCH (DZFF '12), TIME'S UP, EVE (DZFF '12), THE HOURGLASS FIGURE (DZFF '14), COUNTER PARTS (DZFF '14)
"DZFF is truly a bright spot on the festival scene. The festival has a passion for showcasing emerging talent, and at Drunken Zombie you know your work will be seen and appreciated by like-minded individuals." – Thomas Smith, director, THE NIGHT SHIFT (DZFF '09), NIGHT OF THE KRAMPUS (DZFF '13)
CONTACT
Drunken Zombie International Film Festival
dzff [at] drunkenzombie [dot] com
facebook.com/drunkenzombiefilmfestival/
###