We have absolutely no idea how many bylines your humble editor has racked up on C-U Blogfidential since the beginning. It is probably safe to imagine he has composed the vast majority of our 1,070+ posts, while we can vouch for the Mr. JaPan touch having been applied to every single one in terms of proofreading, editing, and formatting. This was not his original intention, of course, as a plan to maintain a steady roster of neighborhood contributors never came to pass. It is one of several reasons we would like to begin our second decade hosting the quintessential movie coverage of Champaign County with new voices crossing our dedicated path. What would you add to the mix if given a chance? Shortly, we will find out once we call for guest writers to submit their best to us for possible publication on this forum!
We realize this invitation might only appeal to a small percentage of supporters and colleagues, for many of you will be content to quietly follow along and enjoy how CUBlog unfolds throughout 2016. At the same time, a new guard will hopefully join the dearest readership in response to our outreach efforts. Therefore, we're designing a 10th anniversary "series" with useful pointers about our site and scene, the antithesis of the Hollywood factory saturating our nation's media markets, for newbies and veterans alike. This should make immersion in our world a little less daunting! Consider it a "numbers game" of intrigue, devoid of obvious film business tropes such as box office standings or international gross earnings, in which you join us to add up the movie culture du C-U and investigate what makes it tick.
The first entry is an exercise in controls and variables, based on a sidebar that appeared in the central "mini-'zine" of C-U Confidential issue #5 from 2011. Our list samples CUBlog every 100 posts through #1000, providing random entry points that illustrate our range in coverage and versatility in presentation. You will handily learn about local films and film events, a University of Illinois graduate-turned-filmmaker, a well-known character actress, a CUBlog publication that is not CUZine, and much more … even if you stick with just these 11 posts. Although, this group is so jam packed with references to people, places, and things making up the "indigenous cinema" of the Champaign-Urbana, Illinois, region that you're a single site search away from eye-opening discovery. Take our word for it and explore.
~ Jason Pankoke
~~~~~
Post #1000 – June 12, 2015
"Calendar du C-U: June 12-18"
This first flashback is of the most nuts-and-bolts editorial that we publish. Without the activity listed in the trusty weekly Calendar, CUBlog has little reason to exist.
Post #900 – July 23, 2014
"IOW: Good 'Stuff' fuels benefit"
CUBlog editorial tangents will usually grow outward from the local cinema sphere. Here, a cheeky video leads to notes on a generous benefit concert, a favorite rock band, and a preferred hair salon.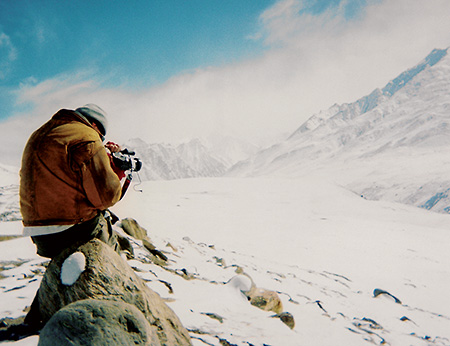 Post #800 – October 6, 2013
"Fred Marx visits the UI this week"
Film can be a powerful agent for better understanding our lives or inspiring social change, as evidenced by the career of UIUC alumnus Frederick Marx.
Post #700 – October 31, 2012
"Get horror, freaky C-U fiends!"
Overarching themes often drive CUBlog posts that are carefully written to deliver the compact details about many subjects. None are more fun to compile than those involving Halloween!
Post #600 – December 23, 2011
"C-U Biz-en-scéne: 12.23.2011"
For a time, we ran a comprehensive scene column of which this is a stellar example; topics include holiday gift ideas, festival deadlines, Heroic Age Studios news, and a HOUSE OF THADDEUS update.
Post #500 – March 14, 2011
"Share the news of CUBlog's 5th!"
Our official press release announces the five-year anniversary of CUBlog; timing was coincidental up until a week beforehand and then … we just couldn't help ourselves.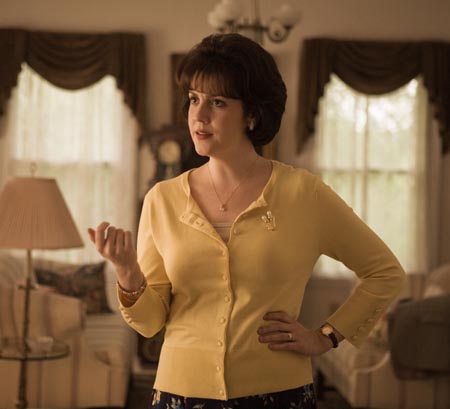 Post #400 – March 7, 2010
"Givin' Lynskey a little love"
We fawn over distinctive character actress Melanie Lynskey, featured in several films and television shows with MICRO-FILM Country connections such as THE INFORMANT!
Post #300 – March 12, 2009
"CineMicroGraph 1.2 is out now!"
This was our second (and last) attempt to release a low-cost, low-run freebie in between CUZine issues; Chris and Anne Lukeman's THE TRANSIENT made the cover.
Post #200 – February 27, 2008
"In My Backyard: Year 3"
One goal highlighted in the annual CUBlog address claimed we would be "hitting Ebertfest 2008 hard with [CUZine #2] to show that the first time around was no fluke." Indeed!
Post #100 – February 21, 2007
"Coming Soon: Feb 2007 pt.2"
This edition of our early calendar series previews the Latin American Film Festival, the Insect Fear Film Festival, and a UI-sponsored "Lebowski Fest."
Post #001 – February 25, 2006
"In My Backyard"
Your humble editor states "with C-U Blogfidential, we intend to make a minor splash creating a community history through cinema." Have we abided, dearest readers?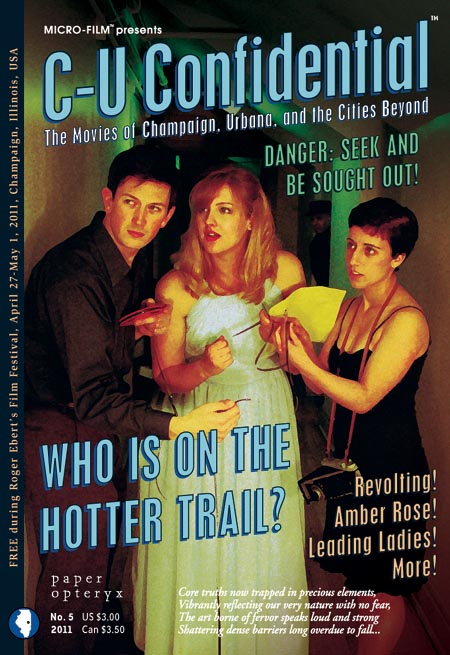 ~~~~~
p.s. Yes. Like Dieter on "Sprockets," we dance!
p.s.2 No. We don't know what Post #1100 will be.
p.s.3 Maybe. Pitch us your prose when it's time!
p.s.4 So? April is a great month to issue CUZine #8. Finally.
"Post #500" through "Post #001" material originally appeared as
"Milestone Posts on CUBlog" in C-U Confidential #5, April 2011, p.C-4.
[Updated 3/23/16, 8:30 a.m. CST]