It's that time of year when downstate film fans should head on over to the state capital, a junction for the fabled Mother Road which gives its name to a cinema showcase worth supporting. Go see for yourselves starting at 10 a.m. today, Saturday, September 19, at the Hoogland Center for the Arts, 420 S. Sixth St., Springfield, IL, when the eighth annual Route 66 International Film Festival commences the public portion of its activities. (Pass holders and festival friends earned extra kicks with bonus screenings on Wednesday and Friday.) It seems like R66IFF sneaks up on C-U Blogfidential every year even though we always know it's coming, but we're doing our best to give them the credit and coverage they deserve. Even if that means sleep is not an option on our end.
To keep it snappy, we'll direct you to the official R66IFF Web site for the nuts and bolts as well as this posting of the entire 2009 film schedule at the Illinois Times film pages. Following the poster graphic and jump, we went ahead and replicated the basic schedule for today and tomorrow, Sunday, September 20, for your convenience. Consider joining festival director Linda McElroy along with Meredith Dumyahn, Cameron Counts, and the rest of the R66IFF gang for some world-wide movie discoveries you might not otherwise get a chance to check out; they'll leave the projector light on for you.
Procrastinators like your humble editor can expect the following exchanges to take place at R66FF: festival passes (if they're still available) run $50, one-day passes cost $25, and single session tickets can be yours for $10 (adults) and $7 (students).
~ Jason Pankoke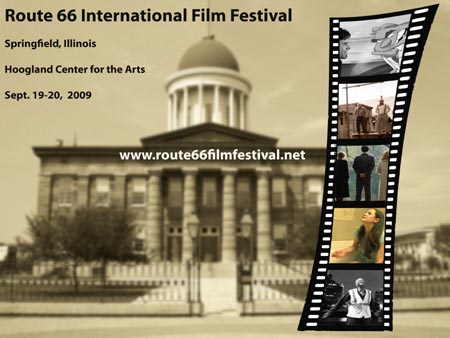 ROUTE 66 INTERNATIONAL FILM FESTIVAL
2009 SCHEDULE
Saturday, September 19
10:00 a.m. Audience Favorite Debut Competition
Shorts:
A SHORT FILM ABOUT LOVE; SINNERMAN; PERSPECTIVE; IN THE DARK; LETTER HOME; BUSINESS AS USUAL; AND SEVEN HOURS LATER*; THE LAST LEGEND.
11:50 a.m. Short Documentaries – Free Show
Shorts:
SAFE HAVEN: THE WARSAW ZOO; HEART SUTRA.
1:00 p.m. Fest Sampler & Filmmaker Panel
Shorts:
SKYLIGHT; THE BRO PACT; I AM A MAN: FROM MEMPHIS, A LESSON IN LIFE; CANTATA IN C MAJOR; HUSH*; REPAIRED?; SCARECROW; THE BIRTHDAY PARTY; CAUGHT IN PAINT; THE 2 SONS AND THEIR CROGZOOKIES; SEE YOU NEXT FALL*; APPLIANCE NIGHT OUT*.
Filmmaker Panel
3:15 p.m. Audience Favorite Comedy Competition
Shorts:
50 STATES*; WOKE UP UGLY; STALK MUCH?*; TRUE BEAUTY THIS NIGHT; DEATH IN CHARGE; SUGAR*; EL TURISTA; SPRINKLES*; AND THE WORLD GOES ROUND; "ANIMATED AMERICAN."
6:30 p.m. Best Documentary Winner
Feature:
VIETNAM LONG TIME COMING*
Gordon Quinn, Chicago, IL
Vietnam vets bike with their former enemies and make peace with their wartime experiences. (120 min.)
8:45 p.m. Mature Audiences Only
(Adult themes, nudity, language, R-rated)
Shorts:
BATHTUB OF HAPPINESS; SOAP; FOET; LIMINAL.
Feature:
MYSTERIOUS WAYS
John Denn, Minneapolis, MN
Mysterious intruder forces prosecutor and his psychologist wife to examine their feelings. (98 min.)
Sunday, September 20
9:30 a.m. Audience Favorite Dramas
Shorts:
HIDDEN HEARTS*; OPEN YOUR EYES; THE PARADIGM SHIFT; DIXON'S GIRL; THE ORCHARD; ROBERT SHAW*; RUNAWAY; THE DYING WESTERN.
1:00 p.m. Shorts & Comedy Feature Winner
Shorts:
BURN DOWN; LIVE FROM NEW YORK.
Feature:
MY NAME IS JERRY
Morgan Mead, Muncie, IN
Middle-aged salesman decides to change his life when he meets a younger woman. (100 min.)
3:15 p.m. Foreign Short & Feature Winner
Short:
PELO OUVIDO (THROUGH THE EAR)
Feature:
EUFORIA
Alfonso Corona, Mexico
A burned-out 46-year-old former rock star risks everything to help a beautiful, young woman. (100 min.)
5:30 p.m. Winning Shorts & Awards
THE INCIDENT AT TOWER 37 – Best Animation
Chris Perry, Northampton, MA
Watchman is menaced by intruders. (11 min.)
THE CARETAKER – Best Debut Short
Darryl Kinson, Burbank, CA
A young woman must decide to trust her instincts or a stranger when stranded in the desert. (22 min.)
CROOK – Best Thriller
Daric Gates, Burbank, CA (Chatham, IL, native)
Real estate mogul becomes the target of a secret government agency in a political cover up. (30 min.)
WILLIAM'S CHRISTENING – Best Drama Short
Joshua Hume, Brooklyn, NY
Wealthy father & sleepwalking mother who misplaces her baby go to extremes to get another. (15 min.)
DREAM THE LIFE – Best Comedy Short
Rebecca Rocheford Davies, Australia (MN native)
Film star's favor for a pregnant waitress creates a media frenzy. (27 min.)
AL'S BEEF – Best Western
Dennis Hauck, Los Angeles, CA
A mysterious woman comes to western town for revenge. Stars Jordan Ladd and Dean Stockwell. (35 min.)
GONE FISHING – Best of Fest Winner
Chris Jones, London, UK
An old man and a boy come to terms with bereavement through a love of fishing and a tale of a giant fish called Goliath. (13 min.)
Awards Presentation
* Local/Rockford/Chicago entries