"A Knife in a Gun Fight": ALL WE HAD
Two Cousins Chronicle Their Drug-Dealing Biker Gang Family on Film
by Michelle Kaffko
~~~~~
"A Knife in a Gun Fight" chronicles filmmaker Michelle Kaffko's journey as she probes the Chicago-area independent scene for indie movie news, releases, and other relevant dirt.
When you screen a movie that you've made about your family's past in front of an audience for the first time and the most frequent comment heard afterwards is, "I can't believe how normal you turned out," do you take that as a compliment? Filmmaking cousins Logan Futej and Jared Hoffa do.
"We were always told by our family, specifically our grandmother, 'Do as we say, not as we do,'" recites Futej, who might add this small bit of Grandma Sandy's advice to the final cut of their first feature documentary, ALL WE HAD, before its international premiere at Spain's Marbella International Film Festival this October. Had he followed in Sandy's footsteps instead of heeding her words, Futej might be making his living selling drugs and spending his free time in biker gang rumbles instead of simply recounting such activities on the screen.
ALL WE HAD is about an unusual family of violent individuals with extreme ways of living, mothers and fathers in biker gangs who dealt drugs and lived lives that others might view as carnal or amoral. Hearing stories of their family's sordid past while growing up, Futej and Hoffa felt they had a duty to record these stories in some form as family members from the calmer generation after the storm. "There was so much pressure our whole lives to get this story down, it's almost a relief to finally have it on tape," says Hoffa.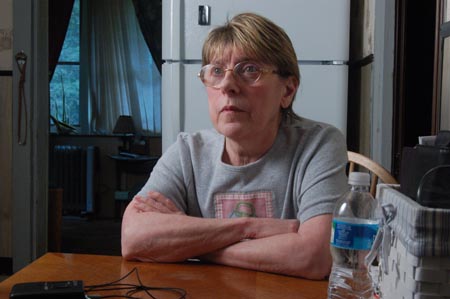 After a dolly past a backyard landscape where the family lives, inspired by Alain Resnais' NIGHT AND FOG (1955), the first interview begins with the aforementioned Sandy Futej sitting comfortably at a kitchen table. She is a born storyteller and lets the truth fly from her lips with nothing to hide and no bashfulness to show in what her life history has entailed, hushing the audience and gluing their attentions to the screen from the very first tale. Sandy remembers that while still a teenager, her boyfriend Ted got into a heated argument with her father, stabbed him, turned to her, and then asked her to choose between her family and him. She chose Ted, and they were quickly married.
Although the filmmakers did extensive research for the film, it was more to verify facts of the time period and to solidify the story. Futej even spent several months in contact with a man serving a life sentence in prison for multiple murders – listening to the stories his grandmother told him from another's mouth with barely a difference in detail. After cutting the film, but before shouting "Picture lock!" from the rooftops, the filmmakers held a test screening on August 8 at their alma mater, Columbia College of Chicago, to gather feedback on ALL WE HAD before letting it fly freely through the festival circuit. Attendees engaged in a discussion session and then filled out anonymous comment forms about the film.
Test screening attendee and documentary filmmaker Steve Juras, who is in production for a film about a children's book illustrator, wonders if it was either easier or more difficult for Hoffa and Futej to make ALL WE HAD as family members of their subjects. "While Ed Emberley, the subject of our film [MAKE A WORLD: THE FILM], is an artist familiar to many people, we certainly did not know him personally," says Juras. "For our first shoot, we basically appeared on his doorstep not knowing what to expect. Our goal was to earn his trust and confidence – to become like a family member, you could say."
For ALL WE HAD, it seems that Futej and Hoffa approached their own family from both the inside and the outside of their gene pool, and the end product demonstrates this. It doesn't really become obvious that the cousins are related to the family they are profiling until about 40 minutes in, apart from their names appearing in the opening credits. "When [audience members] know it's our family, they sympathize," says Futej, but when people haven't made that connection they will discuss the subject matter of the film more impartially. Most who attended the August test screening sympathized with Sandy, but nearly as many vocalized a kind of objection to her lack of on-screen regret for her way of life.
Even if they had pushed Sandy to express some kind of accountability during her interview, "I don't think she would have said on camera, 'I really regret this,'" notes Hoffa. Futej adds, "My grandmother doesn't really put on a façade; how she is on camera is how she is in real life," also mentioning that in the film, Sandy was clearly punished in one way or another for the lifestyle she so openly discusses. Several deaths and her husband's incarceration have plagued the close-knit family over the years. Her daughter and Futej's aunt, Tanya Hoffa, is also interviewed in the film and refrains from giving the audience the anticipated "I regret this" line. With the same inside/outside view the filmmakers have, she sticks to the facts and the family's point of view.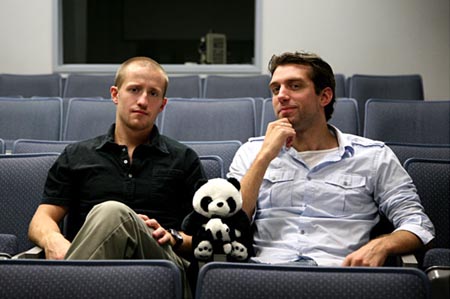 Hoffa says that they wanted the audience to have the same feelings of awe, confusion, and intimacy with the family history as he and Futej had while listening to the stories. As Sandy talks about a violent mace attack, for example, a newspaper article describing it slowly scrolls on the screen so the audience can read it the same way the duo discovered it: Theodore Futej … arrested this morning by city police after Futej allegedly sprayed two men with chemical mace and kicked two others at Ninth and Oley streets… "We heard the stories growing up our whole lives, but then to actually see the newspaper articles … was surreal," relates Hoffa. Sandy gave the duo the article from her collection for the film. As Futej says, "I wouldn't say she kept it like a trophy but she did keep it, although she has all these types of history notes on the family locked in a huge chest."
One can only imagine what it must be like to read about one's grandfather attacking someone and thinking, "Wow. This is my Grandpa." Yet, there must be a reason why audience members continually tell Futej and Hoffa, "I can't believe how normal you turned out," at screenings of ALL WE HAD. Perhaps it's because the family has always been so open with these stories and kept their skeletons in the living room instead of the closet, that the filmmakers were able to retell them on film with incredible honesty.
The family members are generally supportive of the film and believe it portrays the events truthfully, although, "They had some issues with some of the reenactment footage," admits Futej. "They said it wasn't intense enough." These short scenes, shot in 35mm with Chicago actors Diana Simonzadeh and Jeff Garretson, help illustrate the intensity of events in the family timeline.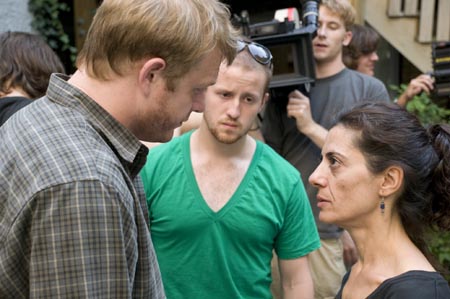 As the feature was still being cut, associate producer Miguel Silveira pushed the duo to submit an abbreviated version to the Cannes Film Festival, which accepted it for their "Short Film Corner" showcase. Hoffa and Futej traveled to France this past May to take part, with the latter still beaming about attending screenings in the presence of Martin Scorsese, Ang Lee, Costa-Gavras, and Anna Karina. However, Cannes reminded the filmmakers that, as we all know, big festivals like it are "70 per cent business and 30 per cent cinema," as Futej puts it, and that filmmakers have to learn to balance the business with the art if their films are to be seen.
Logan Futej and Jared Hoffa made a Cannes appearance mostly in the hopes of garnering interest from investors for a narrative version of the documentary, which they intend to pursue with the "do or die" mentality they might have inherited from their renegade family.
"Whatever you start, finish it. No matter what it is, finish it," advises Hoffa to his fellow filmmakers. "Follow through, pursue it, and make it your passion … I remember editing and [I thought] 'I lost my job, I have no money, I can't eat, we could be evicted tomorrow,' and yet, I was still editing the documentary because ALL WE HAD was all I had."
~~~~~
ALL WE HAD is a production of Be A Productions. It was directed by Logan M. Futej and produced by Jared Hoffa, Lindsey Helland, and Miguel Silveira, and features Sandy Futej, Tanya Hoffa (interviews), Diana Simonzadeh, Brandon Butler, Jeff Garretson, Peter Nikkos, and Tessa Newman (dramatizations). 2009, HD/35mm, Color, 78 minutes.
~~~~~
~~~~~
Michelle Kaffko is a Chicago resident and life-long Midwesterner with a B.S. in Cinema Studies and film theory. She is an independent filmmaker and photographer. She can be reached at michelle [at] findmichelle [dot] com.
"A Knife in a Gun Fight" no. 2 © 2009 Michelle Kaffko.
Logan Futej and Jared Hoffa photo @ Columbia College
© 2009 Michelle Kaffko.
Used with permission.
CUBlog edit © 2009 Jason Pankoke
ALL WE HAD graphics © Be A Productions
Click to visit the official site!