"Sitting on the Porch, Thinking About Film"
Opening up to the community at large, Rehema C. Barber and Figure One set aside a day on The Porch Project for Champaign-Urbana cinema
by Z
~~~~~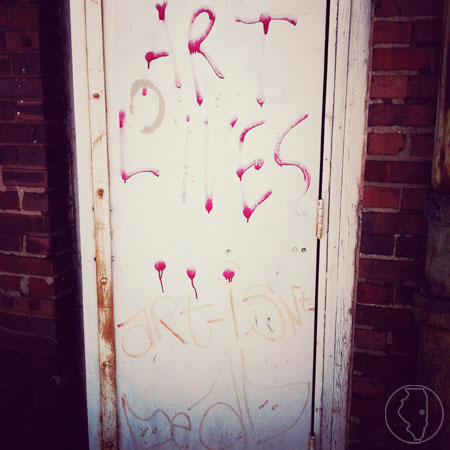 "Art lives. Art isn't dead."
Written on the back door of the Art Theater Co-op in faded spray paint, these words can easily be ignored and overlooked as nothing more than average alley graffiti. For some in Champaign-Urbana, though, these words have a much more significant meaning.
One recent instance of the livelihood of Art in C-U was Heather Hart's unique experiment, "Social Habitat: The Porch Project," installed at the University of Illinois' Figure One art gallery, 116 N. Walnut St., Champaign, from February 21 to April 5. "The Porch Project," a raised porch-like structure built inside the gallery itself, hosted several events such as "Connect + Create Porch Social," "Porchapalooza," "Read-in Wednesdays," "Poems on the Porch," and "Movies on the Porch." Per the official show description, the idea of "The Porch Project" was to "present and bear witness to the shifting identities the porch will inhabit as different programming unfolds within, around, below, and above its surface."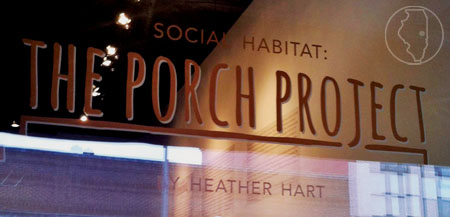 Each Saturday in March, for instance, Figure One invited the public to be part of the installation by sitting on the Porch, having some popcorn, and watching a film. On one particular Saturday, March 22, local films were showcased both as featured attractions and as the topic of discussion. The line-up included a selection of Pens to Lens shorts as well as two other shorts directed by Thomas Nicol, A BEAR IN THE WOODS and BEDTIME FOR TIMMY, and the documentary SRIRACHA by Bloomington, IL, filmmaker Griffin Hammond. The Danville-made feature HOUSE OF THADDEUS was also screened.
As mentioned in a previous post, C-U Blogfidential editor-in-chief, Jason Pankoke, and Eastern Illinois University professor in Communications, David Gracon, were asked to take part in an informal talk on the Porch about their personal connections to local and independent film during this "Movies on the Porch" event. The talk ended up reaching a bit deeper to discuss the community of filmmakers that exists in and around Champaign-Urbana.
Gracon and Pankoke took a crooked seat on the partly slanted Porch between the shorts and feature, introduced by Figure One's visiting coordinator Rehema C. Barber. The two discussed local film and filmmakers, how they influence the filmmaking community, and what it actually means to be a part of it. That idea of community was at the center of "The Porch Project," providing a place to encourage interaction and creative dialogue, and while there's always room to grow in any community, this one seems to be on the right track.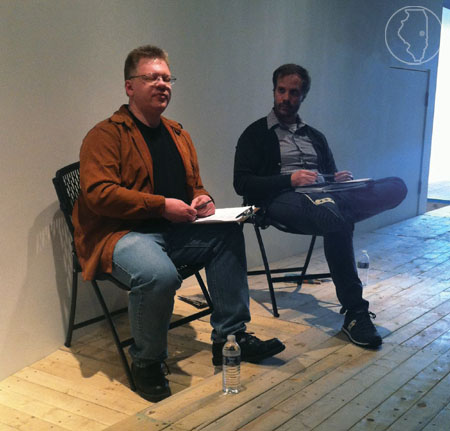 "The scene here is building," Gracon explained to CUBlog via e-mail. "I think Shatterglass [Studios] does interesting things with their screenings/critiques, and [the New Art Film Festival] is a great outlet [to see local films]." With programs like the NAFF, which took place not long after "The Porch Project" concluded, and Pens to Lens, short films developed from original screenplays submitted by area children in grades K-12 that will debut in August at the Virginia Theatre, the community of independent filmmakers in C-U is given a platform, a space to communicate, and even a home.
"Filmmaking, especially local filmmaking, is important because the moving image is rapidly becoming a widely-used medium within contemporary art," added Barber, also through e-mail. "Film is important to local communities because, not only are local residents making or participating in the production of film, but because in some ways a lot of the work is speaking to some of the issues felt within the community itself."
"I think Rehema is doing an excellent job with initiatives like 'The Porch Project,' which is creating more space for a community dialog" said Gracon, who has since shown his own experimental work at Figure One accompanied by a live music performance. With the success of "Social Habitat: The Porch Project," we could hardly disagree!
We're looking forward to the future of Figure One and hope you will attend their events, beginning with works displayed by this summer's artists-in-residence, Jeff Horwat and Melonie-Auburn Mulkey. Undergraduate and graduate students, as well as professional and community artists, can all propose exhibitions and programs at Figure One, the off-campus space of the School of Art + Design, part of the College of Fine + Applied Arts at UIUC; follow this link to learn what is already in the works.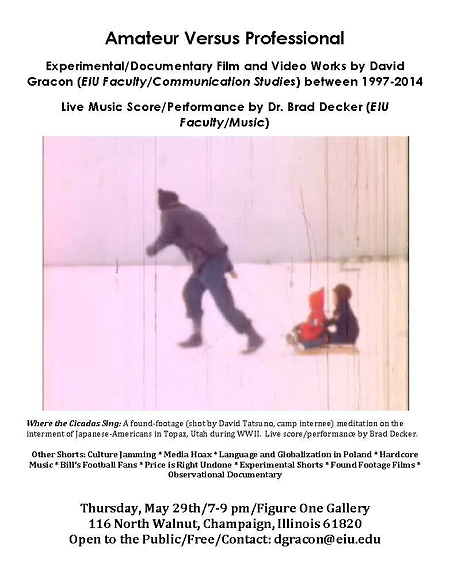 ~~~~~
Z is a fauxtographer, writer, and blood enthusiast who, after having traveled the U.S. in search of the perfect latte, now resides in Champaign, IL.
Article and photographs © 2014 Z Snyder. Used with permission.
CUBlog edits © 2014 Jason Pankoke