"A Knife in a Gun Fight": Sharon Zurek
A Chicago Editor Gets a Return on Her Investment
by Michelle Kaffko
~~~~~
"A Knife in a Gun Fight" chronicles filmmaker Michelle Kaffko's journey as she probes the Chicago-area independent scene for indie movie news, releases, and other relevant dirt.
HANNAH FREE is a movie about elderly lesbians. The fact that you probably furrowed your brow at that means you probably haven't come across any other movies about elderly lesbians. I know I haven't. I just spent a little time searching for one and have come up short. I did manage to discover a Dutch documentary on a nursing home built in Holland specifically for gay and lesbian residents, but as far as a fictional film on the subject – commercial, Hollywood, or independent – "niets" as the Dutch say.
Starring Sharon Gless, Taylor Miller, and other notables from the film and theatre circuit in the Chicago area, HANNAH FREE follows the relationship of Hannah and Rachel from young girls in the Midwest up until old age with all of the twists and turns in their lives between. Sharon Zurek came on board as editor of the film after involuntarily neglecting a few calls and e-mails from executive producer Tracey Baim, publisher of Chicago's largest group of LGBTQ publications and a noted public figure in that community, as a common side effect of being a busy editor with her nose to the monitor.
"They knew they wanted some old broad to bring up the post department and that would be me," says Zurek, an experienced filmmaker and life-long Chicago resident whose credits include last year's Michael Keaton drama, THE MERRY GENTLEMAN. Baim had heard of Zurek's additional work on films featuring gay and lesbian topics, eventually convincing her to take the job as editor and post-production supervisor on HANNAH FREE to oversee all aspects of the complicated High Definition process.
Zurek soon wanted to invest in the film as well because, taking into consideration the recession and questionable banking practices, it made her think, "This was the first time in my life I could possibly get a better return on my money by putting it in an independent film," she says. It also made sense for personal reasons, since she saw it as a story she could relate to. "HANNAH FREE reminds me of a partner that was mine for 20 years who passed from breast cancer. I can relate to that story."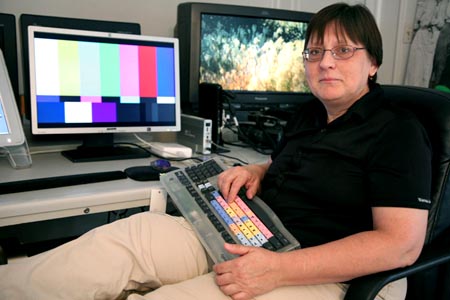 One of the first films to really move her as a child was Robert Mulligan's TO KILL A MOCKINGBIRD (1962). Both the book and the film are notorious prize-winning works that champion principles, morality, and speaking for a minority often hushed or ignored. No wonder HANNAH FREE meant so much to Zurek. "If I ever had something of importance [to do], it would be great to have it have some kind of historical or social relevance," she explains.
Films are naturally a form of entertainment but also a product of our society's tangled web of social attitudes, beliefs, and structures. The films we make can tell a great deal about who we are, how we treat each other, and what we believe in. Some might even argue that going to the Cineplex to see a flick has replaced the old village gatherings of storytelling and passing on oral traditions around a campfire. With that in mind, HANNAH FREE fills a small void in our modern web of narrative and dares to tell the story of a group not often heard in narrative form but quite prevalent among us. And if independent, free-spirited filmmakers aren't going to tell that story, who is?
I'll gladly buy lunch for the first person that tells me George Lucas is working on a feature about elderly lesbians banding together to fight laser-wielding space invaders. Hell, I'd eat my own socks if that ever happened.
Another of Zurek's recent projects brought some validation to a minority group by bringing narratives about their lives to the screen. In 2000 and 2003, she produced and directed two one-hour film episodes of a project called KEVIN'S ROOM, funded by the Chicago Department of Health as a method of HIV and AIDS education for gay men of color. The films were fictional stories that used entertainment as a method of education.
"Education and entertainment have always been so connected, I think that's why I got into it," says Zurek, who teaches at Chicago's Columbia College film department as a senior lecturer. People received free copies of KEVIN'S ROOM and the filmmaker found out later that many fans hosted house parties to view the work with their friends, which she believes was driven mainly by the fact that gay men of color are rarely seen in films. "The actors kept telling me, 'This is historical, we've never seen ourselves on screen,' and I said, 'Oh, surely you have,' but they said, 'No. Really. We haven't.' And, it was true," relates Zurek.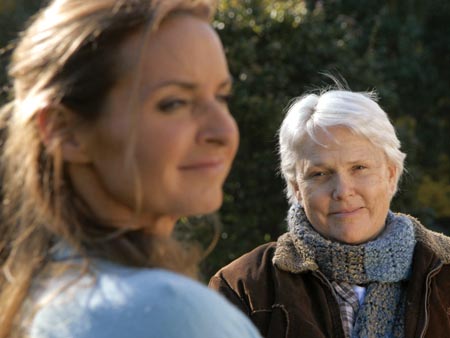 Naturally, the target audience of HANNAH FREE can be found at gay and lesbian film festivals, although Zurek would like to see the film reach beyond that scope and find general audiences. If you have a story that you think needs to be seen, how do you get it into the hands of the people? Especially if a Chicago Department of Anything isn't funding it and handing out free copies to your target for you?
Here is where independent filmmaking turns into a delicate balancing act between art and business. Indies must be Jacks and Jills of all trades and know how to work in their artsy-fartsy, paint-splattered overalls and aprons. They also need to know when to slap on a suit and manage budgets, find funding, talk distribution, and network their way into theatres. The first big chess move of HANNAH FREE came when producer Baim stepped into Zurek's editing room during a leisurely post-production phase without deadline and said, "You know … Frameline is coming up." Suddenly, a fast-approaching deadline quickened HANNAH's pace.
Seeing an opportunity to get the film in front of its most supportive audience at the Frameline Film Festival in San Francisco, the team worked together diligently to finish a very fine rough cut of HANNAH FREE and submit it in time. Frameline not only chose the film as its closing night feature on June 28, but it became the first selection to sell out in advance ticket sales for all 1,600 seats. Rosie O'Donnell even flew in to personally introduce the film – on her own dime.
Frameline provided the first HANNAH FREE screening in front of an audience, which made Zurek a little nervous at first. "This is our audience, so we either did or we didn't," she says. Zurek took in the audience's reactions from her seat in the center of the theater, and was relieved and overjoyed by what the room experienced. "I heard laughs at every part I hoped we would hear a laugh," she remembers, "and in the last scene I expected to hear sniffles, [but] it was everywhere … even a little sooner than I thought people would start reacting to it, and it kept going until the end of the scene. I knew it was powerful and people had been reacting, but it was big."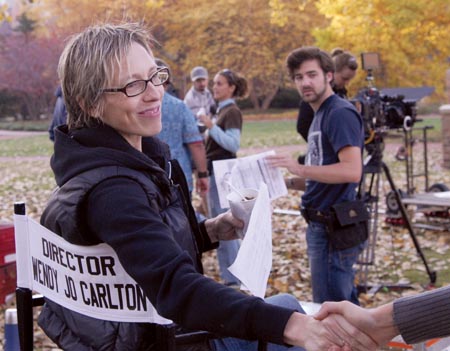 This is the moment every filmmaker anxiously awaits and hopes for – when the audience gets it. Not a bad return on her investment.
Sometimes, that's the only return on their investment – or, ROI, if you're sitting behind a desk – an independent filmmaker can get, those moments of happiness while editing a great performance by Sharon Gless or watching your labor come to fruition as a roomful of 16 or 1,600 people laugh at a joke. But, HANNAH FREE "has long legs" as Sharon Zurek puts it, and she just started walking.
The Midwest Independent Film Festival is hosting a sneak preview of HANNAH FREE and discussion with the filmmakers tonight, Tuesday, August 4, at the Landmark Century Cinema, 2828 N. Clark, Chicago, and the producers just announced that tickets will go on sale tomorrow, Wednesday, August 5, for a week-long run at the Gene Siskel Film Center of the School of the Art Institute in late September. The film has several additional screenings scheduled at film festivals across the United States and abroad, with a rough DVD release date slated for the spring of 2010.
With any luck, a few more people we all know will soon be able to say that they have indeed seen a movie about elderly lesbians. Maybe Mr. Lucas will even tap into that market someday.
~~~~~
HANNAH FREE is a production of Ripe Fruit Films, LLC. It was directed by Wendy Jo Carlton, written by Claudia Allen, and produced by Tracy Baim, Sharon Zurek, Martie Marro, and Wendy Jo Carlton, and stars Sharon Gless, Maureen Gallagher, Kelli Strickland, Ann Hagemann, Casey Tutton, Elita Ernsteen, Taylor Miller, and Jacqui Jackson. 2009, HD, Color, 90 minutes.
~~~~~
~~~~~
Michelle Kaffko is a Chicago resident and life-long Midwesterner with a B.S. in Cinema Studies and film theory. She is an independent filmmaker and photographer. She can be reached at michelle [at] findmichelle [dot] com.
"A Knife in a Gun Fight" no. 1 © 2009 Michelle Kaffko.
Sharon Zurek photo © 2009 Michelle Kaffko.
Used with permission.
CUBlog edit © 2009 Jason Pankoke
HANNAH FREE graphics © Ripe Fruit Films
Click to visit the official site!