March 28th, 2020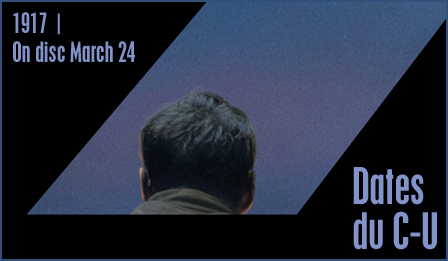 Our movie and media Calendar appears every Friday/Saturday on C-U Blogfidential and caters to the downstate region anchored by Champaign-Urbana, Illinois, USA.
~~~~~
MILESTONES | Happy Birthday to You!
4/2: Will "the Thrill" Viharo (movie columnist, Bachelor Pad Magazine, Champaign, IL)
MFHQ MEMO | From Chambana Mendota with Love Reflection
Even though I have been spotty with drafting the Almanac in recent months, I hope to get back to adding to the timeline of Champaign-Urbana's film culture soon. It will manifest in the next few weeks for personal reasons as we hit three particular milestones that matter greatly in the annals of the Secret MICRO-FILM Headquarters. Two will come up in April, while the third has already passed but there's no time like right now to make a mention. It may be a million-to-one odds that C-U Blogfidential continues after more than 14 years and a damn miracle that I keep at it. Yet, since our scene is always ripe with creation and I'm technically confined to this house on the edge of an American small town where I've been staying in recent months, I have no reason to not CUBlog. Please feel free to sift through our recent articles and play catch-up on the topics that have recently caught our attention. And then, onward.
CONFIDENTIAL ALMANAC | Dates in Film Culture History
14 Years Ago … Saturday, February 25, 2006: Opteryx Press of Champaign launches C-U Blogfidential, an Internet adaptation of the "C-U Confidential" section from their flagship journal MICRO-FILM. In the first entry, dated 8:57 p.m., editor Jason Pankoke describes an intention of "[making] a minor splash creating a community history through cinema, one that we can definitely call our own," with the forum as its potential epicenter. CUBlog has published local film-related content every single month since then. [R]
NOW PLAYING | Champaign-Urbana Area
@ AMC Champaign 13, Champaign, IL
Closed for the week.
@ Family Video, Champaign-Urbana, IL
1917, CLEMENCY, COME TO DADDY, INTRIGO: DEATH OF AN AUTHOR, THE FURIES, DEAD SOUND, I AM FEAR, more! (3/24 on)
@ Goodrich Savoy 16, Savoy, IL
Closed for the week.
Events featuring locally produced movies are marked with an asterisk (*). Additional "Now Playing" and "Coming Soon" listings appear after the jump!
~~~~~