October 29th, 2014
On the occasion of the 15th anniversary of the debut of MICRO-FILM, we'd like to share an excerpt from that first issue as well as related food for thought about the worth and place of independently made media, particularly of the print and self-created variety, in our world today. Themes discussed below, drawn from both the video explored in the excerpt and an event attended by your humble editor at Eastern Illinois University in the spring, will reoccur in additional material we plan to publish in the coming months. Enjoy!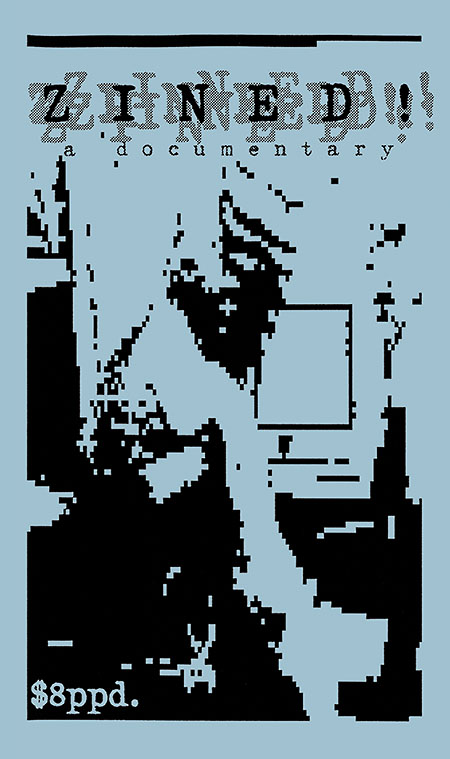 Almost two years ago, esoteric renaissance artist Cory McAbee (CRAZY & THIEF, STINGRAY SAM) paid a welcome visit to Champaign-Urbana thanks to the efforts of the Champaign-Urbana Film Society. We at C-U Blogfidential happily marked the appearance by sharing L. Rob Hubbard's interview with the cult musician about his prior filmmaking ventures, including THE AMERICAN ASTRONAUT, from MICRO-FILM 5 published in 2002. Flashbacks can be fun when they relate to the here and now in constructive ways.
More recently, yours truly participated in the 'zine symposium "Cut & Paste" at Eastern Illinois University in March, through which enough MF meta emerged to rival our previous sense of déjà vu as personified by McAbee. These reflections inspired a bit more pause then revelry, to be honest, innocently echoing a past when I'd regularly try out various media and technique with giddy abandon as opposed to the present, where methodical discipline and midnight oil fuel my creation. Ahh, the realities of being an adult in the publishing arts…
So, what signals did I pick up on, exactly? For starters, my contribution to the "Cut & Paste" panel partly focused on how I discovered the underground publishing surge of the Nineties, directly leading me to launch MF and then CUBlog. Liz Mason, a Chicago 'zine maker participating in "C&P" through Skype, regularly stocked MF as a buyer at Quimby's Bookstore in the Windy City. Dr. David Gracon, an EIU assistant professor in Communications and co-organizer of "C&P," first made contact with me through MF as a college undergraduate in Buffalo, New York, more than a decade ago. The most overt Ghost of MICRO-FILM Past, however, came in the form of ZINED! A DOCUMENTARY, the screening of which closed the symposium.
One of the initial subjects I wrote about for MF was ZINED! Running as a sidebar to Dr. Steven Bailey's feature article on independent film journals and Web sites in MICRO-FILM 1, the piece attempted to express the quirky character and self-empowering vibe given off by this glorious underground VHS tape I ordered through the mail from producer Marc Moscato. ZINED! introduced me to the idiosyncratic print media of Gracon and two dozen other individuals, primarily based in the upper East Coast and contiguous Canada, while touching upon base concerns of the subculture. My much younger self found veracity and vigor in those voices speaking to him from afar in a program so lovably rough around the edges as this one.