October 23rd, 2020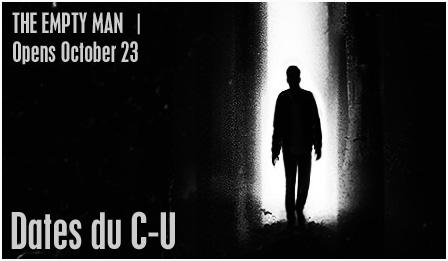 Our movie and media Calendar appears every Friday/Saturday on C-U Blogfidential and caters to the downstate region anchored by Champaign-Urbana, Illinois, USA.
~~~~~
MILESTONES | Happy Birthday to You!
10/25: Becca Whitaker (staff cartoonist, Bachelor Pad Magazine, Champaign, IL)
10/26: Joseph F. Alexandre (filmmaker, WARRIORS OF THE DISCOTHEQUE, JFA Films, Los Angeles, CA)
CONFIDENTIAL ALMANAC | Dates in Film Culture History
15 Years Ago … Week of Monday, October 24, 2005: Opteryx Press of Champaign begins shipping and store placement of MICRO-FILM 7, the imprint's flagship journal. Articles cover the Lars von Trier "challenge" documentary THE FIVE OBSTRUCTIONS, the Ron Santo biographical film THIS OLD CUB, current productions from Haxan Films (THE BLAIR WITCH PROJECT), regional indies such as FIVE YEARS and QUALITY OF LIFE, the passing of Sarah Jacobson (MARY JANE'S NOT A VIRGIN ANYMORE), and more. This 64-page issue is the last print edition of MF to date. [R]
LOCAL FILMS & EVENTS | Support Your Media Storytellers
@ online Zoom
C-U Cinefile virtual meeting (10/23, 10/30, 4 p.m.) Join mailing list
@ online Zoom
Urbana Free Library and Urbana Arts & Culture Program present "The Magic Lantern II" animation experience feat. EKAH, virtual event (10/26, 6 p.m., registration required) Information
@ online Zoom
Illini Film & Video virtual meeting (10/26, 8 p.m.) Join mailing list
@ online
56th Chicago International Film Festival presents FINDING YINGYING*, virtual streaming (through 10/25) Ticket purchase
NOW PLAYING | Champaign-Urbana Area
@ AMC Champaign 13, Champaign, IL
THE ADDAMS FAMILY (2019), THE EMPTY MAN, MONSTERS INC., 2 HEARTS, HONEST THIEF, THE KID DETECTIVE, THE NEW MUTANTS, THE NIGHTMARE BEFORE CHRISTMAS, TENET, UNHINGED, THE WAR WITH GRANDPA (10/23 on), THE BOSS BABY, HOCUS POCUS (10/23-10/25)
@ Family Video, Champaign-Urbana, IL
CUT THROAT CITY, THE SECRETS WE KEEP, AMULET, TREMORS: SHRIEKER ISLAND, THE OWNERS, SWITCHED, THE VANISHED, BLUE RIDGE, NOS4A2 (s2), more! (10/20 on)
@ Illini Union, UIUC, Urbana, IL
Illini Union Board presents "Throwback Films at the Union" feat. PULP FICTION, Illini Union Ballroom, 2nd floor (10/23, 7 p.m.; free w/i-card)
Events featuring locally produced movies are marked with an asterisk (*). Additional "Now Playing" and "Coming Soon" listings appear after the jump!
~~~~~