June 22nd, 2019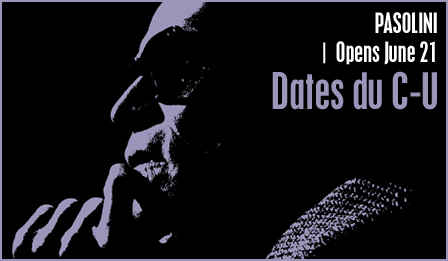 Our movie and media Calendar appears every Friday/Saturday on C-U Blogfidential and caters to the downstate region anchored by Champaign-Urbana, Illinois, USA.
~~~~~
MILESTONES | Happy Birthday to You!
6/20: Bob Henne (actor/sound recordist, WEREWOLF CEMETERY)
CONFIDENTIAL ALMANAC | Dates in Film Culture History
10 Years Ago … Weekend of Friday, June 5, 2009: Hairy monsters and human combatants tear up the neighborhood at both Meadowbrook Park and Caffe Paradiso in Urbana during the final round of location shooting for WEREWOLF CEMETERY Episode 4. Since relocating to Portland, Oregon, with his life partner Ann Fitzgerald, co-creator Jason Butler has flied back periodically to the area in order to film the remaining scenes for the sprawling comedy-horror series with familiar locations and friendly faces at his disposal. This included an informal residence at the former Orpheum Theatre in downtown Champaign last fall to stage a giant battle in the partly gutted auditorium, redressed to stand in for the werewolves' lair, during off hours when the adjacent Orpheum Children's Science Museum was closed. Returning regulars such as Steve Ucherek, Bob Henne, Bill Turner, Lacie Ucherek, Barney Joyce, Aaron Davidson, Owen Anderson, Mark Peaslee, Devin Atkins, Frank Peters, Jodi Hahn, Fitzgerald, and Butler could be seen filing in and out of the Orpheum's rear entrance throughout September and October, while several of them are involved in the current activity. C-U Blogfidential editor Jason Pankoke has served as a set photographer and extra during this penultimate stretch. Other than random effects shots and an explanatory scene involving Butler's character "Dixon," the producer will turn his attentions to editing together the finale in what promises to upstage Episode 3 by far. A debut is planned for next year at Mike 'n Molly's as well as a homemade DVD release to be entrusted to close friends of the cause. As reported on 5/26/09, 6/5/09 at CUBlog.
NOW PLAYING | Champaign-Urbana Area
@ The Art Theater, Champaign, IL
ALL IS TRUE (6/21 on), PASOLINI (6/21-6/25, 6/27), BOOKSMART (6/21-6/23, 6/26), Pride Month: TANGERINE (6/27, 9:30 p.m.)
@ AMC Champaign 13, Champaign, IL
ANNA, CHILD'S PLAY, THE DEAD DON'T DIE, TOY STORY 4, ALADDIN, DARK PHOENIX, GODZILLA: KING OF THE MONSTERS, LATE NIGHT, MEN IN BLACK: INTERNATIONAL, ROCKETMAN, THE SECRET LIFE OF PETS 2, SHAFT (6/21 on), ANNABELLE COMES HOME (6/25 on)
@ Boneyard Creek Crossing (corner of Race & Griggs), Urbana, IL
"Urbanalove Summer Movie Nights" feat. BILL & TED'S EXCELLENT ADVENTURE (6/26, 8 p.m., free)
@ Family Video, Champaign-Urbana, IL
US, HOTEL MUMBAI, RUN THE RACE, NO MANCHES FRIDA 2, THE MAN WHO KILLED DON QUIXOTE, THE BEACH BUM, UNDER THE SILVER LAKE, CRYPTO, SLAUGHTERHOUSE RULEZ, I AM THE NIGHT (cs), more! (6/18 on)
@ Goodrich Savoy 16, Savoy, IL
ANNA, CHILD'S PLAY, TOY STORY 4, ALADDIN, AVENGERS: ENDGAME, DARK PHOENIX, GODZILLA: KING OF THE MONSTERS, JOHN WICK: CHAPTER 3 – PARABELLUM, LATE NIGHT, MEN IN BLACK: INTERNATIONAL, ROCKETMAN, THE SECRET LIFE OF PETS 2, SHAFT (6/21 on), DIRTY DANCING (6/23, 6/26), Kinky Boots the Musical (6/25, 7 p.m., recorded)
@ Main Quad, UIUC, Urbana, IL
Illini Union Board Presents "Summer Quad Cinema Series" feat. LITTLE, Anniversary Plaza (6/27, 9 p.m., free, rain location: Pine Lounge (1st floor), Illini Union)
Events featuring locally produced movies are marked with an asterisk (*). Additional "Now Playing" and "Coming Soon" listings appear after the jump!
~~~~~