April 1st, 2015
"Second Intermission: A SIMPLE LIFE, CAPOTE, and all else in between"
After sending a battery of Confidential agents into the Ebertfest fold last April, we present their findings
by Jason Pankoke
~~~~~
By the time this entry in our coverage of the 2014 Roger Ebert's Film Festival appears, we most likely will have eclipsed it with the schedule announcement for "Ebertfest" 2015. So much for making the run "relevant, complete, and worthy of being dubbed an 'Ebertfest epic'" in a timely manner, then, but we're forging ahead anyway to plug the gaping plot holes in our series and account for the remainder of the films, albeit briefly. (Additional feature-length essays failed to materialize, much to our collective chagrin.) Using the prompt towards the end of this post, you can backtrack to read our recent Patton Oswalt/YOUNG ADULT observances courtesy of Samantha Ducey along with prior installments regarding WADJDA, MUSEUM HOURS, SHORT TERM 12, and LIFE ITSELF, to which we will soon add your humble editor's thoughts on viewing GOODBYE SOLO at the Virginia Theatre. With all that on the table, dearest readers, we hope you will follow along until we hit our conclusion, in and of itself an achievement compared to our inadvertent cliffhanger last time out. Cheers!
~~~~~
According to an essay in the Ebertfest 2014 program by journalist and silent film aficionado Thomas Gladysz, HE WHO GETS SLAPPED is a "singular and even profound work," establishing a high water mark for both the legendary actor Lon Chaney, Sr., and the Swedish filmmaker Victor Sjöström. In the production, Chaney plays a scientist who responds to heartbreak and career thievery by joining the circus as a clown. A hit when released during the holiday season of 1924, SLAPPED was not only the first in-house production from the newly-merged Metro-Goldwyn-Mayer studio but also featured the debut of the now-famous Leo the Lion as their emblem.
HE WHO GETS SLAPPED played the sixteenth annual Roger Ebert's Film Festival on Friday, April 25, 2014, 1 p.m. The Alloy Orchestra accompanied the film with their music score.
HE WHO GETS SLAPPED is a production of and distributed theatrically (U.S.) by Metro-Goldwyn-Mayer and on home video (U.S.) by Warner Archive Collection/Warner Home Video. It was written, produced, and directed by Victor Sjöström, and stars Lon Chaney, Sr., Norma Shearer, John Gilbert, and Tully Marshall. 1924, 35mm, B&W, 80 minutes
~~~~~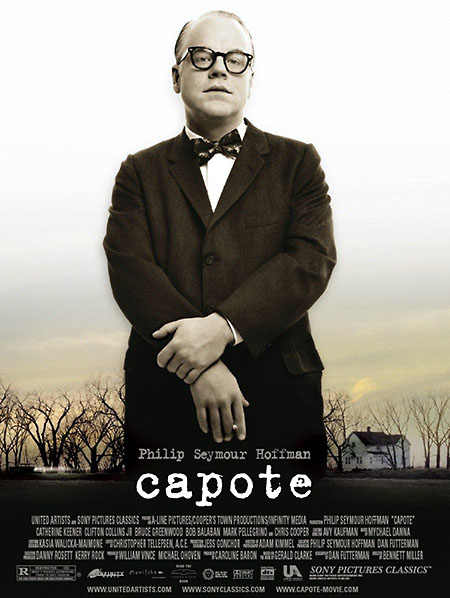 In his 2005 review of CAPOTE, reprinted in the program, Roger Ebert stated that "what makes [the film] so powerful is that it looks with merciless perception at [Truman] Capote's moral disintegration." This feature directed by Academy Award nominee Bennett Miller (FOXCATCHER) dramatizes a six-year period in the life of literary giant Capote (Philip Seymour Hoffman) when he befriended – and arguably betrayed – the two Kansas murderers whose story he would retell in the book, In Cold Blood. "The film," posed Ebert, "focuses on the way a writer works on a story and the story works on him." The late Hoffman won an Oscar for his performance.
CAPOTE played the sixteenth annual Roger Ebert's Film Festival on Friday, April 25, 2014, 4 p.m. Director Bennett Miller appeared as a festival guest.
CAPOTE is a co-production of A-Line Pictures, Cooper's Town Productions, and Infinity Media distributed theatrically (U.S.) by United Artists and Sony Pictures Classics, on home video (U.S.) by Sony Pictures Home Entertainment, and on VOD by MGM. It was directed by Bennett Miller, written by Dan Futterman, and produced by Carolyn Baron, William Vince, and Michael Ohoven, and stars Philip Seymour Hoffman, Catherine Keener, Clifton Collins, Jr., Chris Cooper, Bruce Greenwood, Bob Balaban, and Amy Ryan. 2005, 35mm, Color, 114 minutes