January 18th, 2020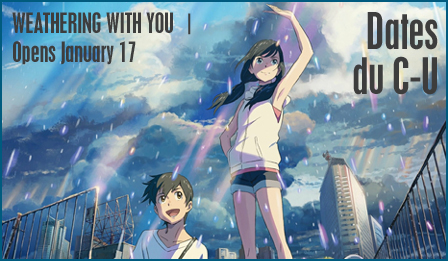 Our movie and media Calendar appears every Friday/Saturday on C-U Blogfidential and caters to the downstate region anchored by Champaign-Urbana, Illinois, USA.
~~~~~
MILESTONES | Happy Birthday to You!
1/18: Michelle Kaffko Ebner (owner, Organic Headshots, Chicago, IL)
1/20: Thomas Polk (video production specialist, Office of Public Affairs, UIUC, Champaign, IL)
1/23: Ashlea Thomsen (production manager, L37 Creative, Chicago, IL)
MFHQ MEMO | From Chambana Mendota with Love
Since we fell short of composing all the pieces that we had intended to post last year, we're going to make good on the better ideas in the first half of this year. The effort will include the historic capsules for the Confidential Almanac, of course, so don't be weirded out if the timing of their belated appearances seem off. It's by design at this point. We'll be happy to scratch them out for your continuing film education du C-U so we can cross them off the list. Our one-of-a-kind composite version will also be updated in the near future; its scope will become much more apparent once it's at full strength. Keep reading!
CONFIDENTIAL ALMANAC | Dates in Film Culture History
55 Years Ago … Saturday, December 19, 1964: The Castle Theater in downtown Bloomington, Illinois, delights the children of the community with a special premiere of LITTLE RED RIDING HOOD AND HER FRIENDS attended by one of the stars, Stinky the Skunk, and its distributor, K. Gordon Murray. An English-language version of CAPERUCITA Y SUS TRES AMIGOS, the second of three similar movies from Mexico about Red's adventures in faraway lands with various fantasy companions, this "kiddie matinee" is typical of the product imported and released by Murray's eponymous K. Gordon Murray Productions, Inc., of Miami, Florida. Between the colorful marketing materials, easily catching the eyes of young theater goers, and the cheery ballyhoo at locations like the Castle, creating excitement for low-budget fairy tales wild with imagination, it is clear that Bloomington native Murray has successfully applied the entrepreneurial lessons he learned while growing up adjacent to a world of carnivals, fairs, and circuses. For today's event, Robert Powers wears the replica skunk outfit in a more benign twist on the shambling horror costumes and gnarly props foisted on unsuspecting audiences by the likes of William Castle. Rafael Aldrete, known as "El Enano Santanón," played the diminutive Stinky in the film series as well as Puss n' Boots in a standalone Murray offering, all directed and produced by Roberto Rodríguez between 1960 and 1962 at the famous Churubusco-Azteca Studios in Mexico City.
LOCAL FILMS, ETC. | Support Your Media Storytellers
@ Shatterglass Studios, Champaign, IL
Workshop Films Collective* meeting (1/22, 5:30 p.m.)
NOW PLAYING | Champaign-Urbana Area
@ AMC Champaign 13, Champaign, IL
BAD BOYS FOR LIFE, DOLITTLE, WEATHERING WITH YOU, 1917, FROZEN II, THE GRUDGE, JUMANJI: THE NEXT LEVEL, JUST MERCY, KNIVES OUT, LIKE A BOSS, LITTLE WOMEN, STAR WARS: THE RISE OF SKYWALKER, UNDERWATER (1/17 on), THE GENTLEMEN, THE TURNING (1/23 on)
@ Family Video, Champaign-Urbana, IL
MALEFICENT: MISTRESS OF EVIL, GEMINI MAN, JEXI, BRITT-MARIE WAS HERE, MINE 9, BEYOND THE LAW, THE DEATH & LIFE OF JOHN F. DONOVAN, GIRL ON THE THIRD FLOOR, more! (1/14 on)
@ Goodrich Savoy 16, Savoy, IL
BAD BOYS FOR LIFE, DOLITTLE, 1917, A BEAUTIFUL DAY IN THE NEIGHBORHOOD, BOMBSHELL, FORD V FERRARI, FROZEN II, JOJO RABBIT, JOKER, JUMANJI: THE NEXT LEVEL, JUST MERCY, KNIVES OUT, LIKE A BOSS, LITTLE WOMEN, SPIES IN DISGUISE, STAR WARS: THE RISE OF SKYWALKER, UNCUT GEMS, UNDERWATER (1/17 on), ONCE UPON A TIME IN HOLLYWOOD (1/17-1/18, 1/20-1/21), HARRY POTTER AND THE CHAMBER OF SECRETS (1/19, 1/22), BLIND EYES OPENED (1/23, 7 p.m.)
@ The Virginia Theatre, Champaign, IL
Reel Deals: HOWL'S MOVING CASTLE (1/21, 1/23, 7 p.m.)
Events featuring locally produced movies are marked with an asterisk (*). Additional "Now Playing" and "Coming Soon" listings appear after the jump!
~~~~~