September 14th, 2019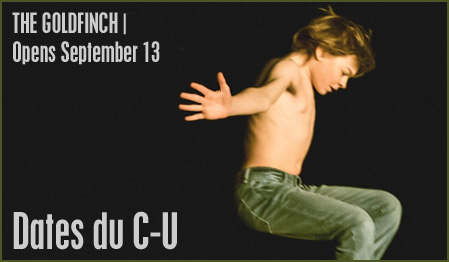 Our movie and media Calendar appears every Friday/Saturday on C-U Blogfidential and caters to the downstate region anchored by Champaign-Urbana, Illinois, USA.
~~~~~
MILESTONES | Happy Birthday to You!
9/14: Kimberly Conner (writer-director, LIPSTICK)
9/14: Tim Cain (journalist, Decatur Herald & Review, Decatur, IL)
9/14: Jason Huls (producer, Ten Wing Media, Aurora, IL)
9/16: Jay Rosenstein (professor, Media and Cinema Studies, College of Media, UIUC, Urbana, IL)
9/16: Skye Lufsey (interactive producer, St. Louis Community College, St. Louis, MO)
9/18: Aaron Kapper (poster designer, Pens to Lens)
9/19: Paul A. Brooks (producer, Into the Night Motion Pictures, Los Angeles, CA)
9/19: Eric Pankoke (webmaster, C-U Blogfidential)
LOCAL FILMS, ETC. | Support Your Media Storytellers
@ The Art Theater, Champaign, IL
New Art Film Festival* call for entries, deadline: October 11 | Full Information
@ Champaign Public Library, Champaign, IL
Champaign Movie Makers* meeting, "Animation Fundamentals," Room 222 (9/17, 7 p.m., free)
@Douglas-Hart Nature Center, Mattoon, IL
"Milkweed, Monarchs, & Movies!" feat. PLANET MILKWEED*, THE IMPERFECT CATERPILLAR* (9/14, 2 p.m., free)
@ Lincoln Hall, UIUC, Urbana, IL
Illini Film & Video* meeting, Room 2022 (9/16, 7 p.m.)
NOW PLAYING | Champaign-Urbana Area
@ The Art Theater, Champaign, IL
ONE CHILD NATION (9/13, 9/15-9/19), DAVID CROSBY: REMEMBER MY NAME (9/13, 9/15-9/17, 9/19), Secret Screening: LEMONADE (9/13, 9:30 p.m.), New York International Children's Film Festival presents "Kid Flicks Two" (9/14-9/15), Elsinore in concert w/Crofton Coleman, Anika Emily and feat. five new music videos*, art installation (9/14, 7 p.m. doors, 8 p.m. event), Member Screening: THE PUBLIC w/discussion (9/18, 7:30 p.m.)
@ AMC Champaign 13, Champaign, IL
THE GOLDFINCH, HUSTLERS, BEAUTY AND THE BEAST (1991; rerelease), IT: CHAPTER TWO, more (9/13 on), TOKYO GHOUL S (9/16, 9/18, 7 p.m.), PROMARE (9/17, 9/19, 7 p.m.), RAMBO: LAST BLOOD (9/19 on)
@ Armory Building, UIUC, Champaign, IL
"For Art's Sake" cinema screenings, Armory 101, 7 p.m., free: BIG DEAL ON MADONNA STREET (9/13, change to Armory 147), DIVORCE ITALIAN STYLE (9/20)
@ Family Video, Champaign-Urbana, IL
JOHN WICK: CHAPTER 3 – PARABELLUM, ALADDIN, THE DEAD DON'T DIE, CANAL STREET, DARLIN', BEING FRANK, NEKROTRONIC, ARMSTRONG, I AM PATRICK SWAYZE, THIS IS US (s3), THE ALIENIST (s1), more! (9/10 on)
@ Goodrich Savoy 16, Savoy, IL
BRITTANY RUNS A MARATHON, THE GOLDFINCH, HUSTLERS, ANGEL HAS FALLEN, GOOD BOYS, HOBBS & SHAW, IT: CHAPTER TWO, THE LION KING, ONCE UPON A TIME IN HOLLYWOOD, OVERCOMER, THE PEANUT BUTTER FALCON, SCARY STORIES TO TELL IN THE DARK (9/13 on), WONDER PARK (9/16-9/18, 10 a.m.), THE LORD OF THE RINGS: THE RETURN OF THE KING (9/15, 9/18), THE GAME CHANGERS (9/16, 7:30 p.m.), 3 FROM HELL (9/17, 7 p.m.), DOWNTON ABBEY (9/19 on)
@ Illini Union, UIUC, Urbana, IL
Illini Union Board presents "Weekend Films at the Union" feat. GODZILLA: KING OF THE MONSTERS, Pine Lounge (9/13, 7 p.m.; 9/14, 7 & 10 p.m.; free w/i-card), "Throwback Films at the Union" feat. E.T. THE EXTRA-TERRESTRIAL, Courtyard Café (9/19, 8:30 p.m, free w/i-card)
@ Loomis Laboratory, UIUC, Urbana, IL
Saturday Physics for Everyone: "Creating Photoreal Digital Human Characters for Movies, Games, and Virtual Reality" lecture feat. Paul Debevec, Room 141 (9/14, 10:15 a.m., free)
@ The Virginia Theatre, Champaign, IL
Illinois Public Media presents ILLINOIS COUNTRY* local premiere w/filmmakers, performers (9/13, 7 p.m., free), Reel Deals: WOODSTOCK (9/14, 7 p.m.), Rewind 92.5 Film Series: WHO FRAMED ROGER RABBIT (9/15, 2 p.m.)
Events featuring locally produced movies are marked with an asterisk (*). Additional "Now Playing" and "Coming Soon" listings appear after the jump!
~~~~~