October 18th, 2014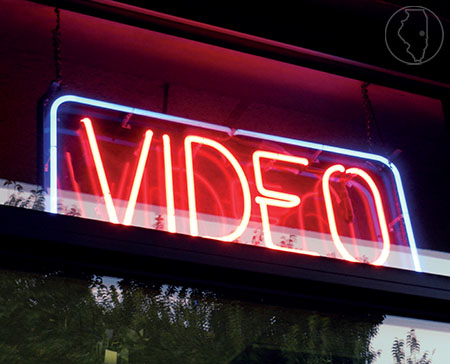 Due to timely topics and sweet editorial moves, this has been a prime week on C-U Blogfidential to drench our writings with buckets of love for the traditional movie culture outlets remaining in Champaign-Urbana, such as the Orpheum and Art theaters. It turns out we're not quite finished gushing those sentiments, dearest readers! All day today, Saturday, October 18, is the fourth annual International Independent Video Store Day, or VSD, founded by the owners of Eyesore Cinema in Toronto as a would-be movement to rally around brick-and-mortar rental shops the world over. Let's tune out the mainstream rhetoric of a physical media industry on the brink and give our favorite Internet and video-on-demand services a rest, opting instead to engage in some neighborly conversation, meditative browsing, and unabashed localism with a trip to That's Rentertainment, 516 E. John St., in Campustown. Owner and resident cycling fanatic Geoff Merritt will have the TR staff ready to join in VSD solidarity for the first time by offering the following specials to customers, per their Web site:
Special Deal #6: Rent any two films, get a third rental free!
Special Deal #5: Two-for-one used DVDs … no limit! Used discs are usually $5 each or $20 for five; Saturday, they'll be $5 for two or $20 for 10.
Special Deal #4: 20% off all bicycle stuff! Locks, lights, tubes … all of it.
Special Deal #3: Late fee amnesty! Got a late fee? Pay half of it today and we'll delete the rest.
Special Deal #2: 20% off any gift certificate worth $25 or more; the certificate cannot be used on Video Store Day, but would make an awesome gift for a loved one in the future.
Special Deal #1: 20% off any Renters-Block! Already have one? Why not get another, or, one for a friend!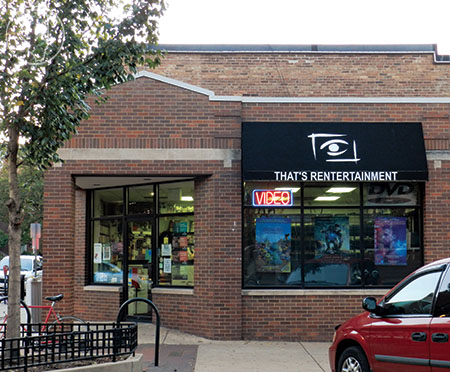 We trust those venturing to TR will spend a few quality moments taking in the deepness of their library as well as contemplating how valuable it is on numerous levels. Let's be humbled such a resource has been available to this community for nearly 30 years, particularly if one has read any of the horror stories linked on the official VSD site, Facebook, or Twitter about mom-and-pop shops continuing to vanish, even in a Blockbuster Video-free era, thanks to indifferent consumers and big city gentrification. It will be interesting to see if VSD participants can collectively engineer any sort of qualitative revival as its obvious inspiration, the springtime Record Store Day, has helped do for independent music stores and labels. We also wonder how merchandising could eventually play a part outside of VSD-specific swag, considering no consumer video product that is still easy to play – Blu-ray, DVD, laserdisc, and VHS in particular – has the long-standing reputation, collectability, and hipster approval of the almighty vinyl LP, whether new or used.
Sure, we understand things change – or, as a wise Buggle once sang, "We can't rewind / We've gone too far" – yet we're honestly mystified over how instant touch-screen access to limited film collections is increasingly preferred by the modern consumer over the satisfying, tactile discovery of a title in the most unlikely reaches of the neighborhood home video emporium. Video Store Day is a good day to grow back that cinematic backbone, people of C-U, by checking out a selection or two from That's Rentertainment.
~ Jason Pankoke
p.s. Your humble editor is itching to throw down some Confidential magic during next year's VSD. Pay close attention to our upcoming interviews and features for hints on what he has in mind!
p.s.2 We may have to eventually eat crow on that VHS comment, given topics to be covered in some of that very same content. Yum, yum!
~~~~~